Kronos Quartet (Provided)
Kronos Quartet (Provided)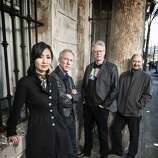 Kronos Quartet (Provided)
Kronos Quartet (Provided)
Adventurous musicians set to play MASS MoCA's FreshGrass Music Festival
FreshGrass is at MASS MoCA this weekend. It's a fantastic lineup, featuring alternative stars like Iron and Wine and Andrew Bird, nascent talent like Jade Bird and Natalie Prass and the iconic Mavis Staples. Also on the three-day festival's bill is the critically acclaimed Kronos Quartet, performing "Music for Change: Pete Seeger @ 100," a multi-artist exploration of the folk music giant.
At first, you wouldn't think Seeger and a contemporary classic outfit have all that much in common. But think again, take a look at the remarkably diverse, 900-plus pieces of work Kronos Quartet has recorded and performed and you'll see it makes a lot of sense.
"One of the things I want to celebrate is the breadth of music he (Seeger) brought to not only concerts, but to American music and society," Kronos founder and musical director David Harrington said. "He would go to a county he'd never been to, learn a song from that country, an absolutely beautiful song like 'Raghupati Raghava Raja Ram' that Gandi and his followers sang at the Salt March, and make it part of his repertoire.
"I began to realize there is this relationship Kronos has to the kind of thinking Pete Seeger brought to his work and what we bring to ours," he continued. "We try to share a variety of the music we get to have and experience as a human community."
More Information
If you go
FreshGrass
When: Friday through Sunday
Where: MASS MoCA, 87 Marshall St., North Adams, Mass.
For tickets and more information, visit www.freshgrass.com
Since first performing in 1973, Kronos Quartet has collaborated with and performed material from a staggering amount of international, multi-genre talent. An incomplete rundown of that talent includes tackling minimalist composers Philip Glass and Terry Riley, backing poets Allen Ginsberg and Laurie Anderson, accompanying popular artists Dave Matthews Band and Tom Waits and recording albums with composers and artists from Mali, South Africa, Russia, India, Iran, Azerbaijan and China.
Much like Seeger's natural curiosity took him across the country and globe in pursuit of new musical endeavors and collaborators, Harrington follows his own creative impulses in whatever direction they take him rather than planning projects in advance.
"For me, it's not something that's really figured out. It's a matter of being magnetized by someone's creativity or sound," he explained. "There's probably more to do now than I could ever finish in my lifetime, but I'm happy with all we have experienced and all we have ready to do.
"There's always different things we're involved in," Harrington noted. "There's an album of American music I've been working on for about 35 years. I work on it every week, it's not quite right, but will be right some day soon. There's always things in process we're slowly working out that no one knows about."
While Kronos Quartet has many projects in the hopper, Seeger is Harrington's current primary focus. In putting together a Seeger celebration, Harrington sought to honor the way Seeger broadened listeners' musical horizons and expanded upon the palette of sounds available to a musician.
"One of the things we wanted to do with the Seeger at 100 concerts is celebrate his diversity and one way to do that is to play some of his different pieces, like his work with instruments from India, and come up with a sound we really like," Harrington said. "It brings together a lot we've learned and it makes you start thinking about things that exist today.
"Back in the '50s, he was breaking down barriers in society and on the radio. That took courage and thoughtfulness, he added. "On her last album, Joan Baez sang a song called 'The President Sang Amazing Grace.' Songs like that wouldn't exist without Pete Seeger. So many topics that ended up in his work are relevant today. His music still feels very natural."
Harrington grew up listening to Seeger's work. His children grew up with Seeger records played in their home. With the Music for Change performances, he's even managed a way to honor Seeger's influence on his own personal life.
"There's so many great songs and every song we've chosen is special," Harrington said. "Like a song like 'Garbage.' How could we not do 'Garbage?'
"If it's good enough for my family and my children, it's good enough for an audience," he stated.
Jim Shahen Jr. is a frequent contributor to the Times Union.