American Idol Star Jessica Meuse Performs With Rock Legends To Raise Funds for Music Education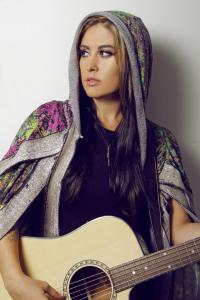 Jessica Meuse
Safety Harbor Kids Celebrates Their 10th Annual Concert Fundraiser
I grew up loving these bands and now I'm sharing the stage with some of the members. I can't wait to perform some of their greatest hits with the people who made the music — all for an amazing cause!"
— Jessica Meuse
LOS ANGELES, CALIFORNIA, USA, September 27, 2017 — On Sunday, October 29th, nonprofit Safety Harbor Kids (SHK) will celebrate their 10th Annual Concert Fundraiser to support music education programs for orphans, foster, and homeless children. Hosted by Topa Mountain Winery in Ojai, California, "Topa Rocks" will include music by an all-star band featuring Robby Krieger of The Doors, Chicago co-founder/drummer and Rock & Roll Hall of Fame Inductee Danny Seraphine, KISS guitarist Tommy Thayer, Jessica Meuse, and others.
American Idol Top Four Finalist, Jessica Meuse, was the first person in the history of Idol to perform her own original song, "Blue-Eyed Lie," during the finals. Jessica's powerhouse voice and personal work ethic recently earned her a management deal LA Group Management, an upcoming 2018 debut album release on Warrior Records/eOne, and she is currently nominated for Top 5 Female Vocalist Of The Year by the Texas Country Music Awards, which will take place on September 28th in Carthage, Texas.
"I'm absolutely honored to be able to perform alongside legendary artists from The Doors, Chicago, and KISS," noted Jessica. "I grew up loving these bands and now I'm sharing the stage with some of the members. I can't wait to perform some of their greatest hits with the people who made the music — all for an amazing cause! Proceeds are going toward Safety Harbor Kids, which benefits children in need. I can't wait to help out and share my gift of music!"
Jessica's personal devotion to many worthwhile national causes has drawn her to join the long list of talented musicians who support Safety Harbor Kids and, along with the members of The Doors, Chicago, and KISS, she will also be performing with Jeff Beck bassist Phil Chen, Rock Deadrick on drums, lead by SHK Music Director Ed Roth on keys.
Safety Harbor Kids supporters include Board Member Jackson Browne, Albert Lee, Peter Asher, Bonnie Raitt, Tom Petty, Paul Barrrere and Fred Tackett of Little Feat, Inara George, Jimmy Webb and many other music greats. Other celebrity supporters include Malcolm McDowell, Reese Witherspoon, Jeremy Piven, James Belushi, Wendi Malick and Dee Wallace. Visit www.safetyharborkids.org for more information.
# # #
For Jessica Meuse interview scheduling or further information contact:
Jim Ervin / L.A. Entertainment, Inc.
(800) 579-9157 (Extension 707)
[email protected]
Jessica Meuse:
Media Assets – https://warr.link/jm-hires
Instagram – https://www.instagram.com/jessmeuse/
Facebook – https://www.facebook.com/idoljessicameuse
Twitter – https://twitter.com/JessMeuse
YouTube – https://www.youtube.com/user/musikchik
Website – https://jessicameuse.com
About L.A. Entertainment, Inc.:
L.A. Entertainment, Inc. is a California based entertainment corporation, with businesses including, Warrior Records, whose products are distributed via eOne Distribution, LA Group Management, publishing divisions that administrate a wide range of copyrights, a music supervision firm specializing in motion picture and television soundtracks, and L.A. Entertainment Merchandise, providing merchandise and VIP services to touring artists.
About Safety Harbor Kids:
Safety Harbor Kids is formed and operated with the mission to enrich the lives of orphans, foster and homeless children through education in the areas of College, Career, Music and the Arts. For more information contact: [email protected]
Rebecca Roe
Warrior Records | L.A. Entertainment Group
800-579-9157 (Ext. 707)
email us here
Jessica Meuse – Muse Mafia