By John P. Mello Jr.

Oct 9, 2019 2:47 AM PT
New versions of operating systems are usually about slick interfaces and improved performance, but that's not what Apple was flogging about macOS Catalina upon its release Monday.
One of the hot new additions in the OS is Apple Arcade, a game subscription service featuring a batch of new, exclusive games.
Also bolstering macOS Catalina's entertainment chops are new versions of Apple Music, Apple Podcasts and Apple TV apps.
The company paved the way for emphasis on services over other features at its annual shindig for developers in June.
"It mirrors what we saw at the WWDC where these products were announced," said Ross Rubin, principal analyst at Reticle Research, a consumer technology advisory firm in New York City.
Subscription Gaming
Arcade, available for a monthly subscription fee of US$4.99, could be an attractive offering for Mac users. "It's a big shot in the arm for Mac games, which hasn't been a traditional strength of the platform," Rubin told TechNewsWorld.
Games in Arcade can be played across devices, so a game started on a Mac can be continued later on an iPhone or iPad.
On a Mac, games can be played with a keyboard and mouse, or even with some popular game controllers — like Xbox Wireless Controllers with Bluetooth, and PlayStation DualShock 4.
Subscribers to arcade get a full version of every game, including all updates and expansions, without any ads or additional in-game purchases. Games can be downloaded from the Mac App Store's brand-new Arcade tab.
The service is launching with a 30-day free trial, and a single subscription includes access for up to six family members. The full catalog of 100 games will be available in the weeks ahead, with more games to come every month.
Skate City from Snowman captures the heart and soul of street skating.
"Arcade is great from a value viewpoint — Apple priced it very competively — and there are some cool mainstream games on it, but hard core gamers — the kind of folks who buy Alienware PCs or have Xbox or Playstation 5 — aren't going to get the same kind of experience," said Mark N. Vena, senior analyst at Moor Insights and Strategy, a technology analyst and advisory firm in Austin, Texas.
"I wouldn't upgrade to Catalina just to use Arcade," he told TechNewsWorld.
Blowing Up iTunes
With Catalina, Apple has retired the iTunes app (but not the iTunes Store) and replaced it with three new entertainment apps.
There's Apple Music, which has 50 million songs, playlists and music videos. Subscribers to the service have access to the entire music library. Non-subscribers can still purchase music from the iTunes Store.
There's also a podcast app. It offers more than 700,000 shows and will notify you when a new episode to a show you've subscribed to is available. New show categories, curated collections, and advanced search tools to allow you to search episodes by current events, people and even phrases have been added to the app.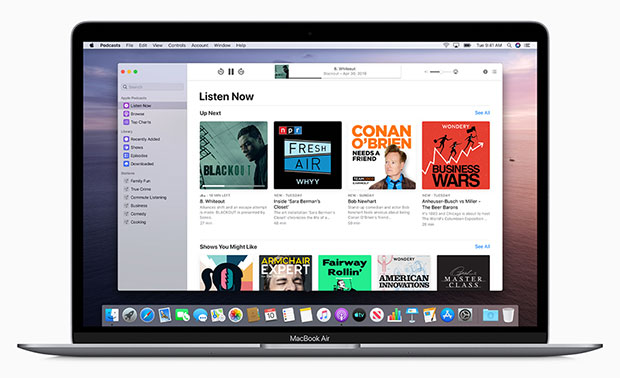 macOS Catalina features new dedicated apps for Apple Podcasts.
Finally, there's Apple TV, which gathers together a number of ways to find and watch the more than 100,000 TV shows and movies in the iTunes store. In addition, starting on November 1, Apple TV+, the company's subscription service, will be available in the Mac's TV app.
"Creating three apps is really important, because iTunes had become so bloated over the past 10 years that a lot of people had given up using it," said Moor's Vena, who has been using a beta of Catalina for two months.
"Those apps are pretty user-friendly, too," he added.
From iPad to Sidecar
Catalina is more than a gateway for apps to Apple services, however.
A feature called "Sidecar," for instance, allows an iPad to be used as a second display.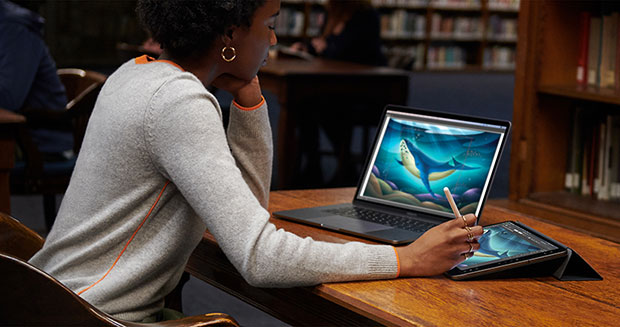 With Sidecar, users can extend their Mac workspace with iPad as a second display or harness the power of iPad and Apple Pencil to draw, sketch or write in Mac apps.
The iPad also can be used for tablet input for any Mac app that supports drawing, sketching or writing with a stylus.
An iPad can be connected to a Mac through Sidecar by cable or Bluetooth.
Many mobile workers travel with a tablet and work with a laptop when they're home or at the office, so Sidecar would be useful to them, noted Lauren Guenveur, senior research analyst at IDC, a market research company in Framingham, Massachusetts.
"It's also a way to get more people into the ecosystem," she told TechNewsWorld. "If they have a MacBook Pro, they may now more seriously look at an iPad, and if they have an iPad, they may be looking at a MacBook Pro."
Sidecar makes a lot of sense for owners of MacBook Pros and iPads, Reticle's Rubin said.
"There's a market for external displays for laptops, but if you have an iPad, you can use that. Not only can you extend your screen, but you can do input too," he pointed out.
"It helps to address some of the limitations of the Mac not having a touchscreen."
Running iPad Apps on Mac
Catalina has some accessibility features that may be useful to folks both with and without disabilities. Voice Control, for example, allows you to access any part of the Mac or iOS interface entirely with your voice.
"Voice Control is the most impressive feature of Catalina technically," Rubin said. "It's the result of years of R&D work."
Catalina also supports a technology called "Catalyst," which allows developers to package their iPad apps for the Mac more easily.
"Developing more applications for the Mac by leveraging a lot of the momentum behind iPad apps isn't a user-facing feature, but it should help generate a lot of new functionality as developers are able to support the Mac with just an incremental effort," Rubin noted.
Catalyst raises the question of whether macOS and iOS will converge into a single AppleOS operating system in the future.
"There will continue to be more crossover, but I don't think we'll see a time in the future where macOS and iOS become one and the same," IDC's Guenveur said.
Apple also is bringing Screen Time, Downtime and App Limits to the Mac through Catalina. Screen Time tells you how much time you're spending with apps and websites on your Mac. Downtime lets you schedule time away from your Mac, and App Limits lets you set limits on time spent with apps.
"Bringing Screen Time to the Mac is important because it allows people to control and manage how they're using their computers," Vena said.
One thing that may be problematic for Catalina users is its inability to run older 32-bit applications, he remarked.
"I would suggest people look at what 32-bit applications they have installed before they upgrade to Catalina and make sure there are 64-bit versions available," said Vena, "because those apps will absolutely not work in Catalina."