Austin Peay State University's Department of Theatre and Dance to presents "Working: A Musical", October 3rd-6th


« Older: Clarksville Police seek to Identify a Burglary Suspect Newer: AAA reports National Gas Price Average Jumps by a Dime in One Week »

Clarksville, TN – On Thursday, October 3rd, 2019, the Austin Peay State University (APSU) Department of Theatre and Dance will present "Working: A Musical," directed by Noel Rennerfeldt, choreographed by Margaret Rennerfeldt and sponsored by the APSU Center of Excellence for the Creative Arts.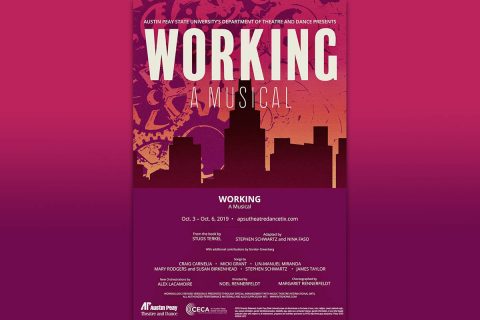 This musical is based on Studs Terkel's book of interviews with average American workers who "talk about what they do all day and how they feel about what they do." If you have ever punched a time clock or filled out a timesheet, this show will move you in many ways.
"Working: A Musical" is adapted by Stephen Schwartz and Nina Faso with additional contributions by Gordon Greenberg; songs by Craig Carnelia, Micki Grant, Lin-Manuel Miranda, Mary Rodgers, Susan Birkenhead, Stephen Schwartz and James Taylor; and new orchestrations by Alex Lacamoire.
The production will run from Thursday, October 3rd, through Sunday, October 6th. The show starts at 7:30pm Thursday through Saturday, with matinee performances on Saturday and Sunday starting at 2:00pm. All performances will be in the Trahern Theatre.
"Working" contains suggestive content and adult language.
Tickets may be purchased online through the Theatre and Dance Box Office webpage (apsutheatredancetix.com) at the following prices:
General admission: $15.00.
Student/senior/military admission: $10.00.
Tickets purchased at the door will incur a $2.00 service fee.
For more information please call the Trahern Theatre Box Office at 931.221.7379 or email [email protected]
Musical welcomes special appearances by alumni, professors
The APSU Theatre and Dance Department is thrilled to welcome back alumni, Jamila Hunter, as a guest artist to play the role of Maggie Holmes, cleaning lady! Hunter is one of the first Bachelor of Fine Arts candidates of Austin Peay's Musical Theatre Department and has gone on to excel in her theatre career. Since graduation she has worked nonstop on stages in Clarksville, in Franklin, Tennessee, as well as throughout the Midwest and New York.
Professor Talon Beeson will also be making a special appearance in the show as the character of Joe Zutty, retiree. We are thrilled to see him in action on the Trahern Stage here at APSU! On stage, Beeson has performed coast to coast in theaters in Georgia, Virginia, Kentucky, Tennessee, Chicago, New York, Los Angeles and Ohio.
His voice has been on many TV shows, video games and commercials including "Divorce Court" (Daytime Emmy nomination), "GTA V," "Call of Duty: Advanced Warfare" and as the voice of Kingsford Charcoal, among others. He has also appeared in several episodes of the three-time Peabody Award and SOVAS-nominated radio drama "Suspense!"
Recently he directed and played a lead role in the game "Soteria," which won the Bronze Award at the International Serious Play Awards and the Audience Choice award from Stanford University. In 2017, Beeson was nominated for a SOVAS VAA award for his work in the audiobook "Wonder." Beeson wrote, directed and starred in the short film "It Was Good," which has been screened at several film festivals. He was also the voice director of the hit TV show "You Live in What" on HGTV.
The show will be performed on a set designed by alumni and staff member Benjamin McCormack, who serves as the technical director for the department of Theatre and Dance. McCormack's professional credits include work with Tony Award-winning scenic designers Beowulf Borritt and Derek McLane, Netflix's original series "Mindhunter," NHL Stadium Series, MLB Little League Classic Series, SheNYC Festival (Off-Broadway), Special Effects Festival (Off-Off-Broadway), Big Art Group, BaAM Productions, MadeFirst Design Fabrication, Carnegie Scenic, Barrington Stage Company, B-Street Theatre, Little Theatre on the Square, Promethean Theatre Company, Shenandoah Summer Music Theatre, Roxy Regional Theatre and the Tennessee Performing Arts Center. McCormack is a veteran of the U.S. Navy and attended APSU and Carnegie Mellon University. He is active with USITT and advocates for environmentally responsible scenic construction techniques.
"Working" (2012 Revised Version) is presented through special arrangement with Music Theatre International (MTI). All authorized performance materials are also supplied by MTI, 423 West 55th Street, New York, NY 10019. Tel: 212.541.4684, Fax 212.397.4684.
For more information visit: www.MTIShows.com
For more information, contact Noel Rennerfeldt at [email protected]apsu.edu
Related Stories
SectionsEvents
TopicsAPSU, APSU Center of Excellence for the Creative Arts, APSU Department of Theatre and Dance, APSU Trahern Theatre, Austin Peay State University, Clarksville, Clarksville TN, Margaret Rennerfeldt, Noel Rennerfeldt, Working: A Musical