Axelle/Bauer-GriffinGetty Images
Singer Bebe Rexha has revealed that a male music executive recently told her that she's too old to be sexy. She's 29.
Alongside a candid black and white Instagram picture, Bebe wrote: "I recently had a MALE music executive tell me that I was getting too old and that my brand was "confusing." Because… I'm a songwriter and I post sexy pics on my Instagram and that's not what female songwriters are suppose to do, especially for my age. I'm 29."
She went on to explain that the music boss's comments had frustrated her: "I'm fed up with being put in a box. I make my own rules. I'm tired of women getting labeled as "hags" when they get old and guys get labeled as sexy with age."
The New York-based star, who turns 30 on 30th August, also used the post to tell her haters that their comments won't change her: "I'm not running away from it. I'm not gonna lie about my age or sing songs that I feel will sell better because they sound "younger." I'm gonna celebrate my age because you know what, I'm wiser, I'm stronger."
Some of the biggest names in showbiz leapt to Bebe's defence in the post's comments, with Rita Ora writing: "My sexy songwriting 👑 You are beautiful, getting sexier with age and your talent SINGS for itself. Keep making those rules." Taylor Swift, also 29, said: "Drag them. 29 year olds unite."

Taylor SwiftInstagram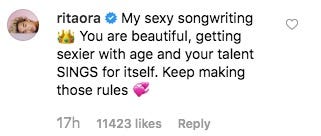 Rita OraInstagram
The star has a history of calling out problematic behaviour in showbiz. In December 2018, she revealed that a married NFL star had been texting her behind his wife's back, and in February this year, she hit back at the designers who famously declined to dress her for the Grammys, saying she was too big. In a video posted on Instagram, she said: "All the people who said I'm thick and I can't wear your dress, f*ck you, I don't want to wear your f*cking dresses." The lesson? Cross Bebe Rexha at your peril.
Cyan Turan
Cyan Turan is Senior Editor at Cosmopolitan.