The song would soon become freighted with heartbreaking associations, of course.
But when John Lennon wrote Grow Old With Me on the island in July, 1980 and played it over the phone to wife Yoko Ono in New York ["It was a musical postcard from Bermuda," he joked], tragedy still lay in the future.
The song was simply a heart-baring declaration of love, a ballad about how he hoped his affection and devotion for his wife would transcend youth and last into old age.
Inspired by a Robert Browning poem, the handwritten lyric sheet is inscribed: "Fairylands, Bermuda, July 5, 1980."
Mr. Lennon had sailed to Bermuda from Rhode Island aboard a small yacht in June, renting a house in Fairyland so he could spend a working vacation here preparing material for a comeback album.
John Lennon singing a demo version of Grow Old With Me in 1980
The former Beatle had been semi-retired since the birth of his son, Sean, in 1975.
While he often described himself as "a house husband" during those years, Mr. Lennon did intermittently turn his attention to new songs between his child-rearing duties
He brought these works in progress with him to Bermuda to polish and also composed a number of entirely new songs while here, including Grow Old With Me and Woman
Sean joined the English singer/songwriter on the island that summer while Ms Ono remained at their home in New York, making arrangements for the forthcoming album's recording sessions [although she did spend a long weekend in Bermuda with her husband and son at the end of June].
"The time there was amazing," Mr. Lennon said of his time on the island. " … [I was] there on the beach taping songs … just playing guitar and singing. We were just in the sun and these songs were coming out."
John Lennon's lyric sheet for the song Grow Old With Me, written in Bermuda in July 1980
Mr. Lennon returned to New York with homemade demo tapes for about 25 songs, rough sketches for the numbers he began recording at New York's Hit Factory studio in August.
"For John, Grow Old With Me was one that would be a standard, the kind that they would play in church every time a couple gets married," Ms Ono later said of the love song. "It was horns and symphony time."
Grow Old With Me had originally been intended for inclusion on Double Fantasy, the new album of songs by Mr. Lennon and Ms Ono being readied for release that fall. The record took its name from a freesia Mr. Lennon had seen in Bermuda: the title was intended as a metaphor for his marriage to Ms Ono.
"But we were working against deadline for the Christmas release of the album, kept holding Grow Old With Me to the end, and finally decided it was better to leave the song for [a follow-up record] so we won't do a rush job," said Ms Ono..
Mr. Lennon never got the opportunity to score and arrange the song for the recording studio. He was shot and killed by a crazed fan outside his New York apartment building on December 7, 1980, just weeks after Double Fantasy was released.
One of the 70 Bermuda cedar music boxes commissioned by Yoko Ono as Christmas gifts in 1983. Photo courtesy of Heritage Auctions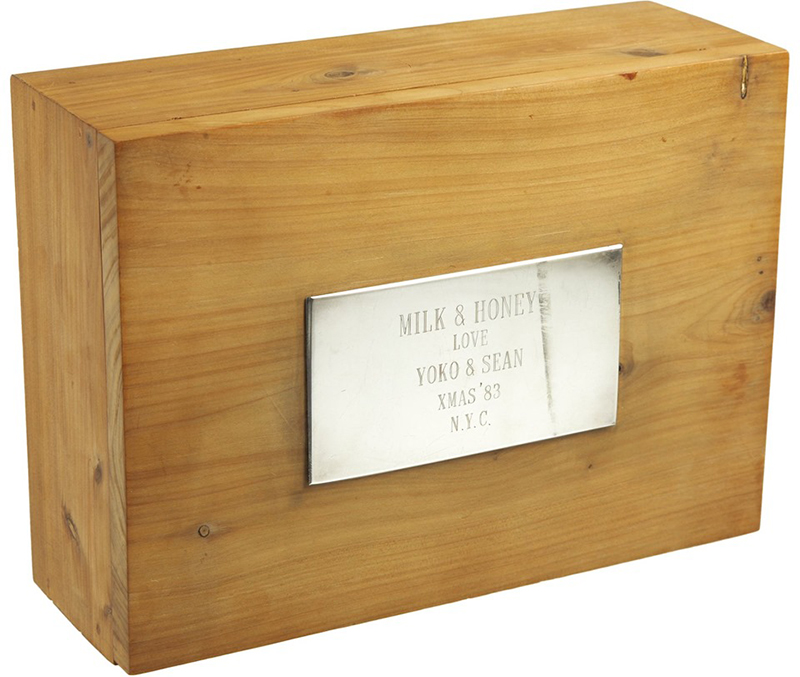 However a homemade version of the song was included as a bonus track on the posthumously released Milk & Honey in 1984, a record containing Bermuda material recorded during the Double Fantasy sessions but not included on that album.
Just before Milk & Honey's release Yoko Ono commissioned 70 hand-crafted Bermuda cedar music boxes as Christmas presents for friends.
Sporting engraved silver plaques reading: "MILK & HONEY, LOVE, YOKO & SEAN, XMAS '83, N.Y.C.", when opened they played the Bermuda demo of Mr. Lennon singing Grow Old With Me.
Considered among the rarest pieces of John Lennon memorabilia by collectors, the Bermuda music boxes — which measure nine inches by six inches by three inches — do occasionally come up for auction.
One that had been a gift from Yoko Ono to Astrid Kircherr, the German artist and photographer credited with creating the Beatles' "mop top" hairstyles when they were performing in Hamburg in the early 1960s, was sold on ebay a few years ago.
Grow Old With Me went on to be covered by such performers as Mary Chapin Carpenter and Glenn Campbell.
And just, as John Lennon had hoped, the song is now a popular standard at weddings and wedding anniversary celebrations.


Read More About
Category: All, Entertainment, Music