Chris Lowden and Jeff "Toad" Higginbotham Announce Launch of Country AF Radio From Las Vegas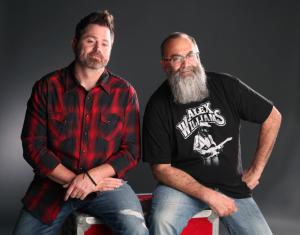 (Pictured left to right: Jeff Higginbotham and Chris Lowden) Photo credit: Jim Shea
LAS VEGAS, NV, UNITED STATES, February 21, 2018 — Stoney's Rockin' Country's Founder Chris Lowden and Marketing Director, Toad, announced today that they are launching a radio venture from ground zero at Stoney's Rockin' Country on the Las Vegas Strip. Country AF Radio will be headquartered at Stoney's Rockin' Country Town Square 6611 Las Vegas Boulevard South, Suite 160, Las Vegas, Nevada 89119.
"It's been a long time coming and I'm excited to announce the launch of Country AF Radio to serve our valued Las Vegas market while having a strong national presence. Our mission is to have a 65 percent terrestrial presence while focusing 35 percent on great country music and exposing the new music of worthy emerging artists," declares Lowden.
"Country AF Radio is an extension of our country music ventures in Las Vegas as we enjoy growing our professional relationships in Nashville and the country music industry-at-large. Being able to introduce our customer base to even more music, both new/emerging and established/well known is the goal! We have always taken the outside of the box approach and this is just another example of the forward thinking we all have at Stoney's. We are excited not only for this launch but to reprise our role producing the ACM's Party for a Cause festival in April while continuing our aggressive programming of live national acts here at Stoney's Rockin' Country. We hope to further provide an oasis for country artists and industry pros alike doing business on the West Coast," Toad concludes.
About Stoney's Rockin' Country
The World-Famous Stoney's Rockin' Country is Las Vegas' premiere destination for locals and tourists who are looking for a boot-stomping good-ole-time with line dancing, mechanical bull riding, beer pong, pool tables and more. Located at Town Square, Stoney's Rockin' Country is a 19,000-square foot high-energy nightclub that features a 2,000-square foot dance floor and boasts a capacity for 1,000 fans to enjoy live national country acts. The venue's state-of-the art Alcons sound system, matched with the industry's leading DJs, provides a world class listening experience. Doors open at 7 PM and line-dancing lessons begin at 7:30 PM. Stoney's is located at 6611 Las Vegas Blvd S, Suite 160, Las Vegas, NV 89119.
Brittany Madsen
Stoney's Rockin' Country
7022349044
email us here