Days Past: 'Whistlin' Rufus' and 'Speed the Plow' anyone? 41st Fabulous Folk Music Fest | The Daily Courier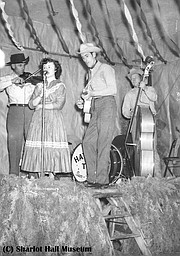 Dancing and music, especially folk music, have been part of Prescott since its early years and integral to community celebrations, family gatherings and holiday parties. Often learned informally, songs were passed from musician to musician, played by ear or learned from family members and friends.
Although a small community, Prescott offered numerous opportunities for residents to socialize and enjoy live entertainment. In 1866, Margaret McCormick, wife of Territorial Governor John McCormick, wrote to her brother John in New Jersey describing a party in the Governor's Mansion: "We danced in the house and had two sets in front. The dancing was complemented by a supper of cold roast beef & veal, pies & cakes in variety…"
Parties and celebrations with live music and dance continued as part of the growing town's life . On January 4, 1878, the Arizona Weekly Miner reported a dance at Fort Whipple: "A large number of the residents at Fort Whipple were joined last evening in celebrating the New-year with a hop, at the General Crook Club Rooms. The Hall, which has heretofore been considered excellent, has been made more spacious by an addition, for the accommodation of the band, which leaves more room for those who so often indulge in meeting and passing a few hours in social conversation and rounds of the mazy dance."
By 1900, square dancing was one of the attractions offered by a new summer resort in the Granite Dells. As reported in the Prescott Journal Miner of May 5, 1907, "Today will witness the inauguration of the summer excursions to points of interest throughout the Territory, when the first special train to be run from Prescott this year will leave the S.F.P.& P. (Santa Fe, Prescott & Phoenix) depot at 11 o'clock, for Granite Dells…. Dancing, boating, log riding…. Will be among the attractions to be found at this summer resort."
With straightforward, clear steps shared by a caller, the simplicity of the dancing meant people could easily join in. Like the dancing Margaret McCormick described more than 30 years before, square dancing was complemented by joyful and lively music.
Music from the latter half of the 19th century continued to provide inspiration and fun for Prescottonians into the 1900s. Popular songs like "Soldier's Joy", dating from the Civil War, and "Whistlin' Rufus" from the turn of the century, continued to be popular. These songs, with others like "Old Joe Clark" and "Speed the Plow" are still played today.
The violin was popular with musicians and often played alongside a guitar, mandolin, banjo, upright bass or piano. For some, performing was a family affair. Paulden founder and resident Ruth Gilpin (1914-2012), a longtime member of the Mile High Chapter of the Arizona Old Time Fiddlers and a guitarist, performed with her daughter as well as her husband. Reflecting on the role music played in her life and the lives of her family members, she later shared in an interview that her husband played guitar and loved to sing old time cowboy songs. Her father, O.T. Pownall, played the mandolin and banjo.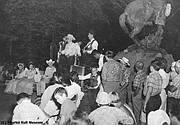 She also shared that, at her family's store in Paulden, "musicians would gather almost every evening to play the old tunes, and the kids would dance." At this time, there was no radio reception in Paulden, and televisions had not entered American homes. Music was part of everyday life and helped build and sustain entire communities.
Prescott was also home to musical instrument makers. Gabriel Payne, the bandmaster, arrived in Prescott in 1922 and was a musician and violin maker. Payne passed on his knowledge to local fiddler Sam Saum (1906-1989). Over the course of Saum's career, he made 168 fiddles.
Join us October 5 and 6 at the Sharlot Hall Museum for the 41st Annual Folk Music Festival as the legacy of live music in Prescott is continued. Admission to the festival is $5 for adults 18 and over, $3 for members and free for those 17 and under.
"Days Past" is a collaborative project of the Sharlot Hall Museum and the Prescott Corral of Westerners International (www.prescottcorral.org). This and other Days Past articles are also available at https://www.sharlot.org/articles/days-past-articles.l. The public is encouraged to submit proposed articles and inquiries to [email protected]. Please contact SHM Library & Archives reference desk at 928-445-3122 Ext. 2, or via email at [email protected] for information or assistance with photo requests.