The Musicians Hall of Fame, established in 2006, has quietly grown into a world-class attraction for music fans of all stripes. Spotlighting the contributions of the lesser-known musicians who labor behind the scenes, the downtown Nashville facility, located within the Municipal Auditorium, also contains plenty of familiar names. The Hall's official roster of inductees is weighted toward studio players, but includes internationally acclaimed performing musicians such as Peter Frampton, Stevie Ray Vaughan & Double Trouble, progressive pop band Toto and The Eagles' Don Felder.
The Hall recently called up a new class of inductees and staged a formidable three-hour-plus concert at Nashville's Schermerhorn Symphony Center on Oct. 22. Prior to the evening show was a media-and-guest-only Medallion Ceremony for the inductees, and the Pulse was on hand, obtaining comments from several of the honorees.
Honored posthumously was Owen Bradley, one of the architects of Music Row and a talented pianist. "Owen Bradley was a piano player since he was 15 years old, self-taught," said Clay Bradley, who accepted a medallion on behalf of his grandfather. "And if you want to see the true expression of joy, just go find a picture of him sittin' behind a piano. So, he would be thrilled to be going into the Musicians Hall of Fame."
Grammy-winning artist Steve Wariner is one of five guitarists to have been awarded legendary guitarist Chet Atkins' exclusive accolade, "Certified Guitar Player." Says Wariner, "Chet was just such a big part of my life and what I did, bringing me along and giving me a lot of chances. I was with him on some cool things, with two different presidents. I was on some award shows when I was with him, I was with him on The Tonight Show with Johnny Carson once . . . so those kind of things you never will forget." Wariner describes his career as "a dream come true. And I tell young people that. I tell 'em, take chances and don't be afraid to dream big, 'cause if it can happen for me, a little kid from a small town in Indiana, it can happen for anybody."
Oft-recorded session drummer Eddie Bayers was inducted as part of a tight-knit cadre of Nashville session musicians known collectively as "The Players." "Musically, there's so many great records that I played on, and they've been cross-genre, I mean from [Peter] Frampton, [Bob] Seger, [Mark] Knopfler, George Strait, Alan Jackson, The Judds . . . they're all just as great as each other, you know? So I just appreciate this. It's wonderful.
"For some reason [the Hall of Fame] has got this stigma, since it's in Nashville, Tennessee, that it's country. But . . . you know, it's cross-genre all the way. So, to be in that same company is everything—and to be acknowledged, because all of us have been playing on all these records all these years, and this really brings it to the forefront for us. So we're all thrilled, absolutely thrilled."
Bayers' co-honoree John Hobbs added that "in Japan, for some reason, they pay attention to who plays on all the records. So when The Players went over there to tour, they all knew about everything we'd already done, which is really different. But I think [the induction] is wonderful, and it's particularly sweet to go in as a group with these guys, because we were really like brothers, we worked so closely together. And actually to be in the same category as Felix Cavaliere, I mean, my God . . . (laughs) It's pretty good company to be in, I've gotta say."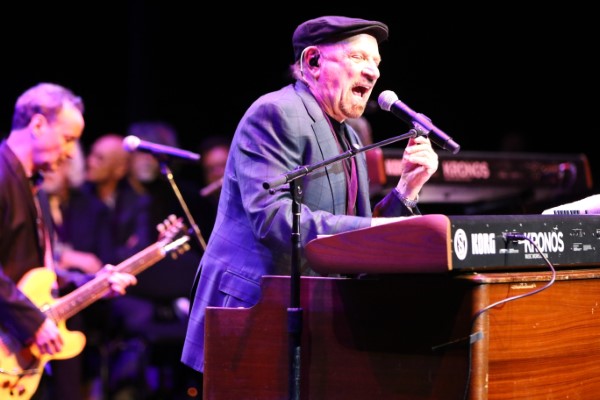 Felix Cavaliere performs at the Schermerhorn Symphony Center. Photo by Royce DeGrie.
Cavaliere was perhaps the brightest star of the event, having written and recorded some of the most memorable singles of the 1960s: "Groovin'," "A Beautiful Morning" and "People Got to Be Free," all of which he performed later that evening, capped with the high-energy perennial "Good Lovin'," spotlighting Cavaliere's incendiary Hammond organ work.)
Bassist Norbert Putnam began his career in Muscle Shoals, Alabama, but soon became a first-call studio player in Nashville, as did his Shoals studio companions David Briggs (piano) and Jerry Carrigan (drums), bringing a dose of Southern soul to Music Row. Putnam, who was honored along with the aforementioned musicians, spoke with the Pulse.
"As you know, when the CD came in, they didn't have enough print space to put the names of the players, but they only started doing it on an LP around the late 1960s. And of course that allowed some of us to obtain a lot of fans around the world. But this honor here tonight, that's the premier honor for a studio guy, you know? The only way you get in this thing is you have to be nominated by your peers. And they vote to get you in. And now, I'll be able to nominate others . . . I'm excited about that, because there are still so many great players out there."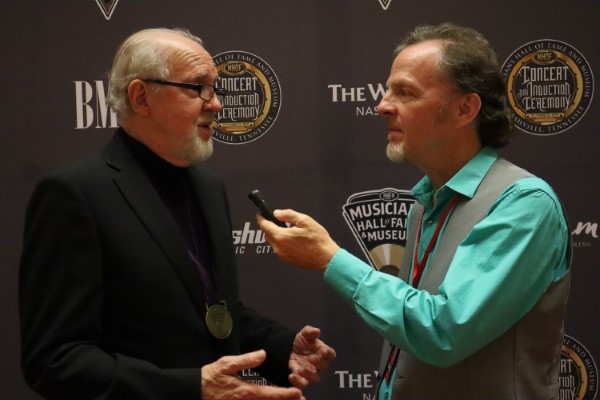 Norbert Putnam speaks with Steve Morley of the Murfreesboro Pulse
The Hall's Lifetime Achievement Award went to record-breaking country-pop chart-toppers Alabama, whose acclaim as a vocal group can overshadow their rock-solid musicianship, which was indeed the reason for this particular honor.
Alabama bassist Teddy Gentry, speaking to the Pulse, said, "It's a great honor. You know, when you're in a band you've got to play your own music. That's at least half of it, so we're honored to be recognized with the musicians too. Added multi-instrumentalist Jeff Cook, "We loved to play our own music, and we got a chance to do that on some of our stuff."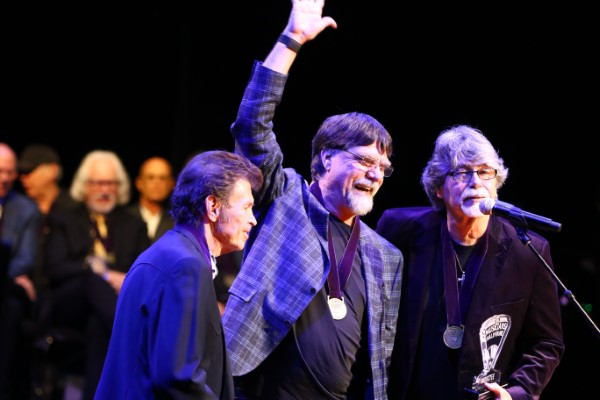 Alabama 
Randy Owen, guitarist and lead vocalist, recalled that he "worked on that intro lick for 'Mountain Music' for probably a month, and finally got it like I liked it. It's so cool now, after all these years, I hit those licks and people know those licks. That's the rewarding part from that hard work that you put into the song. You feel like you've got a song, but then you need the music—so you're gettin' a double-barrel thing: you're gettin' the music effect, you're gettin' the song effect, and hopefully it makes a difference to the audience."