Homiletix Drops Foreign Affairs (Deluxe Edition) After Peaking At #5 With His Foreign Affairs Release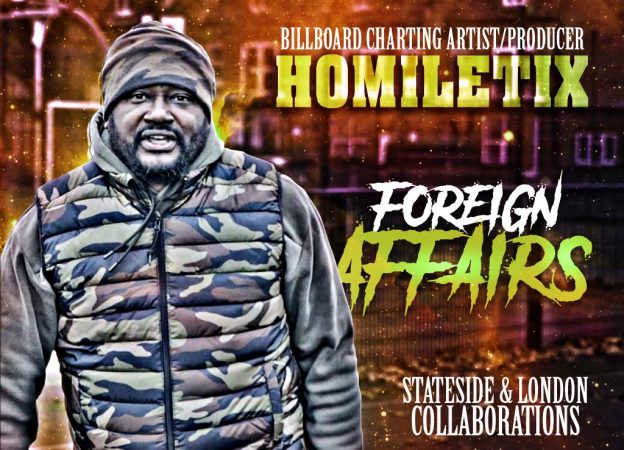 After Homiletix's first Billboard release, he hit the Billboard charts again on a compilation entitled World Hip Hop Unleashed Vol.2 through DJ Choice and The DJ Grid. He is also featured on the 50/50 Project produced by DJ Choice and The DJ Grid. The 50/50 Compilation Project includes artists such as Chris Brown, Quavo, Kali Ranks, Lauryn Hill, C-Murder, and Twista.
Homiletix's current solo project entitled Foreign Affairs is expected to send shock waves through the music industry. It is a collaboration of state side artists and London MC's. It features artists such as Cyba, KDot T, and P. Grizzy who are some of the top MC's in the United Kingdom. This project also features stateside artists like JT Money and Roniel. The Foreign Affairs Project features powerful tracks such as Dedicated, No Pressure, Seasons Change, and Bars Still Matter. The music industry should brace themselves as Amada Records presents Homiletix.
Homiletix hand-picked each artist on this project. Homiletix said "Cyba is the Top London Female MC, KDot T and P. Grizzy from Mass Destruction Ent represent East London are Top MC's, and representing the stateside artists are Roniel from Tribe Life Studios and signed to Homiletix artists and JT Money of the Poison Clan is a Southern Hip Hop Pioneer." July 31st Homiletix will release his new EP with the #1 Billboard charting label Amada Records. Follow @Homiletix on Instagram for updates on new releases.
About
Homiletix has charted on Billboard numerous times on complications produced by DJ Choice and The DJ Grid. The first was Tropical House Cruise To Jamaica where Homiletix produced the track entitled Neighborhood Watch Worldwide which featured himself, MULTiMILCUZiMULTiTASK, and Lord Jamar. The complication included artists such as Ed Sheeran, Sean Paul, Stephen Marley, Damian Marley, Sean Kingston, and Wyclef.
Contact
Homiletix
Travis Grace
1881 Hodgesville Road
Dothan, Alabama
(334)333-9323
[email protected]
Links
Instagram: @homiletix
https://www.amadarecords.com