The stage was filled with different traditional musical instruments from various parts of Indonesia, each of which had a different set of scales that produced sounds and a particular vibe unique to their origin.
It was once thought impossible for those contrasting tones to create harmony, but the Indonesian National Orchestra (INO) proved otherwise.
Prominent music composer and ethnomusicologist Franki Raden went against all odds in 2010 and formed the orchestra, which consisted of over 45 traditional music maestros from all over the country and choir members.
Leading the way: Music composer and ethnomusicologist Franki Raden is the founder of the Indonesian National Orchestra (INO), which consists of 45 traditional music maestros from all over the country. (Franki Raden/-)
The one-of-a-kind orchestra made its memorable debut at the Tourism Ministry's Balairung Sapta Pesona hall that year. Parts of the recorded performance premiered at the opening of the CAVENTER STAGE x Lokaswara Online Festival.
Organized by Lokaswara, a company founded by Franki that organizes music and cultural festivals to expose local cultures to international audiences, the festival presented various performances of traditional music from across the globe.
Starting on May 20, a talk show with clips of the performances was streamed regularly on the YouTube channel Culture, Art, Community Development and Tourism Center (CAVENTER) Indonesia, a platform to educate and promote sustainable tourism.
The festival was scheduled to coincide with National Awakening Day — which commemorates the establishment of a youth organization that bore the principle of the national consciousness — and the 10th anniversary of the orchestra.
"The orchestra represents the diversity in Indonesian music and is the manifestation of the [national motto] Unity of Diversity," said Franki, who hosted the event with music journalist Bens Leo.
In its debut performance, INO brought together the variant sounds of woodwind instruments such as suling and serunai, the zither-like kacapi and sasando, the percussion instruments taganing and rebab, beside the widely recognized sets of gamelan (traditional orchestra) instruments from Java and Bali.
The maestro and two vocal soloists, some of whom came from far-flung areas in North Sulawesi, Aceh, East Nusa Tenggara, West Kalimantan, West Java and North Sumatra, were clad in their own traditional costumes.
In concerto grosso style, they performed "Voice of Diversity" composed by Franki, passing on the chance for solo instruments to show off their uniqueness in between the times their sounds blended as a full orchestra.
The choir chanted a mantra of the Dayak tribe, adding a mystical ambiance to the grandeur performance.
"The maestros are indigenous musicians. They don't read scores and each of them has a strong sense of improvisation. That is why the elaboration is different every time," explained Franki.
"I let them play in their original style and tuning. I just provide them a structure where [the sound produced by the music instrument] can fit nicely within it."
In 2011, the orchestra traveled to Australia for a concert tour in Melbourne, Canberra and Sydney. The Melbourne show, in which INO performed "Trompong Concerto", was streamed on June 4.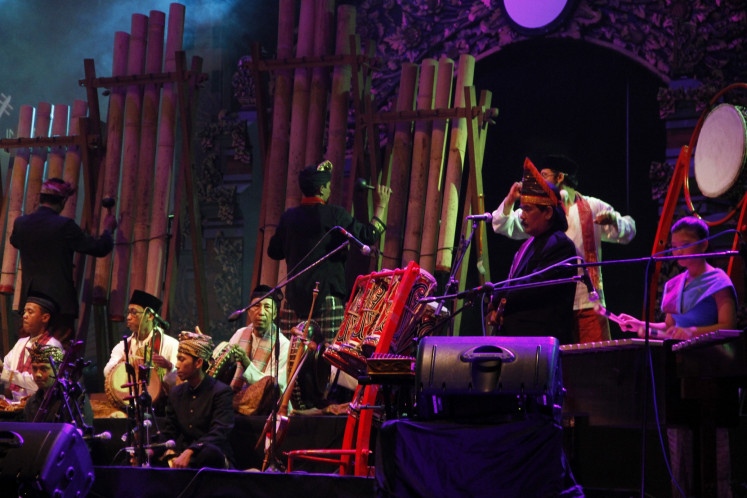 Mixing sounds: INO brings together the variant sounds of Indonesia's traditional instruments. (Franki Raden/-)
The performance received praise from global musicians, including Australian composer Greg Schiemer, Moroccan world music programmer Brahim El Mazned, Spanish composer and instrumentalist Ana Alcaide, Canadian actress and vocal coach Laur Fugère, Indonesian jazz singer Amelia Ong, as well as Netherlands-based music journalist Charlie Crooijmans and Indonesian journalist Naratama Rukmananda of Voice of America's New York bureau.
Through video calls, they expressed their hope that the indigenous orchestra would soon travel the world because the "best music is best listened to live on stage" while requesting collaborations with INO.
Funding and paperwork for a large entourage to travel abroad with fragile musical instruments that come in different sizes and weights — many of which are made of wood or bamboo and cowhides — was deemed an obstacle for the orchestra to be active overseas.
"We proposed to the government to make INO a state orchestra. I really hope they will reconsider this request," Franki said.
"Our next dream is to have an indigenous youth orchestra. We are optimistic that Indonesia has many talented young musicians, we just need to find them," said the award-winning music composer, who had realized his dream of forming an indigenous orchestra after 33 years.
The online music festival was opened with clips of Lokaswara's previous projects, the latest of which was the Jakarta Beat Society in 2019 with main guest Chris Berry, a Grammy Award winner who is a master of African percussion.
The other clip was a stage performance of late singer Glenn Fredly during the Toraja International Festival in 2016, which was selected as a reminder of his social and political activism in ensuring the welfare and protection of the intellectual rights of Indonesian musicians.
"The main purpose of running this program is to collect donations for traditional musicians. All our maestros, not only those performing in the orchestra, are suffering a lot [due to public health measures] because they cannot do anything," Franki said.
"They earn a living by playing every day with small fees and I think we need to help them sustain  [indigenous] music. If lost, it cannot be replaced."
The live streaming was closed with a performance from married duo Endah N Resha, fellows of the Marché International du Disque et de l'Edition Musicale (Midem) Festival in Cannes, France, in 2013.
They performed their Swahili song "Tuimbe" (Let's Sing) in a medley with Papuan folk song "Yamko Rambe Yamko".
"It is our responsibility as musicians and music enthusiasts to look out for each other. Indigenous music and musicians hold the root of our traditions and cultures. Without them, we will lose our identity as a nation," Endah said.
The performance can be viewed on the YouTube channel CARVENTER Indonesia.
To donate, visit kitabisa.com/savetraditionalmusicians or scan the QR code on the channel to connect with the site.
Your premium period will expire in 0 day(s)
close x
Subscribe to get unlimited access Get 50% off now