Review: 'Angela's Ashes The Musical': The result of innovation, ambition and pure artistic talent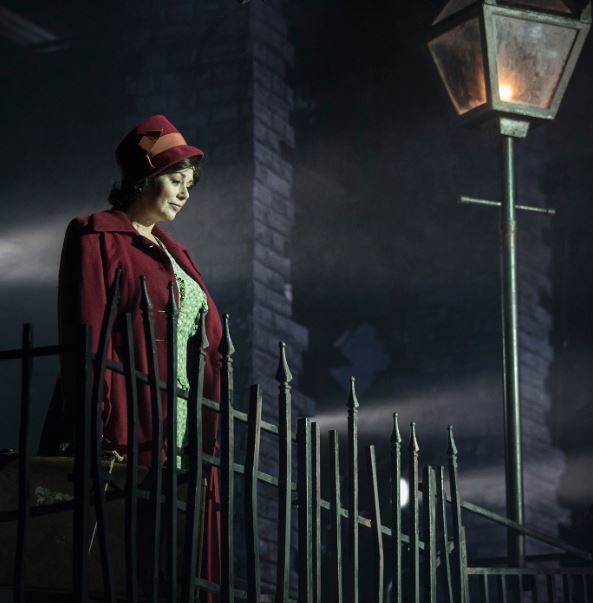 ANGELA'S ASHES is one of the most beloved pieces of literature to ever come from Ireland, but the subject matter and storyline which spans decades makes the idea of a stage adaption tremendously ambitious– especially as a musical.
Indeed, most people's first reaction upon hearing that an 'Angela's Ashes: The Musical' even exists is an astounded "How are they going to make a song and dance about something so depressing?"
It's not a feat that's easily pulled off even in the most capable of hands, but efforts from producer Pat Moylan and an entourage of talented individuals from costume design to music, lighting and movement as well as the actors themselves, has resulted in a triumph.
Before the show begins, as the audience settle themselves in their seats in Croydon's beautifully redeveloped Fairfield Halls Art Centre, a single chair sits on the stage, lit by a white light.
Such a simple image manages to conjure a feeling of ominous apprehension, and throughout the show it becomes apparent what a perfect metaphor that single chair is: through pure creative ambition, the production team for Angela's Ashes: The Musical manage to tell the hard-hitting, decades-enveloping historical story with a small cast and a small stage, letting the story and characters speak for itself.
Jacinta Whyte as Angela McCourt (Photo: Pat Redmond)
The innovation of the stage set-up is to be commended: window frames hang in the air to represent the overcrowding of small houses in the Limerick lanes, and a rolling staircase is used throughout the show for everything from heart-wrenching departures to rollicking showtunes.
Lights flash and thunder rolls as the presence of rain in the city of Limerick is represented as a character in its own right, and the cast of ensemble characters, small as it may be, do an excellent job of depicting the lack of anonymity granted to young Frank and his family as they stare silently at the McCourts during monologues and emotionally raw songs.
Composer Adam Howell succeeds in the momentous task of finding something within the desperate storyline to sing and dance about, by expertly flitting between urgency, hope and despair. Of particular note is the song shared by Frank McCourt (Eoin Cannon) and Theresa Carmody (Brigid Shine), whose showy duet about their plan to move to America is intentionally mismatched with the rest of the more traditional tracks: their relationship is doomed; they are both aware they will not make it to America together, and so their song does not need to conform to the reality of the rest of the show.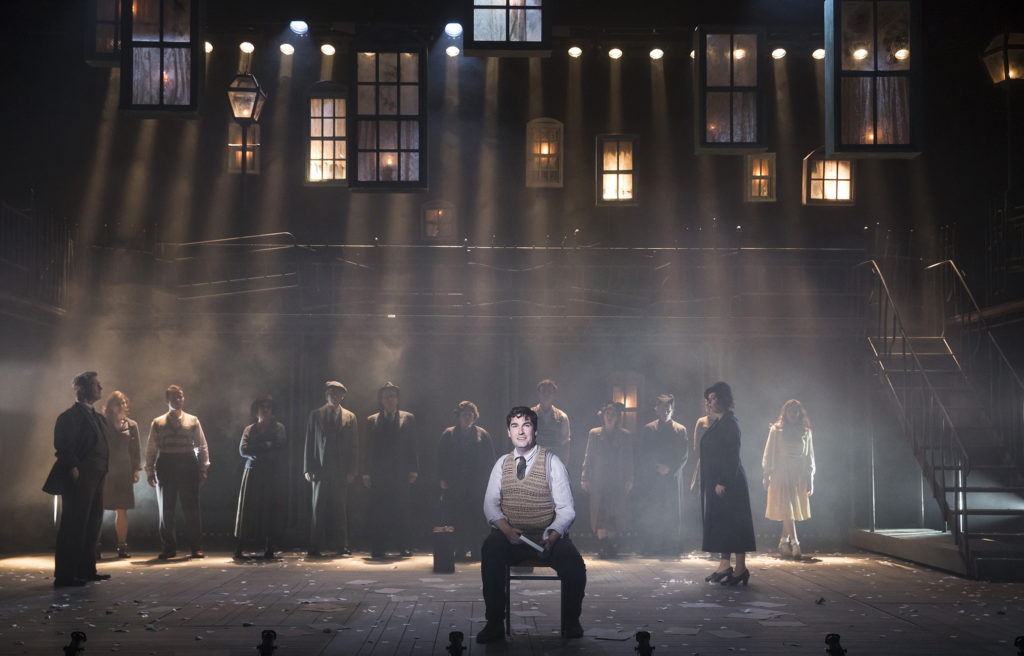 Eoin Cannon as Frank (centre) with members of the cast during the show's run at Limerick's Lime Tree Theatre. (Photo: Pat Redmond)
Each of the actors bring their all to their character, with a particularly boisterous performance from Marty Maguire as Malachy Snr, and while the character of Frank McCourt is a solid narrative protagonist, it is Angela (Jacinta Whyte) who owns the show.
The film of the original memoir at times relegated Angela to merely a supporting character, but this adaption deservedly put Mrs McCourt directly back into the spotlight– Whyte's singing is in a league of its own and is not put to waste as her voice fills the room for several songs in Croydon's Fairfield Halls.
It was always going to be difficult to tell such a far-reaching story in its entirety what with the time, space and cast restrictions of a stage adaption, and it is Malachy Jr, played by Conor Gormally, who suffers in this regard as he is reduced to little more than the younger brother of the protagonist rather than a character in his own right– but considering the other two younger siblings were depicted as faceless, voiceless figures hidden in towels or buggies, Malachy Jr can count himself lucky.
The money-lender Mrs Finucane (Norma Sheahan) as well as Frank and Malachy's grandmother (Amanda Minihan) each deserve recognition for their parts, which, while small, inject heart and humour into a show which so easily could have been nothing more than a wallowing remembrance of the 'misery' of McCourt's childhood.
This is not to say that the show was without despair– the musical retains the sobering themes of absenteeism, alcoholism, hunger, poverty and loss, and there are several points where the reality of the McCourt's situation brings a tear to the eye, but the production never allows itself to become either too heavy to carry on or light to the point that it loses its purpose.
Overall, Pat Moylan's ambition has resulted in what can only be described as a gift to fans of both theatre and literature, and Angela's Ashes: The Musical should be recognised as an important contribution to Frank McCourt's original memoir as much as the award-winning film adaption.
Angela's Ashes: The Musical will be showing in Croydon's Fairfield Halls until October 5th, 2019. For tickets and more information you can visit the website here.
Angela's Ashes are calling… #AngelasAshesTheMusical continues it's run with performances in @CorkOperaHouse this week and @FairfieldHalls, Croydon next week. Tickets still available. pic.twitter.com/kgfSE7qSOe
— Angela's Ashes (@AngelasAshesIRE) September 18, 2019
One moment please…