FILE – In this Aug. 29, 2017, file photo, Waverly Scott Kaffaga, stepdaughter of author John Steinbeck, leaves federal court in downtown Los Angeles. A federal appeals court has thrown out $8 million in punitive damages against the daughter-in-law of author John Steinbeck in her long-running copyright spat with the late author's step-daughter. The 9th U.S. Circuit Court of Appeals on Monday, Sept. 9, 2019, upheld a $5 million verdict against Gail Steinbeck and told her it's time to end her legal saga. Kaffaga, whose mother Elaine was married to Steinbeck when he died in 1968, won a lawsuit two years ago showing Gail Steinbeck meddled with plans to make money off his most famous works. (AP Photo/Brian Melley, File) less
FILE – In this Aug. 29, 2017, file photo, Waverly Scott Kaffaga, stepdaughter of author John Steinbeck, leaves federal court in downtown Los Angeles. A federal appeals court has thrown out $8 million in … more
Photo: Brian Melley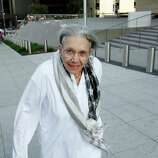 FILE – In this Aug. 29, 2017, file photo, Waverly Scott Kaffaga, stepdaughter of author John Steinbeck, leaves federal court in downtown Los Angeles. A federal appeals court has thrown out $8 million in punitive damages against the daughter-in-law of author John Steinbeck in her long-running copyright spat with the late author's step-daughter. The 9th U.S. Circuit Court of Appeals on Monday, Sept. 9, 2019, upheld a $5 million verdict against Gail Steinbeck and told her it's time to end her legal saga. Kaffaga, whose mother Elaine was married to Steinbeck when he died in 1968, won a lawsuit two years ago showing Gail Steinbeck meddled with plans to make money off his most famous works. (AP Photo/Brian Melley, File) less
FILE – In this Aug. 29, 2017, file photo, Waverly Scott Kaffaga, stepdaughter of author John Steinbeck, leaves federal court in downtown Los Angeles. A federal appeals court has thrown out $8 million in … more
Photo: Brian Melley
Rihanna mixes music, fashion
Big Sean, A$ap Ferg, Halsey and Migos rocked Rihanna's Savage X Fenty crowd on Tuesday from a color-saturated stage at the Barclays Center as Normani and Laverne Cox joined an army of supermodels and dancers in a showcase of her latest loungewear and lingerie.
But don't look for the juicy new collection on social media, at least not in a big way. The curated audience heavy on young influencers had their phones locked in cases for the New York Fashion Week show, which was filmed for streaming Sept. 20 exclusively on Amazon Prime.
Rule-breakers spent the rest of the evening posting blurry and dimly lit clips taken with sneaked-in phones.
Do look for an opening dance number featuring Rihanna, in black, surrounded by fellow dancers. No, she didn't sing.
Rihanna did right by her fans by putting her latest teddies and other lacy pieces immediately on sale, at Amazon, and by setting up photo booths outside the Brooklyn stadium after the 40-minute show.
Among Rihanna's guests were Kacey Musgraves, Kehlani, the pregnant Ashley Graham and Diplo. They joined others for photos ahead of the performance.
— Associated Press
Court seeks to end Steinbeck litigation
A federal appeals court attempted to close the book on endless litigation between the relatives of author John Steinbeck in a ruling that upheld a $5 million verdict against his daughter-in-law, but threw out $8 million she faced in punitive damages.
The decision by the 9th U.S. Circuit Court of Appeals on Monday delivered partial victories to the late author's stepdaughter, Waverly Scott Kaffaga, and to Gail Steinbeck, the widow of his son, Thomas.
The court upheld a jury verdict two years ago in Los Angeles federal court that found Gail Steinbeck and her husband meddled with Kaffaga's plans as executor of the estate to profit off the Nobel Prize-winning author's works.
Gail Steinbeck helped kill a remake of "The Grapes of Wrath" to be directed by Steven Spielberg and an "East of Eden" reboot to star Jennifer Lawrence, Kaffaga said.
The lawsuit followed decades of disputes between Thomas Steinbeck and Kaffaga's mother over control of the author's works. Kaffaga's mother, Elaine, was Steinbeck's third wife and was married to him when he died in 1968.
Elaine Steinbeck died in 2003, leaving her daughter as executor of the estate. Gail Steinbeck became executor of her husband's estate when he died in 2016.
The court threw out the punitive damages because it said Kaffaga hadn't shown Gail Steinbeck, who lives off publishing royalties of $120,000 to $200,000 a year — could afford it.
Gail Steinbeck's rental home and belongings in the ritzy Santa Barbara County enclave of Montecito were severely damaged or destroyed by mudslides last year that killed 23 people, her lawyer said in court filings. He estimated it would take her 65 years to pay off the punitive damages.
While lifting that penalty from Steinbeck, the ruling may finally free Kaffaga to make the most of Steinbeck's copyrights. His major works have not come to the big screen in recent years.
Kaffaga "is looking forward to bringing Steinbeck's many works to life for future generations, attorney Susan Kohlmann said in a statement.
The 3-0 ruling said it should mark an end to nearly a half-century of coast-to-coast litigation over the rights to Steinbeck's works.
The judges said Kaffaga even could seek a lower court injunction to end what they called Steinbeck's "recidivist litigation."
— Associated Press
Suspect in Swift case in more trouble
The man charged with breaking into singer Taylor Swift's Rhode Island mansion is accused of causing more than $20,000 damage to President Donald Trump's New Jersey golf course.
The Somerset County prosecutor says an employee at Trump National Golf Course in Bedminster observed a spinning vehicle "doing donuts" on the 11th hole on Sept. 3. A vehicle was spotted again on Sept. 8 making circular patterns on the 13th hole.
A partial license plate number led police Tuesday to charge 26-year-old Richard McEwan of Milford with criminal mischief.
McEwan was not wearing shoes when he was arrested in Swift's beachfront mansion last month.
Police said he told them he was taught to take his shoes off when entering someone's home to be polite.
— Associated Press