Royal National Mod 2019: Traditional musicians rank top as they pay homage to those who inspired them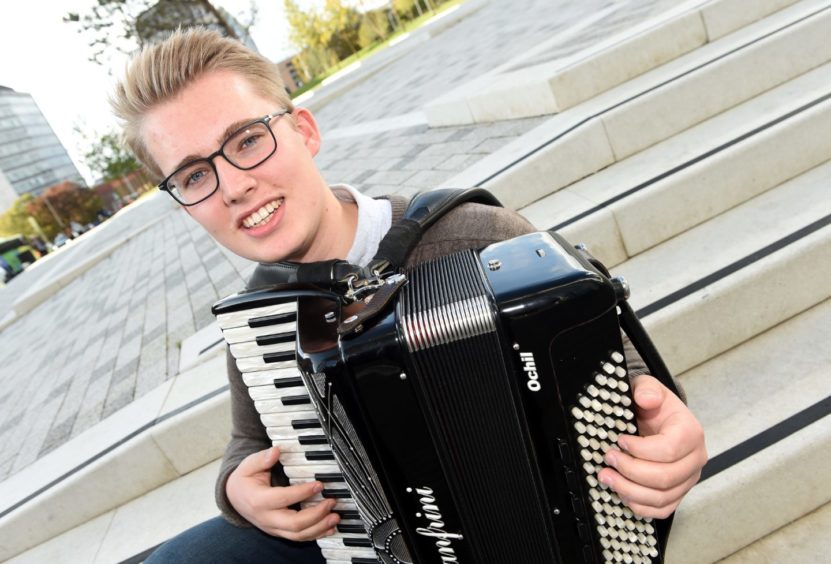 Talented musicians have gone on to make history at The Royal National Mod whilst following in the footsteps of those who inspired their journey to success.
North-east accordion player Duncan MacPherson Ritchie, made his first solo appearance at this year's Mod, gaining first place and the An Comunn Gaidhealach Prize during the under-19's Ceol Bogsa contest in contemporary traditional tunes.
© DC Thomson
Duncan MacPherson Ritchie of Aberdeen, a winner in the under 19 accordion competitions.
Speaking to the Press and Journal, he said: "It feels great. It's quite a relief because I have been to many competitions, but I think this is my first time properly winning against more people.
"The competition I was doing is contemporary, so it's quite a wide umbrella and anyone could have won really, but I am happy and pleasantly surprised."
The 18-year-old who studies Traditional Music at The Royal Conservatoire of Scotland said he decided to compete in honour of his grandfather who grew up on Skye.
He added: "I have always done these competitions and he (his grandfather) grew up in Skye and the competition they all did was the Mod. I have never done the Mod on my own, so I did it for him really."
Meanwhile, first place in the 13-18 year's Fiddle contest went to 13-year-old Meredith Kennedy from Stirling.
The young student from Glenalmond School walked away with The Robert McCallum Memorial Trophy, marking her third consecutive victory at the national competition.
The youngster – who began playing seven years ago after learning to play the Clarsach – said her drive and dedication derived from her mother Hazel.
She said: "It's thanks to my mum. She played the Clarsach before me so it was her that introduced me to it and it's thanks to her I am where I am now.
"If she hadn't nagged me for all those years, I would never have practised."