Soundbites: Alternative Awards for Vermont's Music Community | Music News + Views | Seven Days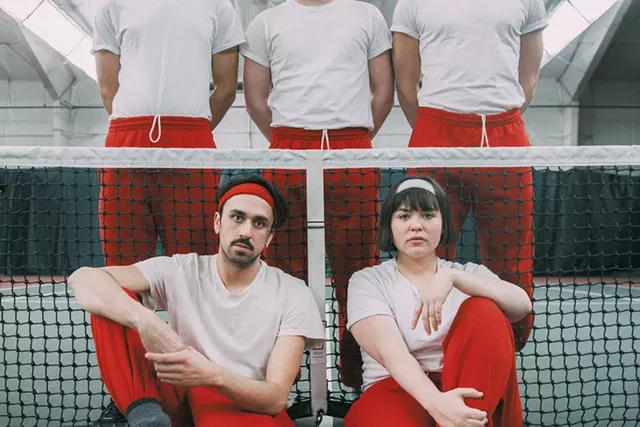 Courtesy Of Kayhl Cooper Fever Dolls
You Are the Champions
We here at Seven Days all breathed a collective sigh of relief last week. All the Best, our annual publication that reveals the results of the Seven Daysies awards, finally hit newsstands as an insert in last week's issue. From counting votes to writing spotlights to laying out the magazine, the process takes months and can be stressful at times. But it's all worth it to be able to unveil the myriad things Vermonters love best.
Indeed, the Daysies includes a robust arts and entertainment section. Congrats to all y'all music makers out there who nabbed honors. But, alas, Vermont's music scene is far too vast to be fully categorized in our friendly competition. That's why I'm looking back over the last year or so to offer up a selection of seven alternative prizes, which you'll find below.
I haven't come up with a fancy name for these yet. Any suggestions? My predecessor, Dan Bolles, used to call them the Seven Dandelions, which is a nice play on words. Get it? Dan-delions? It doesn't really work with my name. What about Adams' Apples? Ugh, no, that's terrible. If there were an award for coming up with names for awards, I surely would not win it.
The Always-on-Time Award
One duty of the Seven Days music editor that many folks probably don't know or think much about is putting together the weekly club listings. While nowhere near as big a job as writing the full Seven Days calendar section, compiling the week's upcoming shows, trivia nights, open mics and comedy happenings does take a good chunk of time. You know what makes it easier? When talent bookers send me their show calendars on time. Most folks are pretty good about this, but Briant Hamrell of On Tap Bar & Grill is the most on top of it. Never have I had to reach out to Hamrell for the Essex Junction restaurant's music schedule.
Most Creatively Themed Dance Parties
For years, Club Metronome was known for one dance party: Retronome on Saturday nights. Hits of the '70s and '80s — and later the '90s and early '00s — were the name of the game, and still are. The formerly weekly event, hosted by the incomparable DJ Fattie B, happens only sporadically now. But a new crop of young DJs, among them Moochie and DJ SVPPLY, has started to explore new avenues of booty-shaking potential. From Move B*tch, a recurring 2000s hip-hop night, to This Must Be the Place, a night of rocking out to the Talking Heads, Club Metronome is digging deep into various niches.
Best Music Video
I wouldn't say music videos are dropping like crazy 'round these parts. But a fair number of decent clips has been making the rounds on the interwebs of late. Unsurprisingly, Queen City go-to director Kayhl Cooper steers the ship on many of them. Of his many projects, Cooper's work with Fever Dolls has proved wholly engaging. In particular, the clip for "Adeline," Fever Dolls' second single, takes the cake. What is it about delightfully awkward yet totally confident choreography that just does it for me?
(Note: With Cooper moving on to New York City any day now — what, did you think we'd keep him forever? — someone needs to jump in to fill the void. Actually, scratch that. More than one person needs to step up. Based on his prolific output, Cooper was doing the work of at least two or three directors.)
Radio Station That Takes Me Back
While it's true I'm a '90s kid (meaning I was born in the '80s and came of age in the '90s), my earliest years of music appreciation centered on oldies. My parents stopped listening to pop music around 1973 and therefore didn't introduce me to anything from later years. However, they did me right by starting me out the Lovin' Spoonful, Lesley Gore, Chubby Checker, Elvis Presley, the Zombies — the list goes on.
At some point in the mid-2000s, the "golden oldies" radio format changed dramatically. All of a sudden oldies stations played mostly '70s and '80s hits. Today, they mostly play '80s with some '70s and even a bit of early '90s music. Hearing true golden oldies on a terrestrial station is nearly impossible. But in 2017, Mid Century Radio, heard at 103.7 on the FM dial and 1070 AM, revived the format to play classic hits and deep cuts alike. Though it's difficult to get a signal outside Burlington city limits, the station makes my freakin' day on short car trips around town.
Best Debut(s)
click to enlarge

Courtesy Of Monika Rivard JUPTR
A band's debut offering should be bold, attention-grabbing and memorable. Ideally, it gives us all of the essential information we need to know about a group but leaves us wanting more. It should teeter on the edge of satiety.
It's especially difficult to narrow down this category that I just invented, so I'm not going to! A number of excellent debut EPs and full-length albums tickled our ears in the past year: neo-soul group JUPTR's electrifying Echo; R&B star-in-the-making Isaac French's Human Being; pop-jazz ensemble About Time's long-awaited first outing, I Don't Think I Belong Here; new-wave trio Roost's deliciously bleak Self-Titled; Mark Daly's solo opus I'm Gonna Do It (Anyway) as Ernest; Sabouyouma's engrossing Sabouy; and, of course, 99 Neighbors' masterwork, Television.
Best Collaboration
I love it when locals team up! One collab that's been stuck in my head going on 10 months or so is Willverine's "Oh Beauty" featuring Francesca Blanchard. Blanchard's spectral vocals bend and twist over sparse bass, handclaps, clicks, whirs and buzzes. From Willverine's late 2018 EP Save Some, the hauntingly gorgeous chill-out tune somehow works as both meditation backing track and slow-burning dance-floor fodder.
Concert Destination Worth Driving To
click to enlarge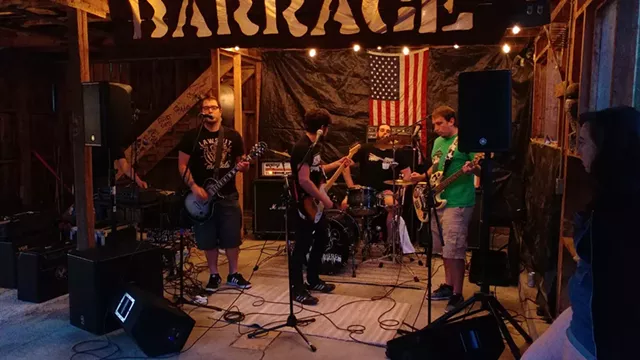 Jordan Davis The Windermeres at the Barrage
Unless you live in the Northeast Kingdom, you're going to have to put more than a few miles on the old jalopy to witness the DIY concerts held at the Barrage in Holland. Programmed by Borderline Entertainment, the brainchild of South Burlington native Andy Bouchard, the shows bring local, regional and national talent to the host's repurposed barn/garage. This season, artists such as Aubrey Haddard, the Tsunamibots and the Mountain Carol took the stage at the off-the-grid hot spot. The season is almost over, but the last show of 2018 was in September. Here's hoping for another final fall blowout this year.
Listening In
If I were a superhero, my superpower would be the ability to get songs stuck in other people's heads. Here are five songs that have been stuck in my head this week. May they also get stuck in yours. Follow sevendaysvt on Spotify for weekly playlists with tunes by artists featured in the music section.
Labrinth and Zendaya, "All for Us"
El Perro Del Mar, "Candy"
Tame Impala, "Borderline"
POLYDRIVE, "Take It All"
Billie Eilish, "you should see me in a crown"