Live Irish music is an unforgettable experience and IrishCentral has some top tips to help find the best of Irish "ceol" near you!
Irish music plays an invaluable role in preserving Ireland's culture, artistically describing the political and social issues of the day, telling the nation's history and shaping its identity.
Read More: Watch live from the largest Irish festival in North America on IrishCentral
Traditional Irish music is a full-body experience involving both musicians and their audience but where can you find them?
Local Irish bars
It goes without saying that the best and quickest way of finding Irish music is at a local Irish bar. What's more, an Irish bar is arguably the best place to savor the whole experience.
Irish bars usually cater for Irish bands, solo musicians or the unbeatable "seisún" (session). A seisún (pronounced: seh-shoon) is an informal gathering of musicians who collectively play their respective instruments, sing songs and down a few pints.
7
Accordions, fiddles, flutes, banjos and bodhrán's are just some of the instruments you can expect to see or hear. The brilliant thing about a traditional Irish music pub session is you're never quite sure what you're going to get – it can be relaxed and sedentary but in the blink of an eye, everyone can be on feet dancing the night away. And that's what Irish music is all about, joining in and having the "craic."
You'll find a pub seisún in nearly every village, town and city on the island, especially on weekends!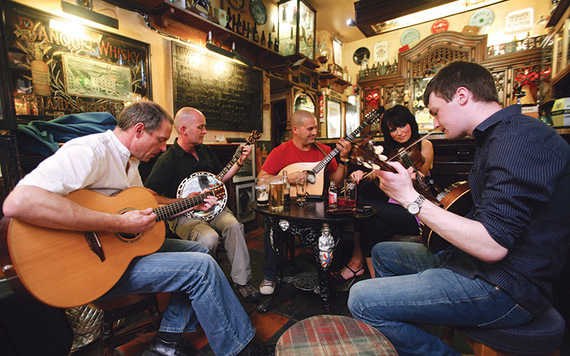 7
You can expect a bit of dancing at seisúns, too. People clap along to the beat as dancers twirl and skip around.
Dublin
The famous cobbled streets of Temple Bar are always awash with Irish musicians either inside the bustling pubs or buskers on the streets, Temple Bar is your go-to place to fully experience Irish music in the nation's capital.
While crowded pubs with the overpriced food and drink may not be to your liking, there are a few hidden gems not far from Temple Bar that will let you soak up traditional Irish music in more relaxed settings.
A stone's throw away back along the River Liffey you'll find Darkey Kelly's next to Christ Church Cathedral, fully equipped with a spacious dance floor for you to try some Irish jigs.
Hop across the Liffey to Dublin 7 and you'll find a "music pub with a drinking problem,"  The Cobblestone.
Further eastwards is The Celt on Dublin 1 which has Irish traditional music seven nights a week or right around the corner there's The Confession Box, voted the best bar in Dublin 2017 by 98fm listeners.
Cork
Facing the entrance to the old Beamish and Crawford brewery, An Spailpín Fánach (the Migrant Worker) is a centuries-old pub in the heart of Cork City. Its stoned floors, open fires and snug corners will have you feeling like its 1779 (its founding year) and local musicians play laid-back sessions here nightly.
7
Head deep into West Cork and you'll find De Barras Folk Club in the seaside town of Clonakilty. Flutes, fiddles, bodhráns, pipes and mandolins paint the walls of this famed venue and top performers like Jack L, Sharron Shanon and John Spillane are regular performers here. 
"There's Carnegie Hall, The Royal Albert, Sydney Opera House and then there's De Barra's," declared Irish music legend Christy Moore!
Mayo
In the charming town of Westport along Ireland's Wild Atlantic Way you'll find an old school pub, named after and run by Matt Malloy, the fife player from the Chieftains.
Read More: Irish band The Chieftains plan 2020 US tour
The back room is where you're likely to find a lively trad session or in Matt Molloy's Yard Bar, you might see popular Irish bands like Coda, just ask former US Vice-President Joe Biden!
Donegal
The home to Ireland's world-famous musical talents Enya, Clannad and Moya Brennan, Leo's Tavern in Co Donegal is steeped in music history and you're guaranteed a great night of music!
Killarney Co Kerry
The beautiful town of Killarney is one of Irelands top tourist destinations and it's easy to see why. Stunning sites, great food and drink, friendly people and a hub for wonderful Irish musical talent. 
Pick a pub in Killarney and you'll find some Irish music. The always lively Failte Hotel Bar will have you dancing on tables, as will The Grand and the Killarney Towers Hotel has a fine big bar downstairs ideal for some epic singalongs and plenty of room for dancing!
Read More: Irish bride and groom brought to tears as family and friends surprise them with "Stand By Me"
The INEC Centre Killarney plays host to major events including, Live at The Gleneagle, bringing the best of music and dance acts to the venue.
Irish musical stalwarts like Brendan Shine, Mike Denver, Michael English, Cliona Hagan, The High Kings and Bagatelle are just some of the top acts playing the INEC.
If pubs aren't your thing then there are plenty of other ways to enjoy Irish music!
Comhaltas Ceoltóirí Éireann
Comhaltas Ceoltóirí Éireann (Gathering of Musicians of Ireland) is the largest group involved in the preservation and promotion of Irish traditional music and has hundreds of local branches around the world where activities and 1,000 weekly classes take place.
7
The Comhaltas website has a map pinpointing all their local branches and is a fantastic resource.  
There are more than 60 branches of Comhaltas Ceoltóirí Éireann in the US, twelve of which make up the Mid-Atlantic Region and you can check their Facebook page to find out more.
Irish cultural events
If you are familiar with any Irish cultural events in your area then the chances are there will be plenty of Irish music to go with it! Be sure to check out your local immigration/community centers if outside the US as well.
Irish Gaeltachts are a hub of Irish cultural events, particularly in the summer and Irish music and céilí's are never far away.
7
Fleadh Cheoil na hÉireann
"The Fleadh" or "Festival of Irish Music" is Ireland's biggest traditional Irish music festival being hosted this very week in Drogheda, Co Meath.  Some of Ireland's most talented musicians, singers, and dancers are in attendance including Nathan Carter, Martin Hayes, Damien Dempsey, Horslips and Stockton's Wing.
Traditional Irish céilís will be in full flow at the week-long event but for those unable to attend, you can watch all the fun from FleadhTV live on IrishCentral from Thursday, August 15, through Sunday, August 18. 
Willie Clancy Summer School
The Willie Clancy Summer School, is a major traditional Irish music, song and dance event held annually in Miltown Malbay, County Clare, Ireland. 
In its Fleadh-style volume of music-making in bars it has become something of a Mecca in music, its retinue of up to a hundred and fifty teachers, and hundreds of improving and competent musicians, dancers and singers drawing in thousands of listeners.
Chief O'Neill festival – Bantry, Co Cork
Each the musical legacy of Chief O'Neill is celebrated in Bantry with a traditional music festival to highlight his achievements as a collector of traditional Irish music.
Born in the West Cork town of Bantry, Francis O'Neill rose to become General Superintendent of Police in Chicago, from 1901 to 1905. O'Neill is still remembered fondly as an officer of the law, but it's his dedication to traditional Irish music, and the work he did to sustain it, that sustained his legacy.
The 2019 Festival runs from September 6 – 8.
Milwaukee Irish Fest
The largest Irish event in North America. the Milwaukee Irish Fest is held annually on the third weekend in August on the shore of Lake Michigan, in Milwaukee, Wisconsin.
If you're too late to make arrangements for this week then check out our live streams and coverage here.
Use Facebook!
No matter where you live in the world, a live Irish music session could be just a few simple clicks away! With nearly 2.4 billion active users worldwide, social media site Facebook is probably the best way of connecting with musicians or venues hosting Irish music! It's also a great way to keep up to date with gig announcements. 
Simply type in "Irish music" in the search bar and click events. Then, narrow your search to include your location and which dates you are looking for. There you will see any pub, band or organization (who have posted to Facebook) who will be playing Irish music in your area.
7
What's more, you can tell people you are going by sharing the post and Facebook will set a reminder so you don't forget closer to the date! Easy right!
This August, we're celebrating Gaeilge (the Irish language) and Irish music with a series highlighting those around the world speaking and learning Irish, and playing Irish music.
Visit our dedicated music section here or our Irish language section here to read more.
You can follow throughout the month by using the hashtags #ICMusic, #ICGaeilge or by following us on Facebook, Twitter, Instagram or LinkedIn.
Do you have an idea for a story on Irish music or the Irish language?  Why not join IrishCentral's contributor's platform Irish Voices? You can learn more about it here and sign up here.