A Moving, Visceral Blues Record which Inspires and Captivates – The Rev Douglas' Delivers with Soulful New Album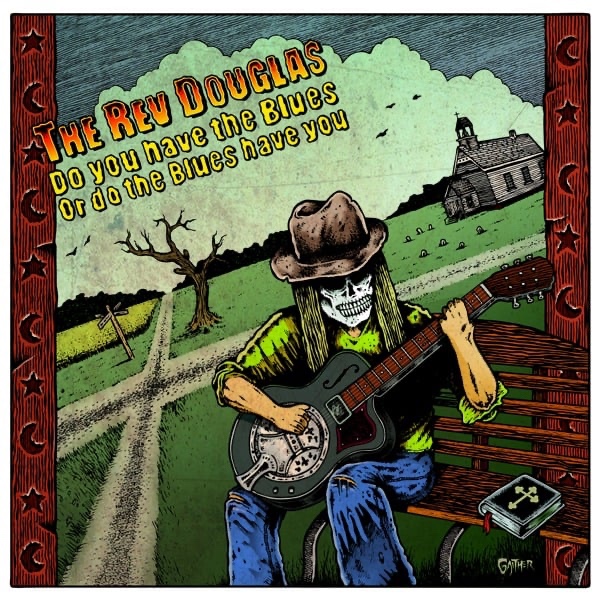 A moving and touching new album, 'Do You Have the Blues or Do the Blues Have You?" is bound to strike all the right chords with audiences
Louisville, Kentucky — August 15th, 2022 – Having released on April 4th, 2022, The Rev Douglas' stunning new album is nothing but sweet perfection from the rising singer-songwriter. Titled, ''Do You Have the Blues or Do the Blues Have You?'', the new album takes listeners through a profound and honest journey of emotions, with each of the nine tracks offering something uniquely alluring.
With Douglas Patterson on vocals and guitar, Jeff Faith on stand-up Bass, Cary Shields on drums, and production by Steve "Catfish" Wilson, ''Do You Have the Blues or Do the Blues Have You?" is a beautiful new addition to the genre.
The new album was recorded live at RTR recording in Louisville, Kentucky. Meanwhile the album art was fittingly curated by Jeff Gaither. Listening to the impactful and moving new record, audiences will feel themselves instantly transported to a different realm. They are also bound to appreciate the real, raw, and honest the song writing and lyricism on the album.
A reflection of his own life and what he has seen and experienced, Rev Douglas' new record is intimate, sincerely crafted, and relatable. A whirlwind of sentiments, ''Do You Have the Blues or Do the Blues Have You?" captures the Blues in the rawest form and projects it just as it should- in a truly authentic All-American Blues fashion!
"Blues is spirit, not just a feeling and you can always relate to the Blues, whether or not you are a fan of Blues music…it's in all of us!" says Rev Douglas.
Visit The Rev Douglas' official website to check out, download, buy, and enjoy his new album, 'Do You Have the Blues or Do the Blues Have You?'! You can also stream his music on his official music platforms on Spotify, Deezer, YouTube, and other streaming planforms. Make sure to follow the artist on social media for updates on new music and contact him for interviews, reviews, and/or collaborations through email!
###
ABOUT
Douglas Patterson, who is known to play by his artistic identity The Rev Douglas, has been playing music since he was just a young child, around seven years of age. While he kept playing music on and off, Douglas continued to learn, grow, and realize his talents with an insatiable passion for writing and playing.
Throughout the years, the talented artist has had the experience of playing an impressive and ambitious number of styles. Although he always enjoyed the various, divergent styles and flavors music has to offer, Douglas felt that the Blues held a special place in his heart and soul. Now inspired by the likes of John Lee Hooker, Lighting Hopkins, Muddy Waters, Steve Ray Vaughan, Lou Raws, David Lee Roth, among others, the promising artist is setting his sights on new heights. With the release of an original, new album, 'Do You Have the Blues or Do the Blues Have You?', Douglas Patterson is highlighting the inimitable talents he has to offer.
CONTACT
The Rev Douglas
Name: Douglas Patterson
Email: [email protected]
LINKS
Facebook: https://www.facebook.com/TheRevDouglas
Instagram: https://www.instagram.com/the_rev_douglas/
Twitter: https://twitter.com/TheRevDouglas
Source: ArtistPR