Jim Gaudet in his childhood bedroom on Kakely Street (photo by Amy Biancolli)
Jim Gaudet in his childhood bedroom on Kakely Street (photo by Amy Biancolli)
Photo: Amy Biancolli / Times Union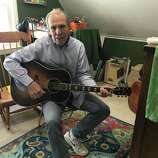 Photo: Amy Biancolli / Times Union
Jim Gaudet in his childhood bedroom on Kakely Street (photo by Amy Biancolli)
Jim Gaudet in his childhood bedroom on Kakely Street (photo by Amy Biancolli)
Photo: Amy Biancolli / Times Union
Amy Biancolli: Not ready to let the music stop
Jim Gaudet had a record player and a radio in his childhood bedroom on Albany's Kakely Street, a cozy nook with pitched ceilings and walls covered with images of his beloved New York Giants.
Upstairs in his room, he listened to music — Bob Dylan, Phil Ochs, Steve Gillett.
"This is where I first heard them," he says. And this is where he first sat with his guitar, late last year, to lay down tracks for his newest album: "Real Stories and Other Tall Tales," the fourth solo project for the longtime singer-songwriter-guitarist and frontman with the Railroad Boys.
"This was recorded in the bedroom that I grew up in," Gaudet says, sitting downstairs from the room in question, a copy of the CD on the table beside him. "It's crazy, yes. Yes. It's a little different, I know. And it wasn't planned. It just happened."
He and his wife of 37 years, Peg, still live in that white brick house on Kakely. There they raised their kids, Jimmy and Mary. And it's there, on a sunny Tuesday morning, that Gaudet sits down to talk about his latest album and his eight years of living with Parkinson's, a disease that less confines him than kicks him out the door to live in spite of it.
"I've been so fortunate in the way it's progressed for me, because it's been a fairly slow progression, thank God. I do what they say to do – and it's keep moving. One of the great quotes is the disease has a difficult time hitting a moving target," he says. "So I try to keep moving."
He gets out. Connects with people. Exercises as much as possible, sometimes with CDPHP's Silver Sneakers program, sometimes with the Hope Soars organization that offers aid and community to people with Parkinson's. He's done yoga. Craniosacral therapy, a meditative, light-touched approach that puts him in a state of deep calm. Boxing, which he loved and fantasized about as a kid but hadn't ever tried. Not until Parkinson's.
At first, he just flailed at the heavy bags. Now he hits the speed bags. "I'm great now," he says of his pugilistic skills. "I can knock anybody out."
He and Peg laugh. Gaudet is, as she points out, a lifelong athlete. An alumnus of the long-gone Cardinal McCloskey High School, he played football for Siena, then basketball at the University of New England in Maine (formerly St. Francis College). After graduating he taught a bit, then coached a bit of football, then took a temporary job with New York state social services. "I was never gonna work for the state — 'not gonna do a state job, not gonna do it' – so I go into the six-month position, and, like, 30 years later, I retire."
All along, he's made music — launching into a singer-songwriter career in the 1980s, then forming the Railroad Boys in 2006. Featuring Bobby Ristau on bass, Sten Isachsen on mandolin and guest fiddlers, including Sara Milonovich and Tucker Callander, the band has churned out multiple albums filled with catchy, twangy tunes that defy pat categorization.
Call it Americana-roots, Gaudet says. Or "hillbilly rock n' roll." Whatever it is, it's earned a devoted local fan base, international airplay and appearances at bluegrass festivals – even though they don't play bluegrass — around the country. Locally they gig all over, including a Hope Soars benefit at Caffe Lena a few weeks back, a monthly first Monday at McGeary's in Albany and an upcoming show Oct. 25 at the Cock and Bull in Galway.
"Gig-wise, date-wise, I didn't think I'd be performing at this point in time, but I still am," he says. "And I'm gonna keep going until the wheels come off."
Music is healing, he says. Singing helps.
"Vocally, eventually I'll lose my voice. And they say, 'Well, what you need to do is screaming therapy.' So I sing, you know. Which isn't that much different from screaming therapy." He laughs again.
Sometimes – as on this Tuesday morning — Gaudet's body is tranquil. At other times, without warning, Parkinson's rears its head. "It's so unpredictable, this disease. You know, one day I'll go through my medications on schedule, and everything will be fine. I won't really show the tremors, the medicine won't wear off. And other days, it's not working. And my biggest fear is when I get onstage and my left hand has got the tremors. I mean, my forearm cramps up."
When that happens, he can still play – but it bothers him, and he can't speak as well. "I get defused. I lose my – you know, whoever I thought I was. A big star. A rock star." But he soldiers through.
"Real Stories" is Gaudet's first solo project since 2007's "Recalling it Quits," and it's warm, gravelly and wise. Runaway, runaway, runaway, runaway train / It's the only thing left when there's nothing left to blame. Some of the songs were written years ago, pre-Parkinson's. Some were written after. The album came to be when Gaudet, singing a tune in a songwriter's circle at the Grey Fox Bluegrass Festival in Greene County, snagged the attention of Beacon-based producer Greg Anderson, who later drove up to record Gaudet at Kakeley Street.
"He goes around the house, and he's clappin' and makin' sounds" — to decide which room had the best acoustics — "and he found the back bedroom. So, you know, I said, 'great.' And we recorded in there, and it wasn't until later that it dawned on me that it was actually the room I grew up in."
That was back in November 2018. For the next three months, Gaudet's vocal and guitar tracks were laid down right there, up in that space now bright with sun and stacked with books. The other tracks were added later, back at the studio: Milonovich on fiddle, Tommy McDonnell on percussion and harmonica, Rich Pagano on piano, Anderson on varied instruments.
Did it feel weird, recording in his old room? "No," Gaudet says. "No. Nope." Did it feel natural? "Yes. Yes, I would say. Because I was very calm and relaxed – and that's what, I think, he was looking for."
Gaudet has no idea how long he's got before the Parkinson's sidelines him, but in the time he has left, he plans to go for it. Up next: A new album with the Railroad Boys, which they'll probably start recording early next year. Beyond that, a collaboration with Nashville songwriters he met a few weeks ago at a meeting of the International Bluegrass Music Association down in Raleigh. That could be a massive break.
Meanwhile, he just keeps writing. He's always at the computer, Peg says. Always churning out songs. A big fan of "Hamilton," she quotes the tune "Non-Stop": Why do you write like you're running out of time? "That's how Jim is now," she says. "It's like … frenetic. But it's good." He laughs in agreement. "It's good! It's good!"
More Information
Contact Amy Biancolli at 518-454-5439 or [email protected] or visit the arts blog at https://blog.timesunion.com/localarts
Gaudet wants his story to get out there. He wants the senior community to take heart. He wants people with Parkinson's to keep living, keep moving, don't let it stop them. His message: "Just to not let it affect you. Just keep going. And if you have to start something new in your life that you've never done before — as far as exercise or anything — just go do it." In an odd way, Parkinson's has broadened his world, pushed him outward.
Early on, he felt differently. "I did say, 'Oh, I have Parkinson's, I probably shouldn't be doing that, or I can't do that.' And — " He exhales, long and loud. "I don't know. Little by little, I just gained confidence and said, wait a minute — and I put to the test 'One day at a time.' You know what I mean? … I would always speak it before, but I didn't have to actually live it."
His attitude, these days: "I'm here to today, I feel all right, and it looks like I'm gonna have a day. Another day!" Gaudet smiles with something close to amazement. "That's how I keep going. I wake in the morning and go, 'Well, it looks like I have to go through it again! And again!"
And so, each day, he gets out of bed and makes some music.
"I don't know how to do anything else. I don't want to do anything else. I have no real drive but to write another song, you know," he says. "I always want to write another song."