It was early 2016, and Angel Olsen needed a reinvention. Two dizzying years had elapsed since the singer's breakthrough record, Burn Your Fire for No Witness, yet the world seemed to have the wrong idea. "I was frustrated by being pigeonholed as, like, sad-girl guitarist," Olsen says. "Singer-songwriter, Leonard Cohen-esque. I was like, 'Wow, people really view me as a country musician? I thought I was making rock and roll! I thought I was just making music. I didn't know I was this thing."
Olsen had to deconstruct that notion. So she grabbed a silvery wig that made her look like an ageless glam queen and called on an old friend, the cinematographer Ashley Connor. Together, they went to a roller skating rink in Olsen's adopted hometown of Asheville, North Carolina, to make a music video.
"I'd called a few friends of mine, and then I thought: 'I should call Ashley,'" Olsen recalls. "I was like, 'Hey, I want to direct my next video. But I need advice on how to do that, and if I can even do that?'" When Olsen's third album, My Woman, landed later that year, replete with dazzling guitar workouts and a seventies rock sprawl, you'd no sooner dismiss her as a "sad-girl guitarist" than refer to Beyoncé as an "ex-Destiny's Child member." But the two videos she made in Asheville with Connor — "Shut Up Kiss Me" and "Intern," both crediting the singer as director — had already done much to obliterate the wholesome image, establishing something glitzier and louder in its place. They were playful and striking. "I just happened to write really sad music," the 32-year-old songwriter says. "But in life, I will make you laugh." (It's true—she is quite funny, and at various points during our interview affects impressive British and Italian accents with comic ease.)
When Olsen tells me all this three years after the fact, she's on the verge of her biggest reinvention yet. Her new album, All Mirrors, is a stunning hard left into orchestral glamour and soul-baring torch songs examining solitude, loss, and what she has described as "owning up to your darkest side." Once again, music videos ushered in the new age. And Connor, who's now shot videos for everyone from Mitski to Beach House (not to mention feature films and TV shows), has stepped up as Olsen's prime collaborator on the visual side, directing her two most ambitious clips yet. There was "All Mirrors," which placed Olsen in a flowing white gown and a 1920s sci-fi dreamscape, and now "Lark," which condenses all the drama and rage of a two-hour survival epic into one six-minute journey.
One evening in August, I meet both artists — singer and filmmaker — at a bar in Greenpoint, Brooklyn. (Connor lives here; Olsen is up from Asheville.) The mood is somber at first — we've just learned that David Berman, of Silver Jews fame, died earlier that day, and everyone is visibly distraught. But Olsen brightens considerably while laughing with Connor and trading memories of the videos they've made. Like when they were shooting the "All Mirrors" video and had to enlist the services of strong-armed fans as crew members. "These people I didn't know were carrying me. And holding me up!" Olsen recalls. "And I had to be like, 'Hey! Hold my body! Do not be afraid. I am not shy. If you accidentally grab my ass or my crotch or my boob, do not worry. Just do not drop me on the floor.' In that moment, it requires everybody to be really present. And really trusting of strangers."
Or when Connor broke her wrist before filming the first shot of "Lark." That video contains breathtaking shots of Olsen gliding underwater, scaling a mountain, and raging in a thunderstorm. Those emotions were real. "We kind of made a more earnest video. And it was really cathartic, for both of us," Connor says. "There's something about getting together with your girlfriends and screaming in the woods that feels really fucking good."
The song, which opens the new album, is a stormy six-minute epic haunted by echoes of a failed relationship ("This city's changed / It's not what it was back when you loved me"). It hints at the real-life circumstances that drove Olsen to make some extreme aesthetic choices.
Addressing this , she stammers a bit, then explains it all matter-of-factly. "I went through a breakup, and my band and team witnessed it," Olsen says. "Then I wanted to make a record by myself." So she embarked on a solo tour and revisited her earliest material. "I went back to when I came out with [2012 debut] Half Way Home. And remembering that these people in my life were there in the very beginning and no one else was, and just thinking about that part of my life again. I was heartbroken at first. And then I went through this process of realizing I had a community there all along.
"It was such a hard lesson," Olsen admits. "But, you know, I'm not afraid or humiliated to say that in a record, and a lot of it was inspired by that experience."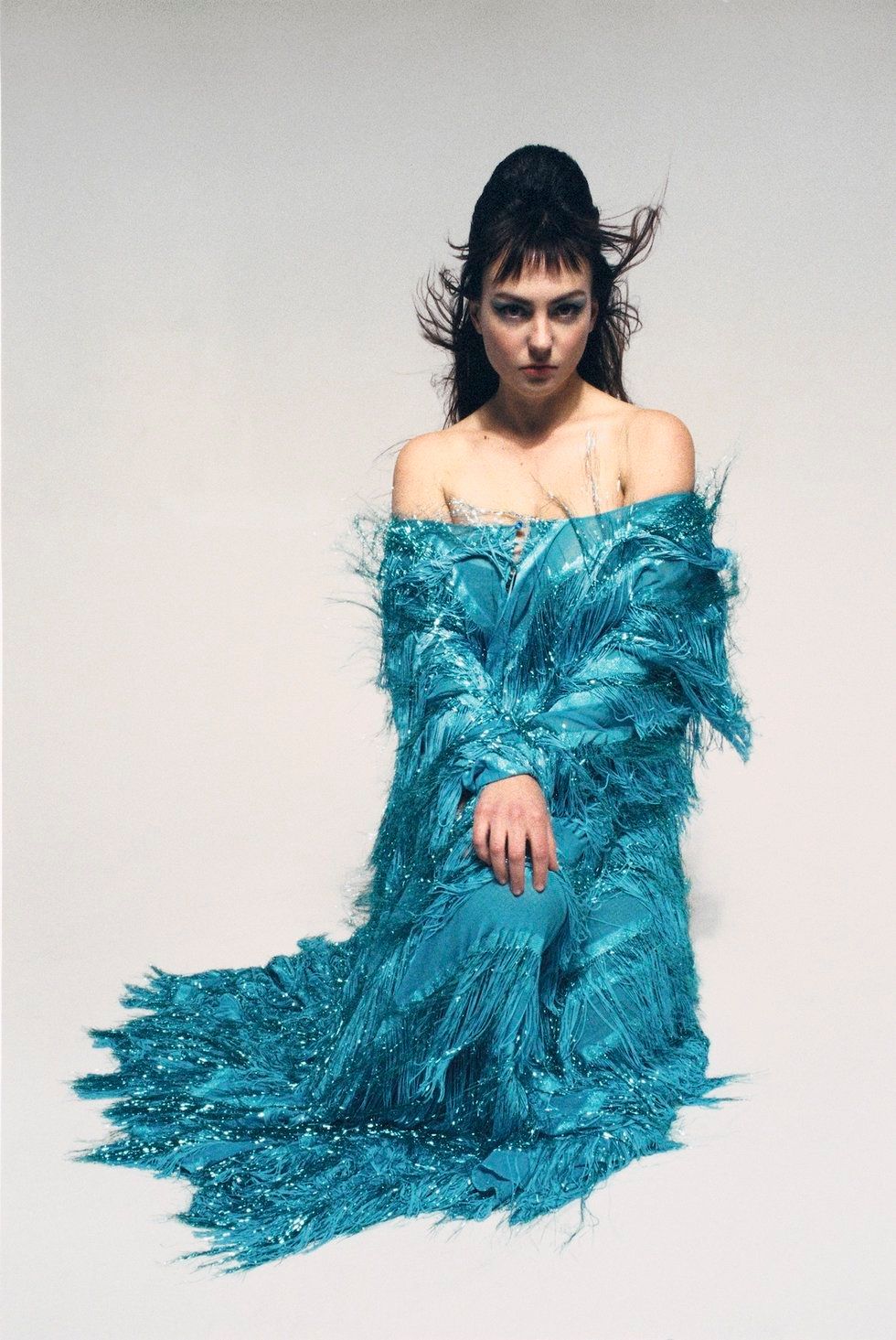 The original plan was to embrace solitude, literally speaking, and record All Mirrors as a sparse solo record. In fact, she did record the solo album — resisting overdubs, an attempt to keep it as raw as her earliest recordings — and toyed with the idea of releasing two albums at once: solo and full-band renderings of the same songs. That idea was shelved when she began working with string arrangers, such as Jherek Bischoff and Ben Babbitt, and was struck by the powerful and sweeping dimension they brought to the material. It became clear she needed to release this record on its own. A self-described "control freak," Olsen admits it was terrifying to relinquish control and trust her collaborators to take over these songs. "In 'All Mirrors,' I created the melody of that middle section of the song. I did it on piano and sent it to them and they turned it into this crazy masterpiece," she marvels.
When I mention that that the record reminds me of orchestral pop from the 1950s and '60s, Olsen seems surprised. She had not been listening to that era. She was obsessing over '70s and '80s music — Brian Eno, Patti Smith. She got into Kate Bush for the first time ever. And she became captivated by an oft-forgotten Nico record called Drama of Exile. "It's, like, really bad fucked-up dark disco," Olsen raves. "I just got really into that part of the '80s. I read a bunch of punk diaries from that time."
And while nothing on All Mirrors could be describes as "fucked-up dark disco," the imagery does call to mind the outlandish, exaggerated visuals of '80s pop. "Kate Bush's videos fall into a certain category," Connor says. "The most recent Angel video ['All Mirrors] obviously pays reverence to things like 'Babooshka.'"
For Olsen, having Connor direct the two recent videos required a similar openness to collaboration. "This is somebody I've developed a language with," she says. "Even if we have a completely different vision and are fighting, at least we can be fucking honest with each other and get through it."
* * *
Here are the stories behind six notable videos Olsen and Connor worked on together. (It is not meant to be a comprehensive list of all of Olsen's music videos.)
"Tiniest Seed" (2012)
Directed by Angel Olsen, Ashley Connor, Zia Anger, and Randy Sterling Hunter; concept by Hunter
The "Tiniest Seed" video was made in 2012, but looks like a flickering time capsule buried in the 1940s. Shot on two rolls of 16 mm film, the clip depicts Olsen, 25 then and largely unknown, singing the sad, loping ballad while illuminated by a single light. Her face is ghostly, expressionless. The film was exposed, rewound, and re-exposed, resulting in eerie glimpses of Olsen singing directly to her mirror image. (All that, seven years before she made a record called All Mirrors.)
It marked the start of Olsen and Connor's friendship. In those days, "Zia [Anger] and I were fans of musicians who we cold-called, like: 'Do you want a music video? Give us $500, we will make you something,'" Connor says. "Zia and I had been working together since college — she directs, I DP." They both fell in love with Olsen's music after hearing her sparse 2010 EP, Strange Cacti; when Olsen recorded a debut full-length, Half Way Home, a couple years later, the pair wound up collaborating with her. The whole thing was made for $500. "We did the video in a barn in Ithaca. Ashley came and shot all of that video. It didn't require editing because it was mapped out," Olsen says, referring to the carefully choreographed re-exposures. (To get the effect right, the crew "spent tedious hours drawing lines on the floor to mark out positions, arranging and rearranging the camera and light," according to the New York Times.)
"It was just the three of us in a barn with one light," Connor recalls. "It was very embarrassing, because we had been listening to Angel's album over and over again and singing it in the style of Angel, before she'd come to Ithaca. And when she came, we told all the girls, who were vaguely helping out, 'You can't sing the songs! It's really not cool if you keep singing the songs!'
"Hi-Five" (2014)
Directed by Zia Anger
Olsen quotes Hank Williams in the first line of this Burn Your Fire gem, but the video's ambiance is more arty than country. Directed by Zia Anger — with Connor behind the camera — this early clip depicts Olsen on a cluttered little stage, offering performative hand gestures beneath a dreamlike spotlight. When the tremolo guitar fades out, Olsen remains suspended as colorful sequins drizzle down from above. In a final twist, the camera zooms out to reveal a stagehand tossing the sequins from a paper bag.
Olsen remembers filming the video at Bard College. "I had to see a choreographer that day, who was really sweet," she says. "And he was teaching me how to do hand movements." The resulting clip was another decidedly low-budget affair. "It was like seven people in a room, trying to make something together — with no money," Connor recalls. "I didn't know that at the time," Olsen interjects. "I didn't understand how the music video world worked. I was just at that point learning about budgets for my own stuff. Now that I've had this experience of knowing by directing my own videos, I have even more empathy for people who are in the film industry. I'm like, Dang!"
"Intern" (2016)
Directed by Angel Olsen (with collaborative input from Ashley Connor and Jethro Waters)
"Intern" was shot the same week as "Shut Up Kiss Me" — same crew, same camera, same cinematographer (Connor). In both, Olsen mugs for the camera in the same tinsel wig. "It made sense to shoot them the same week because we could save on the camera," Olsen says.
The clip is brief but memorable. There are some puzzling retro flourishes. Olsen lip-syncs the My Woman track while wearing an earpiece headset and gazing straight into the camera. She checks herself out in a dressing-room mirror. The sleek artifice of the video seems deliberately at odds with the song's central plea: "I just want to be alive, make something real." A writer for Flavorwire, Moze Halperin, interpreted the video as a play on the self-consciously "confessional" singer-songwriter videos of the '90s.
Given the song opens with wobbly synth groans, it also helped to deconstruct Olsen's folk-singer image. That was a welcome challenge for Connor. "It excites me to hear somebody be like, 'I think I've been viewed as X, and I'd rather be viewed as Y. How do we do that?'" the filmmaker says. "An important part of the process is asking how you want to be seen. And respecting that. A lot of people don't."
"Shut Up Kiss Me" (2016)
Directed by Angel Olsen (with collaborative input from Ashley Connor and Jethro Waters)
In 2016, Olsen was really into roller skating. While recording My Woman shortly after David Bowie died, she attended a Bowie tribute night at her local roller rink in Asheville, where everyone dressed up as different eras of Bowie's career. "It was so crowded that people were falling over each other because there were so many different David Bowies on the floor," she recalls. "It was fucking insane."
This was the kernel of inspiration: She would make a video at the roller rink, and it needed to involve "some sort of wig or other glam aspect." "Shut Up Kiss Me," her most downright fun video, was the result. The song is a frenetic burst of reckless infatuation, and the clip counters that energy with dizzying evocations of '50s suburban bliss — a roller rink, a bar, an all-American diner. In wig and green bomber jacket, Olsen looks a little like a high school theater nerd, pouting and dolling it up for the camera as she mimes the words. "I just was using Asheville as a source of inspiration," she says. It was the first Angel Olsen video more likely to make fans laugh than cry.
"All Mirrors" (2019)
Directed by Ashley Connor
When I tell Olsen that the "All Mirrors" video looks like it was filmed in some crazy castle, she cracks up. "If only!" Connor, the clip's director, laughs. "Every producer I met with was like, 'There's absolutely no way you can accomplish this with the budget.' I was like, 'You don't know me.'"
If the song's spidery synths aren't enough of a transformation, the video debuts a dramatic new look for Olsen. She ascends an otherworldly staircase in a glowing bright gown. Later, the singer, now clad in a black slip dress, confronts her double, who wears an elaborate crown designed by her friend with plastic zip ties. The whole surreal spectacle unfolds in cinematic black-and-white — Connor is a movie buff, and Olsen has cited early sci-fi films like Metropolis and Aelita as influences here. "Labyrinth wasn't part of the conversation," Connor says. "But a lot of people were like, 'They must have loved Labyrinth.'"
The staircase was the challenge. "Angel knew that she wanted a staircase," Connor says; the director knew she couldn't fake one. "You were losing sleep at night, like, 'I need to find a staircase for this fucking video!'" Olsen laughs. Ultimately, they found some fans who worked in construction and were willing to build the staircase for cost: problem solved. "Ashley sent me a video of them building the staircase in the studio, listening to my record. She was like, 'Things are going really well today. Your fans are insane!'" Olsen recalls.
The budget was not extravagant, but it was a step-up. "For this video, I was like, 'We're gonna give you the treatment. We're going to get you hair and makeup. We're going to rent a studio. I'm going to light you, in a more real way,'" Connor says.
After the video ran, Olsen heard from a famous friend — she won't say who — asking about it. "She was like, 'How did you make that video? How much did it cost, because it looks fucking incredible and super expensive. And I was like, 'It was this. And this. And no, it was not a high-budget video.'"
"Lark" (2019)
Directed by Ashley Connor
At first Olsen didn't know what she wanted the "Lark" video to be. Except it needed to be intense as hell. "We could go to Portugal," she remembers saying. "I could get a wedding dress. There could be aliens. I have no idea! But it needs to be really dramatic, you know?"
There are no aliens, but "Lark" is nonetheless Olsen's most cinematic and emotionally charged video to date. Visions of the singer fleeing a broken relationship and seeking catharsis in an array of natural settings — a lime-green mountaintop, a rushing river — suit the song's bursting orchestral exorcisms. Her performance here is not cheeky or droll. It is wild-eyed and fraught. "We were both crying on the beach," Connor recalls. "Crying from this transformative five-day shoot that we had just gone through. It was very physically and emotionally draining for both of us."
"We slept maybe four or five hours a night," Olsen adds. "Everyone was staying at my house. And I like to host people. But I just felt like I couldn't turn off, because the kinds of places I had to go within myself in front of the camera — it was difficult to go there and then leave it there. I had to go to the worst parts of my life and try to bring it, you know?"
Though Olsen is not a trained actor, Connor effusively praises her performance. "I always tell Angel she's like an Italian film star and one day I have to, like, remake L'Avventura starring Angel," she laughs. "I'm sure everybody would love it."
Photography: Cameron McCool