Petra O'Neill
August 14,2019
The music is a big part of the cruise experience. Picture: Celebrity Cruises
On my last cruise aboard the Celebrity Solstice, every night showcased different music. Favourites included the house duo, Gilly and the Girl, and Pete Henry, a soulful singer who put together a selection of songs that fitted together perfectly, from early blues classics to '60s Californian folk.
Between the fine dining, visits to the gym, and the Persian Garden Spa Lounge, my days were filled with live music, songs I'd not heard for years, as we sailed from New Zealand across to the islands of the South Pacific.
And it didn't just happen on board. At each port we were treated to music; welcomed by big brass marching bands in Fiji, and rhythmical dancers accompanied by singing and bands of musicians in Tonga and Samoa. When we departed, we were given a warm send-off of music, dance, and lots of waving.
30 THINGS NO ONE TELLS YOU BEFORE A CRUISE
THE FIRST THING CRUISE ADDICTS DO ON BOARD
MY SECRET TO SAVING $1000 ON A CRUISE
When I worked on board the Diamond Princess as part of the entertainment team, I was lucky enough to go behind the scenes. I would watch rehearsals, meet many of the entertainers, including Gavin Starkey, and his band Evolution who could play any request, and loved to see the stage transformed for each evening's performance. But you don't have to get yourself a job on a cruise ship to get to know the performers. You will meet them on board, and they do enjoy talking to passengers about music.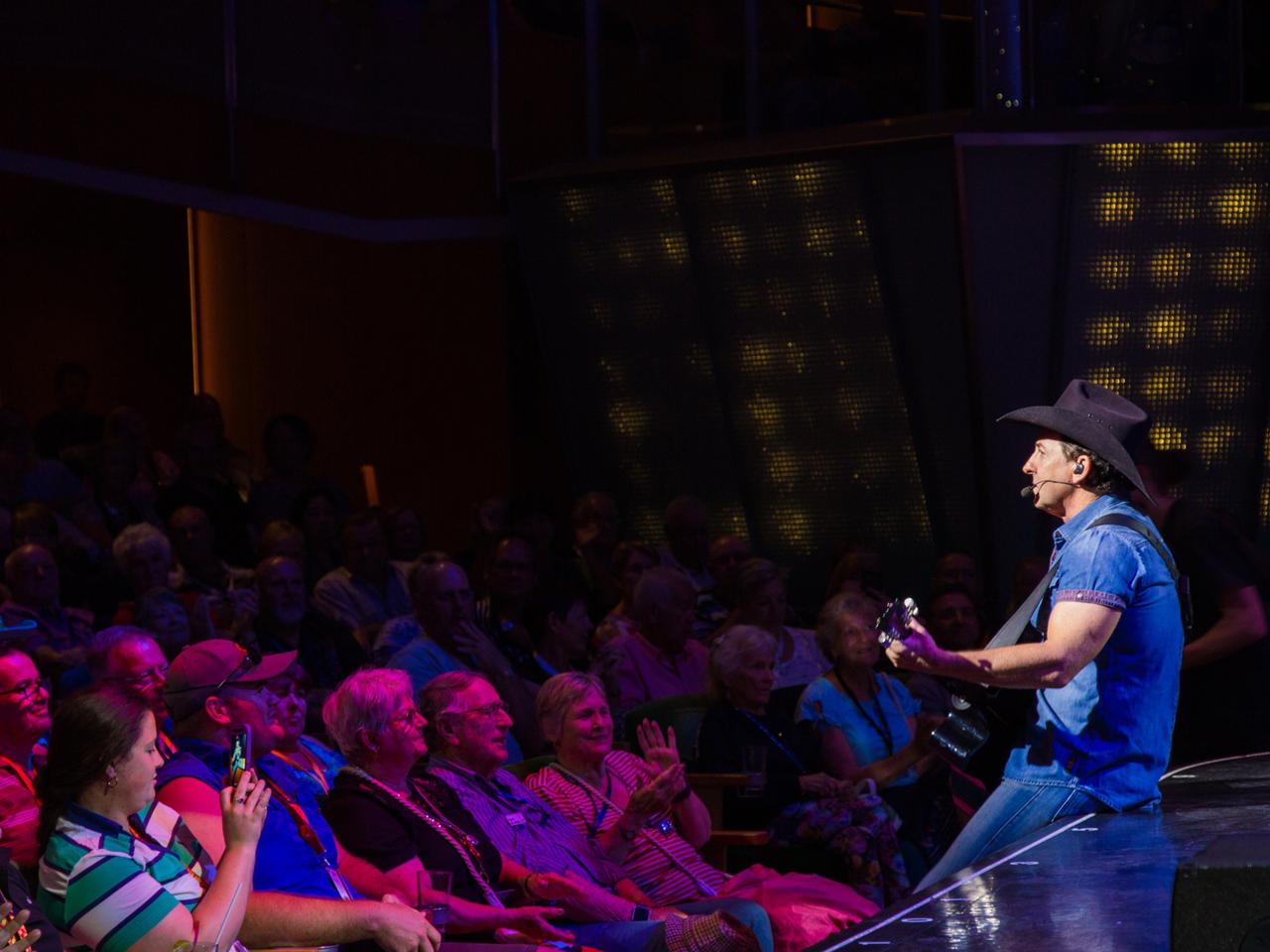 Lee Kernaghan performs as part of Cruisin Country 2019 on Radiance of the Seas.
THEMED CRUISES
If you're a committed music fan, you can join a cruise where music takes centre stage. The performers look forward to being with fans who appreciate their music and they get to catch up with other performers they've worked with for years. When John Farnham performed aboard Royal Caribbean's Radiance of the Seas the atmosphere was electric.
P&O Cruises Australia offers short break tribute cruises aboard the Pacific Explorer with passengers encouraged to dress up. Upcoming cruises include Tribute to the King, with Elvis look a-likes performing his best hits, and a 1980s cruise, with bands from that era performing pop, metal and rock. If country music is more your tune, P&O Cruises is set to offer its first Country Music Festival at Sea, showcasing all genres from rockabilly, country rock to folk and bluegrass.
Or if you want a longer cruise, the seven night Cruisin' Country, on Royal Caribbean's Radiance of the Seas, offers a line-up of more than 30 artists that wouldn't be out of place at the Tamworth Country Music Festival. Music nights are accompanied by checked shirts, jeans, ten gallon hats and big cowboy boots, and you can hone your song writing, singing and guitar strumming skills at special workshops. Or for rock, Rock the Boat aboard Radiance of the Seas celebrates 10 years in 2020, with the cruise featuring some amazing talent including Suzi Quatro, Jon Stevens, Russell Morris, and Ross Wilson and The Radiators.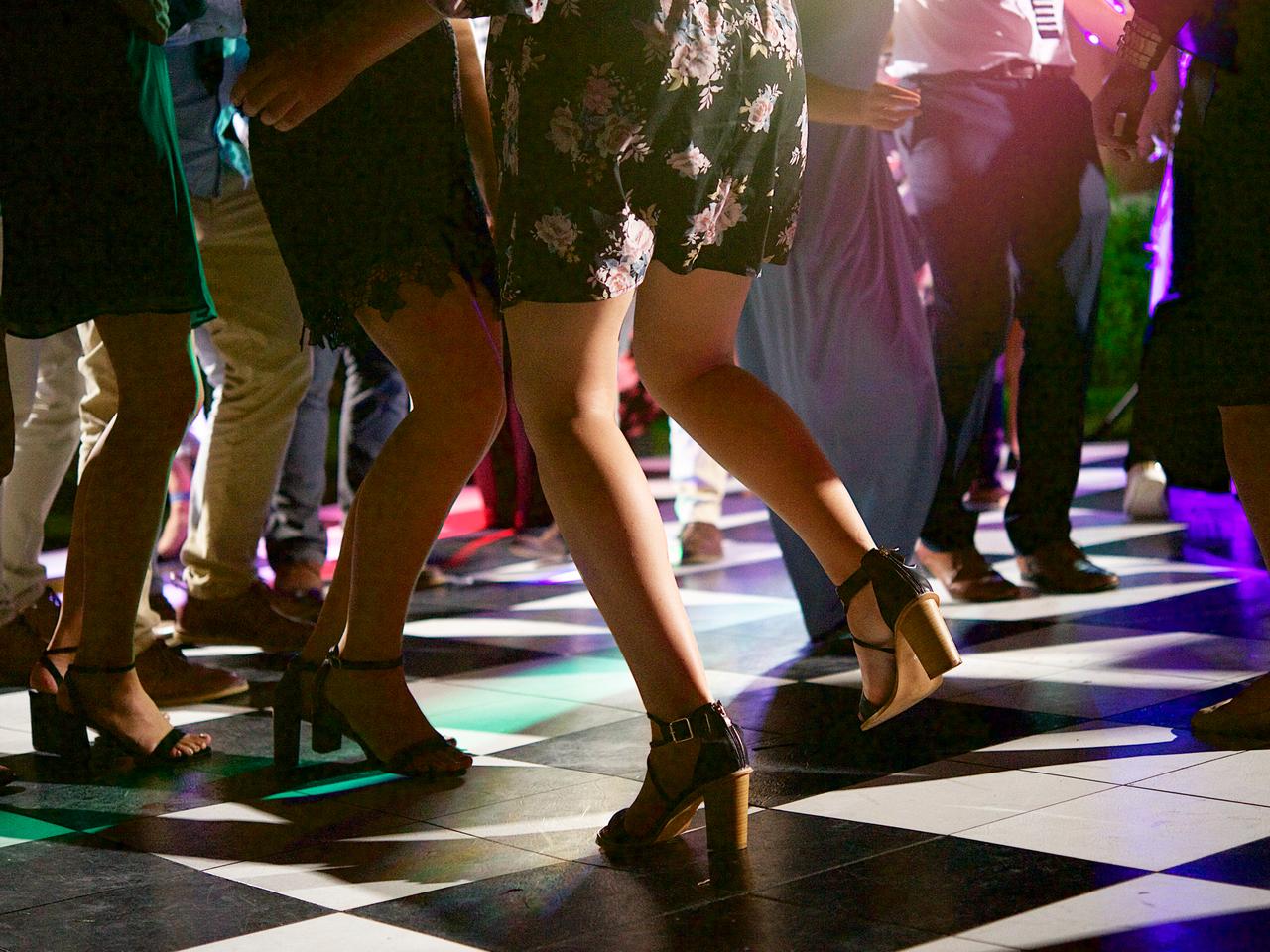 Dance the night away at sea.
MUSIC COMES IN ALL SIZES
For those who prefer smaller ships, my recommendation is Ponant Cruises, which offer dedicated cruises focusing on specific genres, including a classical music tour of the Baltic and a piano festival at sea.
A great midsize choice is Oceania Cruises. On the Regatta, my favourite time of day was listening to the Avista String Quartet — talented musicians from Poland, with a repertoire of over 400 songs. They began with classical until they announced, "and now some rock," giving an amazing version of Led Zeppelin's Stairway to Heaven.
There are also cruises dedicated to the performing arts that showcase a range of musical styles including opera, cabaret and musical theatre. On several of its ships, the Holland America Line offers a music walk, where you get to sample live music from classical to blues, and the Rolling Stones rock room where performers belt out popular hits.
Cunard offers event cruises dedicated to balls, dance or even one with a symphony orchestra on-board. As Cunard's Queen Elizabeth left Sydney's Overseas Passenger Terminal, with the Opera House and Harbour Bridge framing the moment, a jazz band played hits by greats including Ray Charles. Live music is offered all over the ship with pianists and harpists, and a live band to waltz and tango by.
ONCE IN A LIFETIME
You might also be treated to memorable performances that turn the cruise into a once in a lifetime experience. When I cruised to the Marquesas Islands, a two day sail from Tahiti aboard the Aranui 5, I was swept up in the excitement of an inter-island dance festival. The fun really took off in the evenings, when the rapid taps on a drum soon had the crew swivelling their hips and slapping their thighs in spectacular fashion, while the rest of us tried our best to keep up — a cruise I'll never forget.
And as the Celebrity Solstice sailed away from Tonga at the end of our cruise, Pete Henry played an amazing rendition of Neil Young's Old Man. But the night wasn't over. All over the ship music played and I ended up hours later dancing to the house band belting out AC/DC's Highway to Hell. Wherever your cruise takes you, music adds to the memories you'll have.
CRUISE SHIP MUSIC ISN'T HOW YOU REMEMBER IT
THE COOL CHANGE COMING TO CRUISE SHIPS