Chuck Leavell's all-star Georgia music celebration | Music Features | Savannah News, Events, Restaurants, Music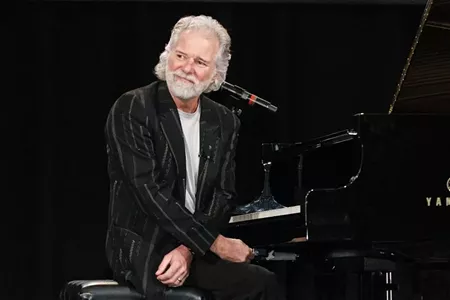 CHUCK LEAVELL is a beloved Georgia legend, even though his roots are a bit further south. He's best known these days as keyboardist and musical director for the Rolling Stones, which he's been doing for well over three decades. He's also known for his stint with the Allman Brothers Band, and the countless other projects and sessions he's been a part of.
Immediately after a Stones tour, Leavell jumped into a much different endeavor—a mini-tour alongside R.E.M. bassist Mike MIlls and prominent violinist Robert McDuffie performing songs from Georgia artists that span genres and decades. The tour lands at the Lucas Theatre on Fri., Oct. 4, and will feature iconic songs from the likes of Gram Parsons, Brook Benton, the Allmans, R.E.M., Outkast, Ray Charles, and more.
We caught up with Leavell ahead of the gig to talk all things Georgia music.
This is a really incredible concept for a show. When did you become involved in the project?
It was really Mike Mills and Bobby McDuffie's concept. Mike had written, a couple years back, a concerto for rock band and orchestra that featured Bobby. That's going to be part of this presentation as well. They did a little experiment, and went out for maybe half a dozen shows. It seemed to go pretty well, so they said, "How can we do this and maybe take it to a little bit of a different space?" They thought of me and they thought of this idea of making it about Georgia music.
I love both of those guys and am friends with both of them, so that was the impetus for it. The scheduling worked out in favor of doing them with the Stones tour, and I have some other things on the books including this television program that I'm involved in called America's Forest. But it all worked out schedule-wise! We'd discussed strings, and Bobby runs a school in Macon, so he said, "Look, I've got some really talented students who need to get in front of an audience as much as possible. Why don't we use them?" All the elements have come together nicely.
Was it always a priority to emphasize such a wide range of genres in terms of what's being represented musically in the show?
Absolutely. We didn't want it to make it too much about ourselves, although both Mike and I have pretty strong Georgia roots. So there will be some Allman Brothers Band, some R.E.M. of course, Outkast, and more.
When we first discussed it, I said, "Mike, if you want me to sing some stuff, I will." He said, "Well, I really want to make this an instrumental presentation." That kind of puts the focus on the musicians, arrangements, and melodies. I think it's a good idea. So we're going to do these four shows, see how it goes, and if it feels good then we'll look into the idea of expanding it at some point.
You aren't from Georgia originally, though you moved to Macon in 1970. Did you grow up aware of any particular Georgia artists?
Oh, yeah! Otis Redding, Little Richard, James Brown, all of that. But, you know, southern music in general. Alabama has its own heroes in that regard. As you noted, I first went there to investigate Capricorn Records in 1969 and then moved there in earnest in 1970, and have been a Georgian ever since.
People associate you so strongly with Georgia—it must feel good to be adopted with such an intensity here.
It does. I have in the back of my mind a project of my own that would celebrate music from Alabama and Georgia, since I have such deep roots in both places. That's on the docket, but until we get time to focus on it I'm not sure when I'll get to it.
You do so many different projects—session work, major tours like the Stones gig, shows like the Georgia music concert. Do you feel like you take anything creatively from being so diversified professionally?
Yeah, man! Adapt, improvise, and overcome [laughs]. I've been blessed to have played with a wide variety of artists, and every situation has been unique unto itself. David Gilmour is David Gilmour, Eric Clapton is Eric Clapton, George Harrison is George Harrison. You learn something from every situation that you can apply down the road somewhere. For me, it's always, "What is the artist looking for, and what is the song looking for?"
What is the song asking me to do? Is it asking me to put a little color in or lay back, or is it asking me to step out front. Let's face it, there are certain Stones songs that keyboard is featured nicely—"She's A Rainbow" or "Angie"—but it's not the kind of band that gives me space to stretch out. This is going to have a lot of opportunities to stretch out, and I certainly look forward to that.
cs