Deane Lewis (Credit Deane Lewis)
Deane Lewis (Credit Deane Lewis)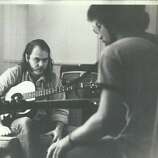 Deane Lewis (Credit Deane Lewis)
Deane Lewis (Credit Deane Lewis)
Documentary 'The Scene' explores 518 musical heyday
It's the Capital Region, 1981. You want to hear some live music. Where do you go, and who could you see?
You could head into Albany, hit up J.B. Scott's and catch U2 one of the three times they played there. Or you could go across the river to Hullabaloo and see blues legend Albert King. If neither of those are your thing, you could venture to one of the local bars and see Donnybrook Fair or Blotto.
A new documentary from WMHT explores this era in 518 music and culture. In the process, it shows that wherever your musical interests lay, the Albany scene had something for you.
Premiering this Sunday, "The Scene" takes a look back at the local music scene in the 1960s '70s and '80s, the venues and the promoters that booked there, the touring bands that passed through town and the area acts that pursued their own creative impulses.
Zeke Kubisch produced "The Scene" for WMHT. It's his third film for the station, succeeding acclaimed documentaries "Henry Johnson: A Tale of Courage" and "The Mohawk Giants: Schenectady and the Negro Leagues."
Working on "The Scene" provided a new type of filmmaking experience for Kubisch. While his prior works dealt with a largely agreed-upon set of facts and past events, chronicling the players and sorting through the memories and perspectives of something as personality-driven as musical subcultures required a different approach.
"Both of the other two were historically driven, there wasn't as much opinion," Kubisch noted. "This one is so subjective. You really have to take a look at the information in a different way.
"The local music scene was something they loved so much, and because it meant so much to them they're more possessive over it," he continued. "I'd have to go dig and do my own research, decide what's true, where to push and what to make into something extravagant."
Kubisch wasn't lacking for research materials as he put together the film. During the six-month process of making "The Scene," Kubisch and WMHT reached out to the area for photos, video, music and any other pertinent information. The response was immediate and strong.
"The idea for this came out of the Caffe Lena documentary ("Lena: A Life in Folk") from earlier this year," he said. "For this, we had kind of asked the public for material and information.
"We had people calling in with all these memories, photos and stories right away, or saying, 'check out this place' or 'don't forget about this band,' " Kubisch added. "People really love nostalgia and they're really big on their local scene. I think it was the exact response I wanted. It was nice to see."
Originally, Kubisch had wanted to be as broad as possible and provide a comprehensive snapshot of music in the Albany area. But with such an overwhelming amount of information, he quickly had to figure out a way to winnow it all down to a tight 30-minute running time.
"We wanted to touch on all genres, but it was just too much. We couldn't cover every aspect," Kubisch lamented. "(So) We ended up focused on the rock scene."
Kubisch stated that "The Scene" "originally focuses on the venues in the area" and the personalities surrounding them. By starting with familiar places like J.B. Scott's and Hullabaloo (and its famed leopard Tanya), viewers are immersed into the scene, the show bookers and noteworthy performers like the Police and Dire Straits who played there. From there, "it focuses on the local" and regionally significant bands like Blotto, Silver Chicken, and The Units.
The story of "The Scene" doesn't end with the documentary. Kubisch noted that WMHT is posting additional content online and he's taken part in a complementary podcast. He's excited about the impending airing of his film and hopes it continues to generate conversation about and appreciation of local art.
"We really tried to capture the essence of the time period. My hope is to get people to continue sharing their stories," Kubisch reflected. "It's kind of a tough time for a lot of people right now, and we tend to go back to the good times, the things and moments that made them happy.
"When I got to talk to musicians and other people involved, what stood out to me was just how much they loved music, how much they loved being in this scene," he said.
Jim Shahen Jr. is a frequent contributor to the Times Union.
More Information
If you watch
"The Scene" premiere
Where: WMHT-TV, wmht.org/thescene and WMHT's Facebook page
When: 7 p.m. Sunday, Oct. 20
More: https://wmht.org/thescene