Keep an eye on core inflation: analysts – Economy – Vietnam News | Politics, Business, Economy, Society, Life, Sports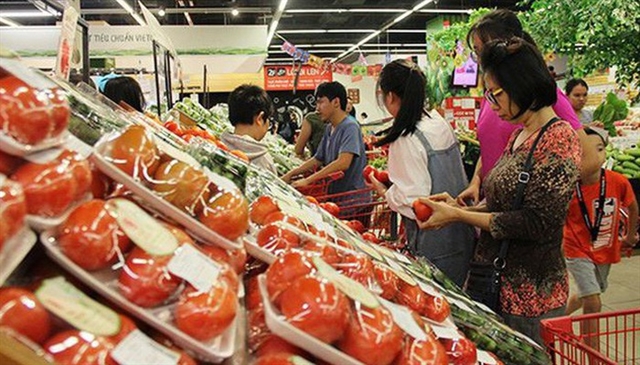 People shopping at a supermarket. Some experts have said recently there is an excessive money supply in the economy.— Photo vneconomy
Some experts have said recently there is an excessive money supply in the economy.
They pointed to core inflation of 1.96 per cent year-on-year in June this year, warning this is the correct measure of prices rather than headline inflation, which most people follow in the country.
Headline inflation includes items such as food and energy prices, whose prices tend to be much more volatile.
On the other hand, core inflation, also called non-food inflation, is calculated from the consumer price index minus the food and energy components, and is the measure on which the central bank bases its monetary policies.
In Việt Nam, the General Statistics Office is responsible for tracking both.
The Government started announcing core inflation in April 2015. It reached a high of 2.2 per cent that very month and a low of 1.18 per cent in January 2018.
The experts blamed its surge to 1.96 per cent in June this year to the rise in money supply.
In the last two years, the market has seen an increasing number of domestic businesses selling stakes to foreign investors. According to data released on July 23 by AVM Vietnam, since 2018 the country has emerged as a major M&A market in Southeast Asia with many large deals being consummated.
Last year, their total value was US$7.64 billion, down 25 percent from 2017's record $10.2 billion though that included the $5 billion ThaiBev purchase of Sabeco. Minus that the value of M&A deals last year increased by 41.4 percent.
This year it has already exceeded $5.4 billion.
To mop up the dollars coming through these deals, the State Bank of Việt Nam (SBV) injected VNĐ140 trillion (US$6 billion) in 2018 and VNĐ210 trillion ($9 billion) this year.
Seeing the increasing amount of money sloshing around in the economy, the central bank has begun to take measures to restrict it this year and in early 2020, one of which is to strengthen control over banking credit growth: It has said it is determined to keep it credit growth 14 per cent this year despite signs of slowing economic growth.
The Ministry of Finance has issued a draft circular on the management of non-term deposits at banks requiring all non-term deposits made by the State Treasury to be sent to the SBV's account at the end of each working day.
This is aimed at mopping up liquidity since the treasury's deposits in three State-owned lenders – Vietcombank, BIDV and VietinBank – make up a large share of their total deposits.
Analysts fear inflation will rise to 3.2-4 per cent this year if the Government does not intervene strongly.
If it decides to increase the prices of some essential goods or loosen monetary policy to stimulate growth, the rate is likely to be even higher, they have warned.
But they also believe inflation could be kept at the level targeted by the National Assembly if price management regulations are implemented properly.  
Tour companies, private airlines find air charter lucrative
In June, Thiên Minh Aviation Joint Stock Company received the licence to establish an airline with a charter capital of VNĐ1 trillion (US$43 million) to become the sixth airline in the country.
The company, a subsidiary of Thiên Minh Group (TMG), one of Việt Nam's leading travel and hospitality companies, is headquartered in the central tourist town of Hội An. Its three shareholders are Thiên Minh Tourism JSC, which owns 30 per cent, Trần Trọng Kiên, the group's chairman (60 per cent), and Trần Hằng Thu (10 per cent).
The licence allows the company to operate in seven sectors, including passenger services, freight transport and aircraft leasing.
Tourism company Vietravel Group has also applied to establish an airline, Vietravel  Airline, headquartered in the central province of Thừa Thiên-Huế. It will also have a charter capital of VNĐ1 trillion.
In July, the Hà Nội Department of Planning and Investment issued a licence to Vinpearl Air Joint Stock Company, a subsidiary of Vingroup.
The airline will fly on international routes and have a fleet of at least 30 aircraft.
In the first quarter, the aviation industry also saw the establishment of Bamboo Airways, which has reportedly operated 1,319 flights in just over three months.
The country's five operational carriers now are Vietnam Airlines, Jetstar Pacific, Vietjet Air, Vietnam Air Services Company (a subsidiary of Vietnam Airlines) and Bamboo Airways.                        
Market observers said most of the airlines including new carriers have operated/ planned to operate their business through provision of air charter service or aircraft lease to cut costs and make profits.
They said aircraft lease and charter flights have long been popular around the world, but they have still really developed in Việt Nam since private and budget airlines are established.
Airlines lease aircraft — from other airlines or leasing companies – to either use them without the financial burden of buying them or for a temporary increase in capacity.
Charter flights can depart according to the schedule set by the tour operator, with flexible flight times, which is particularly suitable for large groups of tourists. Besides, a travel company chartering a plane can request the carrier for flexible flight services to any airport it is entitled to use.
Charter services' advantages like time and cost savings are thus obvious. It is estimated that tour prices can be cut by 20-30 per cent with the use of charter flights.
So, to utilise the advantages of the air charter services, many major travel companies with deep pockets are beginning to offer charter flights to attractive destinations at home and abroad.
For instance, Vietravel began charter flights in 2017. The next year alone it chartered nearly 300 flights from Vietnam Airlines, Vietjet and Jetstar Pacific to carry 852,000 tourists. Its turnover increased 18 per cent to VNĐ7.476 trillion that year.
Vietnamese airlines have begun to take advantage of these opportunities.
In 2016, Vietnam Airlines leased three Airbus A350 aircraft that were to be delivered over the next two years.
The smaller carriers are offering attractive incentives to tour operators chartering aircraft.
Low-cost carrier Vietjet Air's revenues from air charter surged from VNĐ412 billion in 2014 to VNĐ2.632 trillion in 2016. On average, one in every four flights was chartered.
According to Jetstar, the charter of flights is quite modest on domestic routes, but high on international routes. Bamboo Airways plans to develop charter flights focusing on domestic and Northeast Asian destinations.      
According to travel experts, 2019 will see a surge in the charter of flights with the strong development of MICE tourism.
This is expected to provide Vietnamese more opportunities to discover their native land at competitive prices.VNS