FALL SPRINGS features from l-r: Matt McGrath as "Mayor Bradley," Alyse Alan Louis as "Elouise Bradley," Sam Heldt as "Felix Cushman" and Ellen Harvey as "Beverly Cushman."
FALL SPRINGS features from l-r: Matt McGrath as "Mayor Bradley," Alyse Alan Louis as "Elouise Bradley," Sam Heldt as "Felix Cushman" and Ellen Harvey as "Beverly Cushman."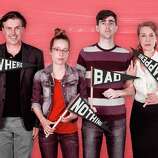 FALL SPRINGS features from l-r: Matt McGrath as "Mayor Bradley," Alyse Alan Louis as "Elouise Bradley," Sam Heldt as "Felix Cushman" and Ellen Harvey as "Beverly Cushman."
FALL SPRINGS features from l-r: Matt McGrath as "Mayor Bradley," Alyse Alan Louis as "Elouise Bradley," Sam Heldt as "Felix Cushman" and Ellen Harvey as "Beverly Cushman."
New musical takes light touch to environmental fears
The economy of Fall Springs was sinking like a rock. Then the township and its residents got rich thanks to the discovery of oil. But fracking was the method used to obtain the deposits. Soon the town itself began sinking into the ground.
Fall Springs is a fictional little place located where oil and money mean something, which means pretty much anywhere in the United States. It's also the setting for the new musical "Fall Springs," which opens at Barrington Stage Company in Pittsfield, Mass., on Friday. It runs through the end of August.
Composer and co-lyricist Niko Tsakalakos has an unofficial subtitle for his latest musical: The Woeful Ignorance to Human Induced Climate Change Musical Comedy. As that windy phrase illustrates, the show's got an environmental message as well as a sense of humor.
Tsakalakos says that he and his collaborator Peter Sinn Nachtrieb (book/lyrics) share a love for disaster movies and a concern for the environment. "Our show is about human nature and denial, in a way that's super-fun," he remarks.
Now about that oil under Fall Springs. It's not the traditional "black gold." Sorry, Jed Clampett. It's actually an even more rare and high priced commodity – essential oils. The cosmetics industry pays big money to use that stuff in lotions, salves and such. The villain of the show is the CEO of Fall Springs Essential Oil Drilling Company. The mayor swoons at the influx of cash, but not every Fall Springs resident is convinced that fracking is on the level, so to speak.
Eloise Bradley, who happens to be the mayor's daughter, is a 17-year-old budding geologist who also plays keyboards in a garage band that goes by the inviting name Impending Doom. One of their big songs is "Sinking into Oblivion." In between rehearsals, the young musicians sleuth out the facts in order to save their beloved hometown.
"We're operating at the nexus between teenage angst and natural disaster," says Tsakalakos. "It's irreverent and subversive but also hilarious."
Tsakalakos says his songs are character-driven and primarily in the style of alternative rock, though some numbers touch on folk and funk. The two-act musical has a nine-member cast and a five-piece offstage band.
Back in 2010, Tsakalakos made a splash in Pittsfield with the premiere of another musical "Pool Boy," which had a successful run in Barrington Stage's smaller performance space. With "Fall Springs," his work has gotten a promotion to the main stage. Tsakalakos' history with the company goes back even further. During the summer between his two years of grad school at N.Y.U. he spent the summer in the Berkshires, functioning primarily as an assistant to Tony Award-winning composer and lyricist William Finn ("Falsettos," "The Putnam County Spelling Bee").
"I'd drive him around and tell him stories about my life in Los Angeles. He said you should write a show about that, which led directly to 'Pool Boy,'" recalls Tsakalakos.
Finn did more than add moral support to that project. He's a guiding force in Barrington's Musical Theater Lab, which got behind "Pool Boy" and did the same for "Fall Springs." Last summer the new show received two days of public readings. That opportunity became a turning point for the creators. "It was amazing to finally see the thing moving and breathing with audiences and away from the music stands," says the composer.
Today Tsakalakos salutes Finn as his mentor and is grateful for all the times he's attended rehearsals and whispered sundry observations and suggestions. "He has a wealth of knowledge and experience," says Tsakalakos. "It would be silly of me not to access what he has to say."
Tsakalakos also acknowledges that his shows and songs betray touches of Finn's style. "It's in the brashness of lyrics and the overt nature of the words," he says. "There's also a Finn influence in how we approach comedy numbers. We do have our own way, but there's a similar effort to get as much out of a song as you can."
Joseph Dalton is a freelance writer based in Troy.
More Information
If you go
"Fall Springs"
When: Opens 8 p.m. Friday and continues for 22 more performances through Aug. 31.
Where: Barrington Stage Company, 30 Union St., Pittsfield, Mass.
Tickets: $15-$75. Call (413) 499-5447. More info at: barringtonstageco.org