Pune: From stage to online platforms, a big leap for Hindustani classical music concerts | Pune News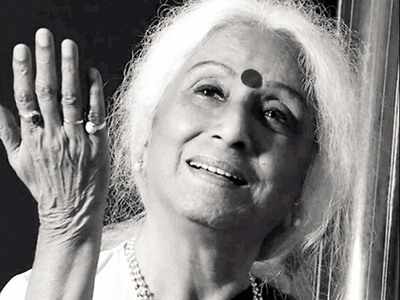 Artists such as Prabha Atre have been the inspiration for the virtual platform
PUNE: Veteran Kirana gharana vocalist Prabha Atre, eminent vocalist, actor composer Rahul Deshpande and playback singer Sonu Nigam have kept in touch with their audience even when the lockdown halted music concerts. They have gone to online platforms for professional and charity concerts.
Inspired by them, a virtual platform has taken shape in Pune which will facilitate paid concerts for home enjoyment.
"SwaraZankar is ready with an online platform through which paid concerts can be held. It will be an experience at par with a concert in an auditorium with top audio and video quality," senior violinist and founder of SwaraZankar Pandit Atulkumar Upadhye and his son Rajas told TOI.
They said it was time to turn towards positivity with music. "We have to think about the financial well-being of people involved in such programmes including the artistes," both said.
There are indications that their popular festival SwaraMalhar featuring topline artistes held during the monsoon every year, will happen through their online platform.
Actor, vocalist and composer Rahul Deshpande said all artistes should work to make the platform work. "We recently spoke with chief minister Uddhav Thackeray and Union minister Prakash Javadekar. Both told us that when concerts will be permitted only 50% seats in an auditorium will be permitted. Such an arrangement will not be financially viable. We are not sure the audience will come and sponsors will be willing to put in money as the performing arts are the last priority at present," he said.
In April, Deshpande presented a gazal concert for a multinational IT company through an online platform.
"The experience was good but not the sound quality. But if we take care of all the technical aspects, an online platform has potential," he said.
From stage to online, a big leap for Hindustani classical music concerts
He performed live for free in two online fund-raising concerts arranged by two cultural organisations in May to help those who have lost livelihood because of the ban on concerts and those fighting the Covid-19 pandemic.
"For a paid e-concert the online platform needs to be chosen carefully so that the artistes are not short changed," Deshpande cautioned.
But the interaction with the audience, the warmth and their response which make live concerts so special will be missed.
Shrinivas Joshi, executive president of Arya Sangeet Prasarak Mandal which organizes the prestigious Sawai Gandharva Bhimsen Mahotsav, had doubts about the success of paid e-concerts. "I do not know if people will pay for such a concert as YouTube has free content of all top artistes. Also attending an e-concert and going to the venue and having that live experience are entirely two different things," he said.
He hoped that by December when the Sawai Gandharva festival happens things will improve. "If the festival is allowed with a limited number of audience, I would accept it. If not, I would rather postpone it to the next year," he said.
Avid music lover Pradnya Dhokrikar said she will buy a ticket for an online concert. "Such an arrangement will offer financial returns to the performer and those who provide accompaniment on tabla, harmonium and other musical instruments. However, I don't know how many people will spend money since free online concerts are happening," she said.
Music lovers who have enjoyed online concerts said the experience is enhanced by watching the concerts on laptops with headphones or with external speakers. Those who have smart TV sets say they feel like they are in the auditorium because of the surround sound.