The Escher String Quartet (image from escherquartet.com)
The Escher String Quartet (image from escherquartet.com)
Photo: Anna Kariel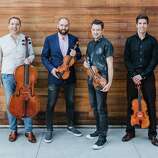 The Escher String Quartet (image from escherquartet.com)
The Escher String Quartet (image from escherquartet.com)
Photo: Anna Kariel
Albany Pro Musica, Escher Quartet perform Sunday in Troy
Most of the time, the classical string quartet is the barest of bare-bones acoustic ensembles: four instrumentalists alone on a stage. No conductor. No glances shot at anyone outside that small, intense circle of music-making.
In other words, they're pretty much the opposite of a chorus — like, say, Albany Pro Musica. Or are they?
"They're pretty much very much like a chorus," said Brook Speltz, cellist with the Escher String Quartet, performing on Sunday with APM.
"A string quartet is four-part harmony," he explained, on a quick break from a flurry of rehearsals and performances in California's Bay Area. "You have the first violinist and the second violinist taking on the roles of soprano and alto, the viola taking on the tenor and the cello taking on bass. And that combination — that four-part combination — just seems to work so well. Not only balance, but opportunity and variety for forms of expression."
On Sunday, the Escher will be rendering works by Ola Gjeilo, the Norwegian choral composer now wrapping up his three-season residency with the choral group. Titled "Serenity," the concert is scheduled for 3 p.m. at Troy Savings Bank Music Hall and marks the formal kickoff to the 2019-2020 APM subscription season.
"I have to admit, I don't think the Escher Quartet has ever collaborated with a chorus before — or if they have, it might have been before my time with the group," said Speltz, who joined the ensemble in 2015. Founded in 2006, the renowned quartet also features his brother Brendan Speltz on second violin alongside Adam Barnett-Hart on first violin and Pierre LaPointe on viola.
The strings-and-voices pairing is a favorite of the composer himself, who uses their simpatico voicings to support and enhance one another. "I just love the combination of choir and strings in general. Whether it's, you know, one stringed instrument, or a quartet, or a string orchestra, they really kind of reinforce each other," said Gjeilo (YAY-lo), on the phone from New York City, his off-and-on home since 2001. "I love to use that combination as much as possible."
That combo is also familiar to Albany Pro Musica, which has showcased different visiting acts in its "artist series" and performed with the American String Quartet — on another Gjeilo work, with Gjeilo at the piano — for the launch of his residency in October 2017. "I have been inviting, basically, stars of the chamber-music world who are not used to being conducted — and who are not used to being accompanied by chorus," said José Daniel Flores-Caraballo, artistic and executive director of the group. "This is not what they do."
Until they do it with APM, embracing the opportunity and yielding mutual rewards. "We all gained tremendously from that experience," he said of the 2017 program. Regarding the Gjeilo residency overall, "I can tell you that we're all better musicians after having this relationship with us for these three years. It's been a very enriching musical experience for all of us."
"They're a wonderful group. It's been really great to have that relationship, and to get to write for them," Gjeilo said, adding: "It's been an honor to work with them and José."
Earlier this year, singing with full orchestra, APM performed a world-premiere Gjeilo commission: "Joy," a 12-minute work quoting the poetry of William Wordsworth and Samuel Taylor Coleridge. This Sunday, the concert will open with five Gjeilo works for chorus (including "Ubi Caritas" and "O Magnum Mysterium") and close with three performed by APM and the Escher: "The Lake Isle," "The Rose" and "Luminous Night of the Soul." In between, the quartet will render two works on their own: Allegro assai from Franz Schubert's Quartetsattz in c minor, D. 703; and "Langsamer Satz" by Anton Webern.
The Schubert is "a beautiful, very exciting, stand-alone movement" for a longer work that the composer never finished, Speltz noted. The Webern is "hyper-romantic, beautiful," written before his turn to atonality and serialism.
Members of the Escher String Quartet don't shy from the romantic, he said. "At least in our quartet, we share a certain musical heritage that leans on the more vocal aspect of string playing, which I guess, one could argue, is slightly old fashioned" — but if so, he has no problem with it.
After all, he said, both string players and singers tend to perform with a continuous vibrato. And both tend to admire — and even emulate — the expressive qualities of the other.
So while the Escher has never before performed with chorus, the chance to do so with the APM "will be a seamless collaboration," Speltz said. They're bound to hit it off. "Strings and voice, they go along very well."
[email protected] • 518-454-5439 • @AmyBiancolli
More Information
If you go
"Serenity" — The Music of Ola Gjeilo
Albany Pro Musica and the Escher Quartet
Where: Troy Savings Bank Music Hall, 30 2nd St., Troy
When: 3 p.m. Sunday
Tickets: $25-$55
Info: troymusichall.org; 518-273-0038