Alexander Golberg Jero Reporting the First Steps of High Definition Music Card Development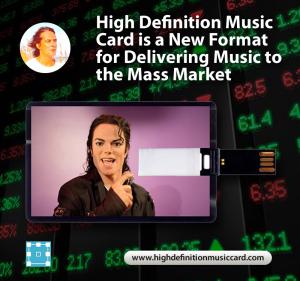 First Stage of High Definition Music Card Developemnt
High Definition Music Card to Replace the Music CD's on the Global Music Market."
— Alexander Golberg Jero
NEW YORK, NEW YORK, UNITED STATES, June 27, 2018 — Alexander Goldberg Jero is a name that has become synonymous with innovation in the music industry. He has spent much of his time focusing on how he can transform classical music that people have grown to love into a magical experience that they'll never forget. Innovation is his main focus, always looking for new ways to shake up and improve the way the music industry does things. Taking what he has learned from perfecting the technique of surround sound music, he has been an instrumental force behind the brand new High Definition Music Card. This new technology promises to change the way that we listen to music, when you're home or on the go.
Jero understands the music is an ever-changing industry that needs to keep up with the evolving technology. His new offering, the High Definition Music Card is exactly the change that music lovers need. Digital media is a popular trend right now and that does not seem to be going away. One reason for this is because it offers such a higher quality of music especially when compared to cassettes or CDs. The High Definition Music Card is the next big thing, taking advantage of the USB industry that is anticipated to get a $2.5 billion growth for MediaInVisionPLC over the next 10 years. The High Definition Music Card can not only hold a vast amount of music on it, it allows music lovers to listen to a music quality that will blow them away.
The High Definition Music Card offers playability on a wide range of devices including laptops, desktops, and Blu-Ray players. The surround quality music that comes from this product offers listeners a completely immersive experience that transforms the way they appreciate music. This makes music affordable and much easier to enjoy wherever you are. This is a product that will change everything about the music experience, allowing you to enjoy music wherever you are as if you were at a concert. Since its inception, a lot of progress has been made in bringing the High Definition Music Card to market.
Over the past 6 months, there have been excellent results in integrating High Definition Music Card technology as well as testing an adaptation of this technology on the consumer market. Thanks to the amazing support of Amazon, working prototypes were placed on product pages. This allowed the team at MediaInVision to receive necessary feedback in order to improve the product for the future. An extensive marketing campaign was conducted with the purpose of raising customer awareness of this product. The marketing efforts were also used to make everyone aware of the features of the product so they can see just why they need the High Definition Music Card in their lives.
Because of these efforts, connections were established with key content providers including major record labels for the future releases of some of the top music artists. On Sharebid.com, shares of MediaInVision PLC were made available and there was a significant amount of interest established for future investors. These are both incredible parts of the first step of the development of the High Definition Music Card. There are future steps that are planned out that will help this process succeed. These future steps include the development of graphic user interface for product features navigation and an increase in the marketing efforts for this new product. MediaInVision assured 250M USD to invest in world-wide product awareness and marketing from private investors.
The High Definition Music Card is the future of music. This is the best technology that will give you the chance to listen to music in a brand-new way. You get a totally immersive experience due to the surround sound quality of this music. It's almost as if you are listening to the concert live. It will revolutionize the way you listen to music, offering clearer music than other digital methods. The High Definition Music Card utilizes the technology of USB sticks, but these pocket-sized items will pack an incredible punch as far as sound quality. If you can listen to music on the item, you can use the High Definition Music Card in order to listen to your music.When you listen to the music from the High Definition Music Card, you are getting a 3D experience that is unlike anything you have ever experienced before when listening to music wherever you are.
Alexander Goldberg Jero creates his music by recording the individual pieces and arranging it together to create an incredibly immersive experience. This transforms how people listen to and enjoy music. His love of music and creating surround sound music has inspired him to innovate products like the High Definition Music Card. Anyone who purchases this product can have access to an experience that will change how you listen to music forever. If you have heard the magic that he creates with his classical compositions, you can just imagine what can be done with this new way of listening to music. The idea is to make an impact on the listener, offering a same experience that a movie fan would enjoy seeing a 3D movie. Stop listening to music the old way and embrace this new technology that will completely change how you enjoy music.
Technology is always changing and the music industry needs to keep up with this change. Music fans want the best way to listen to quality music whenever they want to. Digital streaming may be the big thing right now, but the High Definition Music Card will be the best option for fans. It offers a completely immersive 3D experience with a seemingly endless amount of music for them to enjoy. The first steps of its development process has been completed, which are essential to ensuring that the best quality of product is released to the market. As more progress in the development of the High Definition Music Card is accomplished, this information will be released to the public.
Aleksandr Golberg
MediaInVision
9177973090
email us here
MediaInVision High Definition Music Card