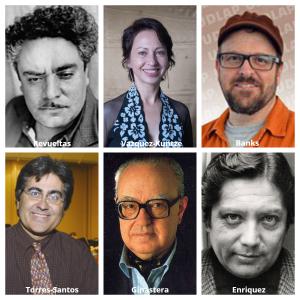 North/South Consonance, Inc marks the Cinco de Mayo on May 4 with a concert featuring music by composers from Mexico, Puerto Rico and Argentina.
NEW YORK, NY, USA, April 25, 2018 — North/South Consonance, Inc celebrates the Cinco de Mayo holiday on Friday evening May 4 presenting a concert featuring vocal and instrumental music by composers from Mexico, Puerto Rico and Argentina.
Vocalists Celia Castro and Mario Arevalo will join forces with pianist Max Lifchitz in performances of works by Mexican composers Brian Banks, Manuel Enriquez, Silvestre Revueltas and Lilia Vazquez-Kuntze. Also on the program music by Puerto Rican Raymond Torres-Santos and Argentinians Alberto Ginastera and Carlos Guastavino. Rosa Divina, a song cycle by Max Lifchitz inspired by the poetry of Sor Juana Ines de la Cruz — Mexico's Tenth Muse — will round-off the program.
The event will take place at the intimate but acoustically superior auditorium of Christ & St Stephen's Church (120 West 69th Street) on Manhattan's Upper West Side. The free-admission event will start at 8 PM and end at approximately 9:30 PM. The auditorium is ADA accessible. No tickets or reservations needed.
Listen to Celia Castro singing Rosa Divina by visiting
https://youtu.be/6VotlcIiP_M
Brian Banks' Danzon @
https://youtu.be/Sjvwuw0jPQ8
Access Max Lifchitz's American Romantics recording at
https://youtu.be/5BiL7LEy2O4
Since its inception in 1980, the North/South Consonance, Inc. has brought to the attention of the New York City public over 1,000 works by composers hailing from the Americas and elsewhere representing a wide spectrum of aesthetic views. Its activities are made possible in part, with public funds from the New York State Council on the Arts and the New York City Department of Cultural Affairs as well as the generosity of numerous individual donors.
Now on its 38th consecutive season, the North/South Chamber Orchestra presents a yearly concert series in New York City while maintaining an active recording schedule.
Max Lifchitz
North/South Consonance, Inc
518-852-6100
email us here
Celia Divina Sings Rosa Divina