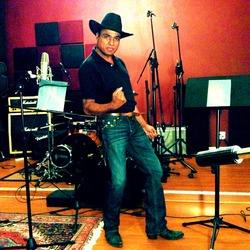 New Music Available Now
FOR IMMEDIATE RELEASE 
Newport Beach, California – June 12, 2020 – If there was a cornucopia of sound, Cowboy would be the creator. With styles that range from pop to country to rock and roll, there isn't anything this Southern California music maker can't do. With a handful of songs out now and two albums worth waiting to be released, there is no shortage of entertainment coming from Cowboy's direction. 
While Cowboy dives deep into other genres be it pop or rock, there always seems to be a baseline of Country at the heart of his music. As a storyteller, that is not surprising. It's also something many of his fans around the world have come to love as four of his singles have been celebrated around the globe thanks to the wonderful world of internet radio. "Show Me You Love Me," "No Fighta Man," "Be Bold," and "One Stop Shop" have been played near and far already, but there is more to come. 
Cowboy started producing music four years ago. Since then he's written and composed more than enough music to fill a pair of albums. So far he's released four singles and promises more are on the way throughout 2020 and beyond. He hopes to join the likes of Florida Georgia Line and Justin Moore on the road one day, entertaining crowds across the country and then, the world. 
Those interested in adding new music to their playlists, featuring Cowboy's music on their site, or interviewing Cowboy on their site, podcast, or radio show can reach out via the information provided below. 
For more music from Cowboy, please visit: http://www.iheart.com/Artist/cowboy-30931514 
###
Contact:
Cowboy
Sonny Singh
949-945-4351
[email protected] 
Links:
Facebook: http://www.facebook.com/cowboynews
Twitter: http://www.twitter.com/rjkintl
SoundCloud: http://www.SoundCloud.com/cowboy-22