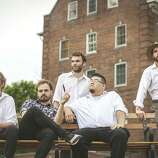 Lifelong comrades in music
This year has been a busy one for Cooperstown-based alt-funk act Hanzolo. They released their first music video, their first album and with their opening slot at PearlPalooza on Saturday, will be performing at their first major festival.
Hanzolo has played together for a few years now, but that's not where the band's story begins. To find that point, you'd have to go back a couple decades to the relationships formed in grade school.
"My family moved to Cooperstown in third grade and I met Nick (Summers, keyboardist and trumpet player) and Carl (Loewenguth, lead vocalist and guitarist)," said trombonist James Matson. "After a couple years, different homerooms, I'd say we've all been friends since about sixth grade."
"Jack (Loewenguth, bassist) is my brother, so I've known him since I was born, and Nick and I have been friends since preschool," Carl Loewenguth added. "We all had a band together in high school and sort of regrouped after college."
That band was called Cheese of the Misty Ceremony, and it went on hiatus when the friends started going off to college a decade ago. The core of the band continued to hone their musical chops and within a couple of years, they were back home in Cooperstown and playing together again.
"I graduated from New Paltz, where I went for music," said Summers. "A lot of my friends and classmates went down to the city, but I knew Carl was upstate, and so were Jack and James. I knew that was the best place for me to go and start a band. I just knew there'd be a good chance to make good, original music."
Jack Loewenguth played in the big band at SUNY Oneonta and when he returned to live at home for a spell, "started getting together and playing on Carl's original music." From there, Hanzolo was formed.
Matson, who's played the trombone since the fourth grade, returned to Cooperstown after living in New York City and he, too, fell into playing with the brothers Loewenguth and Summers. The group later added drummers Nate Olmstead and Sebastian Green and sax player Joey Katz.
To find its sound, the members of Hanzolo took their time, relying on shared musical taste and slowly expanding its membership until it got their mix of originals and covers of soul singers, from Aretha Franklin to Amy Winehouse, just right.
"Carl and I grew up listening to the same kind of music: soul, Motown, Stevie Wonder, Paul Simon, just great songwriters," Jack Loewenguth said. "Stuff with lots of horns, dancing. We play lots of dance music, stuff where you can have a lot of fun."
"It was a slow burn in how it formed, so it was easy enough to add one guy (to Hanzolo) at a time," Summers noted. "I could teach one person at a time the horn section and Carl could teach the rhythm parts."
Now that the band is fully realized, Hanzolo is off and running. In May, it released its nine-track debut LP, "Table Butter," and Summers is hopeful that the band can record a followup this winter. Last month, they put out their first music video for the song "Not Easy," filmed at the roller skating rink in Oneonta where they used to attend birthday parties as kids. And then there's the shows, which have steadily built to the group's upcoming 1 p.m. opening slot in front of several thousand folks at PearlPalooza.
To earn that spot, Hanzolo competed in a multi-night battle of the bands at Skyloft in Crossgates Mall and hosted by radio station WEQX (102.7 FM), the main organizer of PearlPalooza. While a battle of the bands is inherently competitive in nature, the competition was more about having fun and supporting fellow regional artists' musical pursuits. But winning the contest has Hanzolo excited about playing to its largest audience yet.
"In high school we did do one battle of the bands, but we lost to some metal band. So my desire to win was strong," Carl Loewenguth joked. "To win was awesome, but we didn't feel too much in the way of competition."
"Everybody was really complimentary, we were all sort of rooting for each other," Matson added. "If it's really 8-10,000 people that show up, that's definitely exciting. But regardless of that, this is one of the first shows we're playing that's a city, big festival-type show."
Just as fun as the PearlPalooza show is the fact that the guys are longtime friends sharing in the experience together. It adds to the enjoyment factor.
"We know each other really intimately, it's a rapport unlike anything I have with any others," Carl Loewenguth said. "Even on nights without band gigs, we usually end up hanging out with each other."
"I'm really grateful for that," Summers said.
Jim Shahen Jr. is a frequent contributor to the Times Union.
More Information
If You Go
Hanzolo at PearlPalooza
When: 1 p.m., Saturday
Where: North Pearl Street, between the intersections with Sheridan and Pine
Tickets: Free
For more info: https://downtownalbany.org/pearlpalooza