Live Music in the Byron Shire and beyond for the Week Beginning 21 August, 2019 – Echonetdaily
Morcheeba: One of the acts at BluesFest this yearByron Bluesfest9–13 April 2020
Last week Bluesfest shared a little of what is going to be in store for the 2020 lineup. And it's impressive! With the return of the lauded Patti Smith, The Dave Matthews Band, and Crowded House, the 31st annual Byron Bluesfest happening 9–13 April is going to be something special. The lineup also includes two acts making their Bluesfest debut: George Benson and Brandi Carlile. With the incredible The War & Treaty (a must-see from last year), Buffy Sainte-Marie, The Cat Empire, Morcheeba, John Mayall, and a while lot more! Festival director Peter Noble really is on his way to taking this internationally recognised event to the next level! For tix and program info go to bluesfest.com.au.
Miss Amber and Stukulele at the Byron Services Club on Thursday 29 AugustMiss Amber & Stukulele's Byron Uke NightByron Services Club  |  Thursday 29 August  |  7pm  |  $15 adults, kids under 16 $5.
They're at it again… Miss Amber & Stukulele are hosting a Uke Night in Byron! So look under your bed or in the cupboard for that ukulele that was given to you a while back… dust it off and get on down to the Byron Services Club on Thursday 29 August. Bring your best singing voice, frock, or suit. Songs are projected onto a screen so you can strum and sing along backed by Rod Coe on double bass and Kate Gittins on flute, clarinet, and accordion. Songbook available though www.ukemullum.com. Adults $15 and kids under 16 just $5. 7pm. Tix at the door
Jim-Bob yelling like rebels for the extinction rebellion fundraiserRebel Yell: Fundraiser for Extinction RevolutionItalo Club, Lismore  |  Saturday  |  5.30pm  |  $15/20
A century ago, legendary social activist Emma Goldman declared, 'If I can't dance, I don't want to be part of your revolution!'
It's an attitude shared by the organisers of Rebel Yell!, a night of old-fashioned fun and frivolity being held by Extinction Rebellion Lismore at Lismore's Italo Australia Club this Saturday to fundraise for four groups of frontline climate-change activists.
Moneys made will be split between FLAC (Frontline Action Camp on Coal), Wangan and Jagalingou (traditional owners of the Galilee Basin), Extinction Rebellion, and local Bundjalung elders.
'Environmentalists are often wrongly portrayed by people who don't know us as being humourless and overly serious, not the type of people who know how to celebrate life while fighting to protect it,' says Susie Gipton, one of the event's organisers.
MCed by Miss North Lismore aka Jenny Jones, the event features a wide range of acclaimed musical acts from folk to psychobilly, including Jim Bob, Iona Harker, The Lost Seamen, Jatika, Pete Lehner, Karen Anderson, with comedy by Mark Swivell.
Rebel Yell even features that old-time delight – a chocolate wheel – being used to draw an eclectic range of raffle prizes donated by local businesses.
The bar and event will be open from 5.30pm, with freshly made vegetarian food also on sale. Merchandise made from recycled materials will also be available. At the Italo Club in Lismore. Entry is $20 or $15 concession on the door.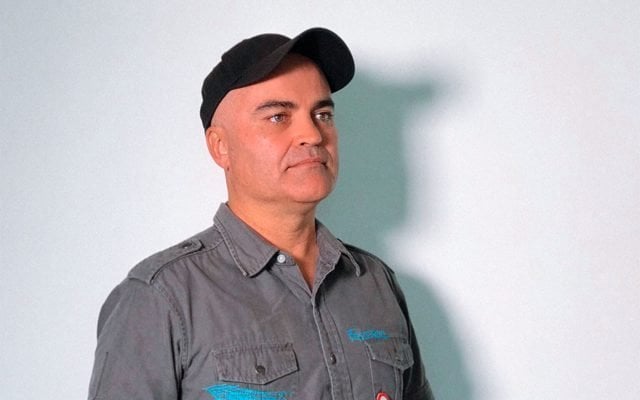 Abel El Toro, playing Saturday at The Rock & Roll in Mullum on 31 August raising money for The Neighbourhood CentreWarm Up – DJs and music for Mullum Neighbourhood CentreRock & Roll Cafe, Mullumbimby  |  Saturday 31 August  |  5–11pm  |  Free
Local musician gather together to aid the Mullumbimby Neighbourhood Centre with Warm Up!, a charity event featuring musical maestros DJs Stephen Allkins, Mr Ha Yes, Abel el toro, Cinco Cinco Cinco, Milk, and The Italian Chef, featuring the soul-inspired singer Tashmeen.
Free entry by an item of canned food will be collected and donated to The Mullum Neighbourhood Centre. At the previous event over 200 much-needed canned food items were collected and donated to the centre.
Rock & Roll Cafe Mullumbimby from 5pm.
Merryn Jeann plays the Byron Theatre at the Community Centre on Friday 6 SeptemberMerryn JeanByron Theatre, Community Centre  |  Friday 6 September |  8pm  |  $20/25
Last year I had the pleasure of seeing local girl Merryn Jeann play a gig in Paris. I know I am biased, but she literally blew away everyone else on the bill. Our one-time Steiner girl and Mullum Music Festival mentorship winner had come a long way. She clearly has something special. Something recognised overseas with LItzic magazine in France saying of her latest album, 'We are in the presence of a masterpiece – dare to say it – a masterpiece of finesse and refinement. Merryn Jeann offers us a precious fit that must be kept beside all that is important.' Merryn won the CSDEM Original Song of the Year in France in 2016 with Aloha, a collaboration with French DJ Mome. She was also awarded triple-diamond status by SACEM France with around 200,000,000 streams.
Her solo debut, a 'self-exploratory adventure', already coined a 'masterpiece' in reviews, was produced in Byron at Museagency Studios and features some of her old bandmates from Parcels and Tora.
The Byron launch is a big thankyou for strong local support on Kickstarter that helped make the self-titled album.
There will also be the film premiere of Merryn Jeann visualised by Merryn Jeann,  the film she made for her eponymous vinyl album.
Friday 6 September at 8pm at the Byron Theatre at the Community Centre. $20/25
Epic at the Byron Golf ClubEPICByron Golf Club  |  Saturday  |  7pm  |  Free
Epic bring their band full of renowned full-time musicians to the Byron Golf Club this Saturday. Members of EPIC have performed alongside Earth Wind and Fire, The Doobie Brothers, Nik Kershaw, and 10CC…
The Byron Golf Club on Saturday from 7pm. Free.
Tags:
Become a supporter of The EchoA note from the editorial team
"The Echo has never underestimated the intelligence and passion of its readers. In a world of corporate banality and predictability, The Echo has worked hard for more than 30 years to help keep Byron and the north coast unique with quality local journalism and creative ideas. We think this area needs more voices, reasoned analysis and ideas than just those provided by News Corp, lifestyle mags, Facebook groups and corporate newsletters.
The Echo is one hundred per cent locally owned and one hundred per cent independent. As you have probably gathered from what is happening in the media industry, it is not cheap to produce a weekly newspaper and a daily online news service of any quality.
We have always relied entirely on advertising to fund our operations, but often loyal readers who value our local, independent journalism have asked how they could help ensure our survival.
Any support you can provide to The Echo will make an enormous difference. You can make a one-off contribution or a monthly one. With your help, we can continue to support a better informed local community and a healthier democracy for another 30 years."