Nyanza
Police forced to watch from a distance as the mourners openly defied orders to keep social distance and wear masks
Hundreds of mourners defied police and disregarded Covid-19 public health guidelines as they escorted the body of popular Ohangla musician Abenny Jachiga (pictured) for burial in the outskirts of Kisumu this morning.
The mourners, chanting funereal dirges refused to keep social distance as ordered by police with only a few putting on face masks during the funeral procession from Kisumu's Port Florence Hospital mortuary to Chiga in Kisumu East sub-county. 
They trailed the funeral procession on foot, motorcycles, bicycles and in motor vehicles during the long, winding journey that started at 8.30 am.
SEE ALSO: Lobby proposes curfew guidelines
Police officers deployed outside the mortuary and at Jachiga's home were overwhelmed and were forced to watch from a distance as the mourners openly defied orders to keep social distance and wear masks in keeping with the new public health guidelines to help fight the Covid-19 pandemic currently ravaging the world.
There was a sea of humanity on the road stretch from Rabuor to Chiga as the mourners, some armed with tree twigs, jogged after the hearse transporting the body.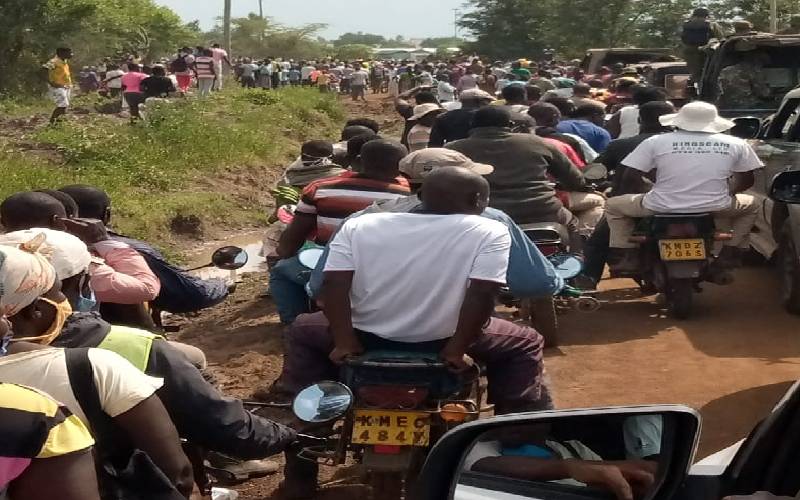 Mourners escort the body of the late Ohangle musician Abenny Jachiga
The late Jachiga- his real name Bernard Onyango died at dawn yesterday at St Jairus Hospital where he was rushed to after falling ill.
Known for his provocative Ohangla love songs, Jachiga, 33, succumbed to what family members described as Pneumonia.
Health officials yesterday launched investigations into the cause of death and had taken samples from the body with sources indicating the samples tested Negative to covid-19.
SEE ALSO: Motor racing-F1 cancels Azerbaijan, Singapore and Japan races
One of his most popular songs is "Kasinde" in which he attacks unfaithful women who refer to all their lovers as "my cousin."
The musician who hails from East Kolwa – Chiga location, Kisumu east Sub County started his music career at the age of 21 as an instrumentalist.
Onyango was mentored by the likes of Lady Maureen and had a brief stay with Jakadenge before he started his own band which for several years played at the former Gwara Gwara club in Kisumu's Kondele.
The musician released his hit song 'Kasinde' in mid-2018 and is also known for his other songs like 'usidharau mwenzio', 'penzi ni kama mayai' and 'simba manyo wendo'.
Onyango is said to have mentored several artists and instrumentalists  Lawy Jakabonyo, Boss wuod Nyasembo, Awilo Jakatoloa and pianist Osto among others.
SEE ALSO: Wuhan screens 10 million people in citywide Covid-19 mass testing
Onyango has left behind a widow and five children.