Angie Hudson at The QuadBackyard Music Sessions at The Quad presents: Angie Hudson.Lismore Quad, 11 Rural St Lismore  |  Friday 6 Dec  | 5.30–7:30pm  |  Free
Our Backyard Music Sessions at Lismore Quad presents a free gig by Angie Hudson. Since Angie released her debut EP Opens she has received regular triple J rotation, and was praised by Roots n All presenter Nkechi Anele, who said 'Angie's ability to break your heart with her voice is out of control'. She has been compared to giants such as Emily King, Norah Jones and Gillian Welch. She has graced stages at Falls Festival and Mullumbimby Music Festival.
Bring a picnic rug and come enjoy a languid evening at The Quad with the beautiful music of Angie Hudson. The Quad is fully licensed so NO BYO.
Cog perform Friday, 20 December at The Great Northern Hotel,COGHotel Great Northern  |  Friday 20 December  |  9pm
After Cog's successful tour to the UK earlier in the year, plus performing the sold out Drawn Together single tour in the middle of this year, fans are frothing.
Cog have always understood they have to win hearts and minds in an ever-changing musical landscape and have always set about doing this the only way they know how – by getting in faces 'on the ground,' of existing fans, as well as those who are yet to be musically baptised. With yet to be revealed plans for 2020 and beyond (there's rumour of an album) Cog are once again taking steps, mindful that although they will never lose the respect of their loyal fans, they still need to reinforce their presence as an enduring force within the Australian musical landscape.
To that end – Cog perform Friday, 20 December at The Great Northern Hotel, Byron Bay, supported by Redhook. Doors open at 9pm, 18+ only. Tickets from tickets.oztix.com.au
Curious tickets selling fast for 7 DecemberCurious – DJ Scott Pullen, James Scott, Dale Stephen and Lord SutBillinudgel Hotel  |  $20/25
After four years the good people of Cunning Stunts are holding their 44th event. These incredible big-hearted people have raised hundreds of thousands of dollars for the local community. This time they are raising money for NSW Rural Fire Service. So get your dancing gear on the floor for number 44 with DJ Scott Pullen, James Scott, Dale Stephen and Lord Sut on deck. Book for 7 December. Tickets are $20/25 from cunningstunts.com.au
Australia's own Red Hot Chilli Peppers tribute show,The California KingsMullumbimy Ex Services  |  Friday 13 Dec  |  8pm  |  $10
Check it out now… the Funk Soul Brothers! Finally it's here.
Australia's own Red Hot Chilli Peppers tribute show, aka The California Kings are ready to rock your socks off with their pin-point accurate replication of all the Chilli Pepper's greatest hits. The show is a high-energy 2 hour production guaranteed to whip anyone in a sexy, funky, mother f*#king frenzy. The show includes a high-quality stage show, with amazing lighting and a fantastic sound system.
Mullum Ex-Services Club, Friday 13 December, 8pm. Tix $10 from www.mullumexservices.com.au/what-s-on
Lynda Storey along with Kathryn Jones at the Ocean Shores Country ClubKathyrn Jones and Friends: Lydia StoreyOcean Shores Country Club  |  Sunday  |  1-4pm  |  Free
Charismatic country star, Kathryn Jones opens her Pandora's Box, 8 December at the Ocean Shores Country Club to reveal yet another diverse collection of talent. Her monthly Lazy Sunday events are gaining notoriety, showcasing award winning artists such as Lydia Storey.
Also Old-Timey trio The Tin Can String Band (Slim Pickens, Chris Arosten and Neil McCann) will have you stampin' yer feet, cryin' in yer beer and singin' them sweet harmonies.
Kathryn is joined by her longtime friends, bassist Alan Brooker & Neil McCann. Sunday on the deck, at Ocean Shores Country Club, 1–4pm.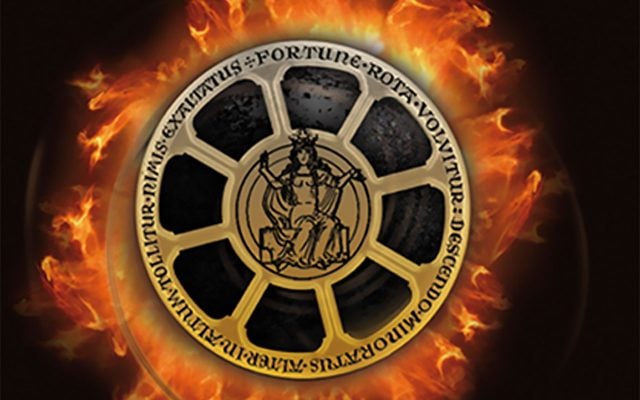 Carmina Burana – Big Sing 2019. Presented by Byron Music SocietyCarmina BuranaLismore City Hall  | Sunday 8 December
Byron Music Society's annual Big Sing event this year is Carl Orff's great choral masterpiece, Carmina Burana. This ever-popular work is a collection of  songs taken from a medieval songbook of that name. But don't be deceived! It's not at all religious, quite the reverse in fact. The songs are about the pleasures and perils of drinking, gluttony, gambling, and lust; the fickleness of fortune and wealth, the ephemeral nature of life, and the joy of the return of Spring. The work is bawdy, intimate and epic at the same time; and it's a blast!
For the performance in Lismore on Sunday 8 December, 100 singers from near and far will come together under the vibrant baton of conductor Emily Cox, to be joined by the Amatori Orchestra, based in the Northern Rivers, and soloists Melanie Smart, soprano, and Daniel Smerdon, baritone, from Brisbane. Tix at lismorecityhall.com.au
Wytaliba community near Glen Innes lost over 80% of their homes
Sniffer Dogs for Good
The recent bush fires have been a true warning of things to come. Our lives and homes are under threat. The alternative Wytaliba community near Glen Innes lost over 80% of their homes and are currently rebuilding after the devastation.
Local Mullumbimby producer and electronic musician Sniffer Dog has donated one of his tracks to help in a small way. All profits from any downloads go directly to the Wytaliba fire fund, and every cent helps.
Simply go to the link below, download the track Greta Calling and help soften the hardship of rebuilding for this fantastic community.
snifferdog.bandcamp.com/releases
The Songbirds at A Choired Taste in BangalowA Choired Taste Choirs ConcertBangalow Catholic Hall  |  Sunday 8th December  |  7pm  |  $12– $15
It's that time of year when local choirs come together to showcase their glorious voices and harmonies at the annual A Choired Taste concert. It's happening at the Bangalow Catholic Hall in Deacon Street at 7pm on Sunday. This year you will be delighted by The Songbirds, Wolfsong, The Headliners, Awesome Voices and the hilarious Men Wot Sing.
Tickets available at the door, $15 and $12 concession. Delicious food will be available and money will go towards the Galupa Homeland Project in Arnhem land, as well as to the NSW Bushfire appeal.
HiFi at KulchaJamByron NYC Jazz ClubKulcha Jam, Byron,  1 Acacia Street Byron Bay Industrial Estate |  Thursday 5 & 19 Dec  |  8pm start- no BYO, drinks will be available at the Piano Bar  | $10- $20
There's no shortage of great music or musicians here in the Northern Rivers. Venues to support them are however another story.
Enter the HIGH FI – a pop-up Jazz and Vinyl Lounge in the heart of the booming Arts & Industry Estate. Curated by musical mastermind Benjamin Walsh who, between national and international touring, calls this place home.
'I watched Sydney close the doors on live music and make all the wrong decisions when it to comes to live performance. Diverse venues for the creation of art are integral! We underestimate how much art contributes to the health and happiness of our hometown and the people who live and work here.'
Ben is working alongside his long time collaborator Techa Beaumont in revitalising the iconic Kulcha Jam venue. After returning from years overseas, Techa has rededicated the space as an artistic hub for the next wave of local art and culture to thrive.
'Reminiscent of a New York Jazz club, where the greatest musicians can meet and collaborate in an informal setting, the primary focus of these evenings will be the listening experience. To complement the vibes, we will curate a fine selection of drinks at a unique not-for-profit bar which will fund ongoing local arts initiatives.'
Those who already know of Ben Walsh's diverse musical track record – spanning collaborations with traditional Indian and African artists, beatboxers and circus performers, live electronica and percussion – will be immediate fans of this club.
'The kind of music I'm programming has had nowhere to play in The Bay, where venues focus more on alcohol service. I'm hoping to change that for myself, as a player of music, and also as a listener. It's been missing from this area for too long.'
The HIGH FI is launching as a series of two nights per month over the summer period, taking advantage of touring interstate and international guests. Its backbone however will be a solid core of local musicians.
Opening nights are Thursday 5 December and Thursday 19 December, 8pm till late. Connect with the HIGH FI page on Facebook and Instagram for more info. 1 Acacia St, Byron Bay, $10/20 at the door, presales via Facebook. No BYO. Pre-booked tickets will be available online soon.
Squeals of excitement as Frozen II opens Music festival fundraiser for Youth Empowerment
Tags: