American rapper Cardi B performs during concert at Roskilde Festival's first evening on Wednesday 3 July 2019 in Roskilde, Denmark.(Helle Arensbak / Ritzau Scanpix via AP)
American rapper Cardi B performs during concert at Roskilde Festival's first evening on Wednesday 3 July 2019 in Roskilde, Denmark.(Helle Arensbak / Ritzau Scanpix via AP)
Photo: Helle Arensbak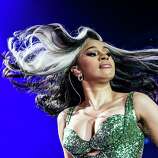 American rapper Cardi B performs during concert at Roskilde Festival's first evening on Wednesday 3 July 2019 in Roskilde, Denmark.(Helle Arensbak / Ritzau Scanpix via AP)
American rapper Cardi B performs during concert at Roskilde Festival's first evening on Wednesday 3 July 2019 in Roskilde, Denmark.(Helle Arensbak / Ritzau Scanpix via AP)
Photo: Helle Arensbak
Music matters: Cardi B does things her way
If you engage with popular culture in any meaningful way, you probably have an opinion on the chart-topping, Grammy-winning Cardi B. Generally, it skews one way or the other; you either love her or you can't stand her. Apathy towards her doesn't appear to be an option.
Personally, I Love Cardi B. Capital L, Love Cardi B. It's probably for the same reasons so many people are fond of her. Conversely, they're also the reasons others find her insufferable.
On the track "Best Life," Cardi raps, "Cardi B is so problematic it's a hashtag." And to some, sure, she could be considered problematic. Between some of the wild things she says in interviews and social media or being unabashed about her sexual appetite and stripper past, there's a lot of fodder for folks with the pearl-clutching mindset to dislike.
But one person's problematic is another's authenticity. In the case of Cardi B, that authenticity is what helped her to become a self-made success story.
Before she was Cardi B, she was Belcalis Almanzar from the Highbridge section of the Bronx. At age 18, she was attending a local community college and working full-time at the Amish Market. Within a year she had dropped out of school and looking to make significant income. Finding the $250 weekly income at the market to be woefully inadequate, Almanzar became a stripper.
If you go
Cardi B with City Girls, Teyana Taylor and Nicole Bus
When: 7:30 p.m., Sunday
Where: SPAC, 108 Avenue of the Pines, Saratoga Springs
Tickets: $30-$130
For more info: www.spac.org
During this time, the spontaneously exuberant, sometimes unflattering and outlandish videos she'd post on Instagram and Vine made her a viral sensation. This turned into a two-season stint on the VH1 reality series "Love and Hip-Hop," where her quotability and outsized personality made her a TV star.
From there, she made the unlikely happen: she transitioned to successful, viable rapper. Before "Bodak Yellow" made history in September 2017 by being the first female-fronted rap track to hit No. 1 on the Billboard Hot 100, Cardi B released a two-volume set of mixtapes entitled "Gangsta Bitch Music" that laid the groundwork for her ascent to pop stardom.
Both are raw, lyrically clever and unapologetic about her career as a stripper, love of sex and money, and willingness to fight anyone, man or woman, that steps to her and blocks her upward mobility. The 23 tracks on these two mixtapes reveal Cardi B to be a capable emcee, with the ability to carry a track through either quality bars or sheer force of personality.
"Bodak Yellow" brought those abilities beyond the Instagram audience and hip-hop heads, to a mainstream audience, as did follow-up single "Bartier Cardi" and cameos on hit singles by Migos, Bruno Mars and Maroon 5.
By the time her first official album dropped in April, Cardi B had proven herself to be more than a one-hit wonder or kitschy phenomenon. "Invasion of Privacy" maintained the brand consistency she developed, while collaborations with critically acclaimed artists like SZA and Chance the Rapper highlighted the respect she has within the industry. This past year she made history again as the first female artist to receive Best Rap Album when "Invasion of Privacy" won at the Grammys.
It doesn't appear that this level of success has changed Cardi B in any significant way. She's still an active presence on social media, taking down internet trolls and providing graphic details about her sex life. In the public sphere she isn't putting on airs and is just as hard as she was in her stripping days. Sometimes that means presenting unvarnished stories of her pre-fame days, other times it's trying to fight Nicki Minaj during New York Fashion Week.
She's also enthusiastic and gracious, as evidenced by the speeches she's given at award shows or the genuinely effusive praise she heaps upon the designers who dress her or photographers who shoot her for magazines. A scroll through her Twitter or Instagram feed shows that she regularly responds positively to fans and expresses how much the support means to her.
As a pop culture juggernaut, Cardi B is one of the few celebrities to maintain her realness. Despite reaching levels of fame and money that few people ever see, let alone attain, she remains true to herself and her identity. For that, she's earned some haters.
But it's also why I, and millions of others, think Cardi B is fantastic. Locally, she's had a strong following for years. When she played at the Times Union Center in October 2017, Cardi B only had "Bodak Yellow" on the pop charts and sold close to 10,000 tickets.
Next weekend, she's performing at SPAC and odds are she'll come close to selling out the amphitheater and lawn. Not many artists pull that off, and it's a sign of her real drawing power. It's also a testament to her unyielding realness.
Because that isn't a gimmick. Cardi B means it when she raps, "I said I never had a problem showin' y'all the real me/Hair when it's (messed) up, crib when it's filthy/Way-before-the-deal me, strip-to-pay-the-bills me/'Fore I fixed my teeth, man, those comments used to kill me/But never did I change, never been ashamed."
Jim Shahen Jr. is a frequent contributor to the Times Union.