Ever since she was the drummer for the "Beatnik Flies," at age 15, visual soundscape artist Britt Conley has incorporated music into her life in a
variety of ways, including paintings. Now in her studio in Building 10 at the Workhouse Arts Center, Conley gets the music in her head and puts it on canvas with her brush.
"I spend months personifying what the music would look like," she said, to "translate the beauty."
Most of her work is with classical music, and she recently landed an award for her painting called "Tchaikovsky Symphony Number Six," at the Arts Club of Washington. "It's the composers brain," she said, looking at her painting which hangs on the wall outside her studio. "I personify the music in many different ways," she said.
The piano work of Chris Ziemba is another musician's work she has painted. In October, Ziemba is coming to her studio for a show and will play that music as the audience looks at the same song as a painting in Conley's studio. "This is one song," she said, pointing at several pieces of Ziemba's music on a canvas arranged on the wall. Another painting she calls "My Guitar, My Muse," has actual guitar strings in it.
Conley taught herself to play drums at an early age. In the 1980s when "new wave" hit the music scene, she was right there in the Beatnik Flies, getting into all the hot groups back then – Black Flag, the Dead Kennedys, B-52's, and others, and they played at the 9:30 Club in D.C. as well as a few other live music venues.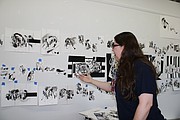 "We were the opening act for a lot of bands," she said. "Every once in a while, we'd go on a mini tour," and her parents were alright with it, surprisingly. "It was a totally different era," she said. That phase lasted for a few years and then she took to the paintbrush.
A few of her pieces are not paintings of the classical music genre. The Foo Fighters' "Run," is one of her paintings on display outside her studio. The song is about a senior running away from an old folks home, she said. As she had that song playing on her MP3 player, she painted. The song played "over and over, the whole time," she said. On the canvas, there are images representing the keyboard, melody and guitar riffs.
Mark Your Calendars
Workhouse Fundraising Gala "Phantom of the Workhouse Masquerade Ball"
9518 Workhouse Way, Lorton
Nov. 16, 6-11 p.m.
Her combination of music and art seems to work within the walls of the Workhouse, which used to be Lorton Reformatory, a federal prison. "The light makes me want to create," she said. A former prisoner came in one day and they talked about the transformation. "He came to my studio and said 'this is where I used to be,'" she said.
Conley has an art show coming up in September, the piano player in October and the masquerade ball in November.