Sphinx Virtuosi's 'For Justice and Peace' Concert and the Rest of the Classical Music to Catch This Week in Cleveland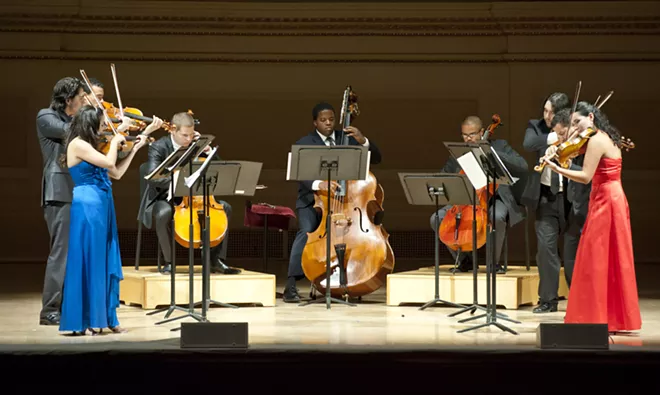 Sphinx Virtuosi, Photo by Nan Melville
Akron's Tuesday Musical Association will tip a hat to local jazz and dance legends Pat Pace and Heinz Poll on Thursday, October 10 at 7:30 pm in E.J. Thomas Hall. Verb Ballets and the Chamber Music Society of Ohio will perform Pace's Excursions and Poll's Rococo Variations, preceded at 6:30 pm by a conversation with the creators of the program. Tickets are available online.
This weekend, The Cleveland Orchestra welcomes back its former assistant conductor Alan Gilbert (who went on to become music director of the New York Philharmonic and is now chief conductor of the NDR Elbphilharmonie Orchestra). He shares the stage with pianist Kirill Gerstein for the Orchestra's premiere of Thomas Adès' Piano Concerto, and fills out the program with J.S. Bach's Suite No. 3 and Brahms' Symphony No. 3. Concerts take place on Friday, October 11 at 11:00 am (no Bach) and 8:00 pm, and Saturday, October 12 at 8:00 pm. Tickets here.



Thirteen-year-old Mexican piano phenom Daniela Liebman will open the free Tri-C Classical Piano Series in Gartner Auditorium at the Cleveland Museum of Art on Sunday, October 13 at 2:00 pm.





Sunday afternoon's schedule is packed. At 3:00 pm, Oberlin faculty cellist Darrett Adkins teams up with Youngstown State faculty pianist Cicilia Yudha for sonatas by Chopin and Kodály on the free Arts Renaissance Tremont series at Pilgrim UCC.



At the same hour, the Cleveland Composers Guild will present works by its members at CSU's Drinko Hall. The menu includes music by Sebastian Birch, Margaret Brouwer, Margi Griebling-Haigh, Scott Michal, Ryan Charles Ramer, Robert Rollin, Matthew Saunders, and James Wilding. The event is free.



Then at 4:00 pm on Sunday, organist Jonathan Moyer will celebrate ten years in the Cleveland area (he splits his time between Oberlin Conservatory and the Church of the Covenant) with a free recital at The Covenant in University Circle. The program includes the premiere of his Three Pieces for Organ (Fantasie, Merry Fugue, and Passacaglia), one of his projects from a recent sabbatical in Germany.



On Sunday evening at 7:00 pm, Rocky River native Ed Caner will bring his classically trained fiddle fingers to a concert of bluegrass and beyond on the Cuyahoga Valley National Park Concert Series at the Hines Hill Conference Center in Peninsula. Marge Adler joins him on keyboard. Tickets are available online.



Monday evenings are usually nights off for classical musicians, but there are two interesting events in the books for October 14.



At 7:30 pm, the Rocky River Chamber Music Society will bring "Chamber Music of Hungary" to West Shore Unitarian Universalist Church. Cleveland Orchestra members Katherine Bormann and Emma Shook, violins, Stanley Konopka, viola, Martha Baldwin, cello, and Henry Peyrebrune, double bass, will play works by Bartók, Brahms, and Monti, and Alexander Fedoriouk will add the special sound of the cimbalom to a set of traditional tunes from Hungary and Romania. The event is free.



At 8:00 pm on Monday, Sphinx Virtuosi, eighteen of the nation's top African American and Latinx classical soloists, will present "For Justice and Peace" in Mixon Hall at the Cleveland Institute of Music. The playlist includes music by Romero, Bartók, Foley, and a selection from Schubert's "Death and the Maiden" Quartet. It's free but seating passes are required.



For details of these and other classical concerts, see our Concert Listings page.