Thanks to Joan Mantle Music Trust, Rainbow schools have $258K worth of new musical instruments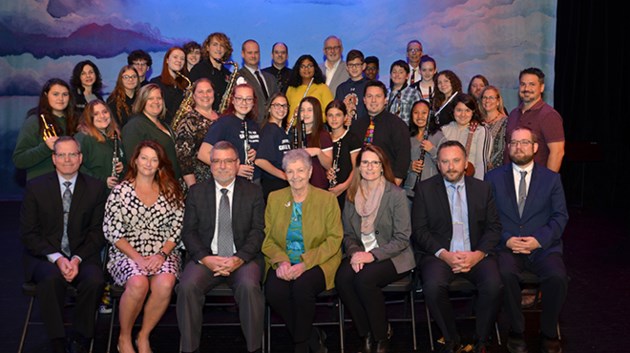 Front row, from left, Craig Runciman, Heather Downey, Norm Blaseg, Doreen Dewar, Leslie Mantle, Ron Hodkinson, and Daniel Koziar. Second row, from left, Brooke Gannon, Rory Guenette, Stefanie Gemmell, Catherine Valiaho, Elora Smith, Dylan Watts-Laframboise, Brooklyn Basso, Mackenzie Lapierre, David Young, Thea Baylosis, Lola Cobersky and Scott Mitchell. Third row, from left, Line Roberge, Abigail Delorme, Katie Labelle, Jack Cushnie, Mitch McIntyre, Dylan Abeyratne, Isabelle Meesen, Andrew Scinto, Colton Xilon, Hannah Smith and  Valerie Whitehead. Back row, from left, Lachlan Kempson, James Watson, Mike Jensen, Kalyani Nair,  Jack Broumpton, Caleb Walker, and Ralph McIntosh. (Supplied)
The Joan Mantle Music Trust, which distributes funds to purchase musical instruments at schools run by the Rainbow District School Board, remains in fine tune in year 12 as donations continue to grow. 
Since its launch in 2008, the trust has raised $258,000, an impressive contribution to music education in Rainbow schools, said a press release.
"As we move into the second year of the fourth round of funding, secondary schools as well as elementary feeder schools with music programs will once again receive funds," said Rainbow District School Board chair Doreen Dewar. 
"The fact that the trust is thriving 12 years after its inception speaks volumes about the generosity of local businesses and individuals. The entire community deserves a standing ovation for its ongoing support."
The Trust was expanded to elementary schools in 2018-2019, when Lo-Ellen Park Secondary School, Algonquin Road Public School and R.L. Beattie Public School; Confederation Secondary School, Valley View Public School and C.R. Judd Public School; and Manitoulin Secondary School, Central Manitoulin Public School and Charles C. McLean Public School received funds to purchase new instruments. 
"Most of our secondary schools have enjoyed four rounds of funding from the Joan Mantle Music Trust," said director of education Norm Blaseg. "Our students will reap the rewards for years to come as we continue to replenish the inventory of instruments in our schools."
"As great as listening to music is, it's even better to be able to make music myself," said Hannah Smith, a Grade 8 student at Copper Cliff Public School. 
"Playing the flute calms me down and helps me to express my emotions. New instruments would mean that kids in our school could learn to play instruments and experience the joy of making music like I have for many more years." 
The money raised to date comes from individual donations, corporate contributions and special events, including $11,000 from the International Dinner and Silent Auction held last spring. Members of the community have also donated a variety of musical instruments including woodwind and brass instruments, guitars, drum sets and pianos.
To thank the community for its contributions, the 2019-2020 recipient secondary schools will host community concerts with their area elementary schools that have music programs. These concerts will appeal to music lovers of all ages. 
The ninth International Dinner and Silent Auction in support of the Joan Mantle Music Trust will be held on Saturday, April 18, 2020 at 6 pm at the ParkSide Centre in Sudbury. 
The Joan Mantle Music Trust honours Joan Mantle, a long-time educator who made an immense contribution to music education locally. Joan Mantle passed away on June 9, 2009 from cancer.