Photograph by John Shearer
It would be easy for Vince Gill, to quote from his chart-topping 1995 ballad, to "rest high on the mountain" of his forty years of success. Instead, he takes pleasure in the everyday trappings of the life he shares with fellow singer-songwriter Amy Grant—including their blended family of five children and two grandchildren.
"Our youngest daughter, Corrina, has graduated from high school, so Amy and I will be empty nesters for the first time in our marriage," says the sixty-two-year-old musical icon, who tied the knot with Grant in 2000. "I'm about to have my best buddy to myself."
Though he still plays about ninety dates a year on various tours, including as the Eagles' lead singer (a post he filled upon Glenn Frey's passing in 2016), he relishes time at home in their Belle Meade neighborhood, just west of Nashville ("It's the real well-to-do part of town with the prettiest homes. I've always loved the architecture.").
When he's in town, most mornings neighbors will find him at the counter of Noshville, his favorite restaurant in the Green Hills suburb. The New York–style deli serves breakfast all day—hearty eggs Benedict, omelettes, corned beef hash, griddle cakes—but Gill never needs to scope out the menu. "My buddy Sherman, the main chef, has gotten to know what I love. I just show up and a plate of food appears," Gill says. "He says, 'You should eat this today.' I love having breakfast, and I love that they take such good care of me. The counter rats that come every day call the place 'Cheers with eggs.'"
While his musical tastes run the gamut, his food preferences are less diverse: "I'm not a very adventurous eater. I'm kind of a meat-and-potatoes kid." To get his steak fix, you might find him and Grant at Bob's Steak & Chop House, known for its generous prime cuts and spuds that come baked, smashed, or skillet-fried. The downtown Nashville eatery is just steps from the Country Music Hall of Fame (300 feet away on 5th Avenue South), into which Gill was inducted in 2007.
While it's often cited that Gill has won more Grammys than any other male country music artist (twenty-one, if you're counting), his diverse musical proclivities—membership in the rock band Pure Prairie League in the 1970s, a collaboration with jazz star Diana Krall, and the bluegrass ditty "High Lonesome Sound," which he recorded with Alison Krauss—mean he doesn't self-identify as a country star. "Country is where most people found me, but I just call myself a musician," he says. "I've always played music I liked. I don't have to define it."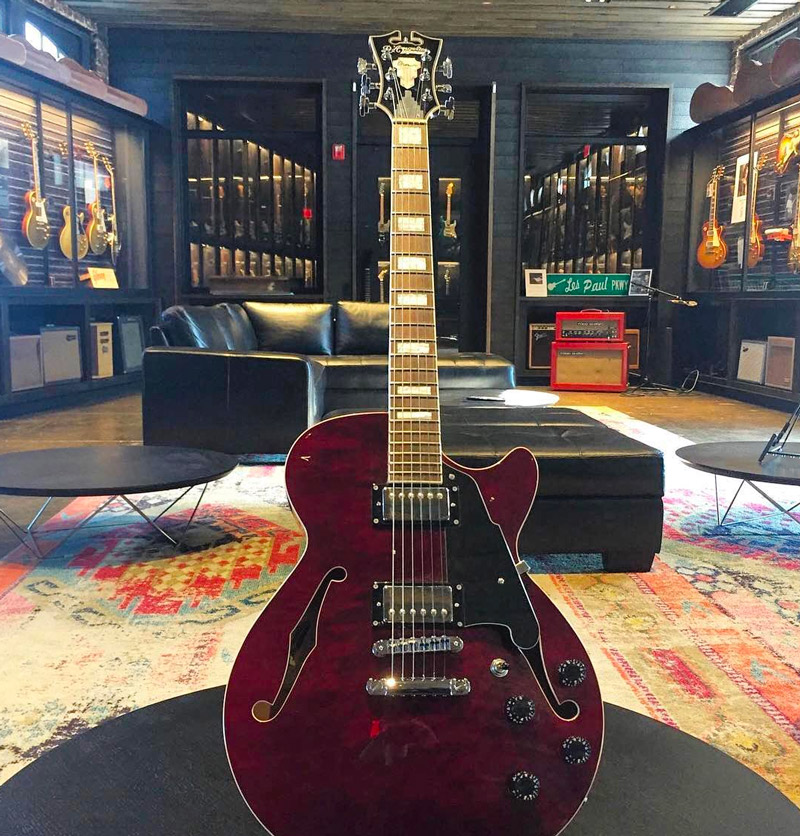 Songbirds Guitar Museum
Photograph courtesy of Songbirds Guitar Museum via Instagram
Ask Gill how many instruments he plays, and his answer is straightforward: "Anything with strings on it. I could play the drums, but you wouldn't want to hear it." It's this love of plucking and strumming that made him an ideal spokesperson for the launch of Chattanooga's Songbirds Guitar Museum in 2017, which features a rotating display of more than 1,500 vintage and historically significant pieces. "It's an astounding collection, one of the greatest in the world," he says. "There's just something magical about old instruments, where they've been, the lives they've led, music they've played. That's my obsession."
His other life-long obsession? Golf, which he picked up as a child in Oklahoma, playing with his dad. "If I've got spare time, I usually wind up on the golf course somewhere," he says. One of his favorite spots to hit the links is the Robert Trent Jones Golf Trail, a collection of championship-caliber courses spread across the state of Alabama. He also plays just about every course in and around Nashville. ("I played yesterday, I'll play tomorrow.")
Much like the highs and lows of a good country song, the notoriously fickle game has the potential to be a heartbreaker. "Every day is hard, every hole is hard," he says. "It's such a mysterious game. Some days you can't miss, some days you can't find it, but it's always fun trying."
While Gill loves chasing his best score, he tries to save plenty of time to connect with his wife. Each year, they return to the roots of their relationship for a series of Christmas concerts at the Ryman in Nashville. ("That's how we met, doing Christmas music way back in the early nineties.") Though they don't record and perform together regularly ("We both had twenty-five-plus-year careers on our own, so we thought it was not wise to become Sonny and Cher"), his new album, Okie, includes a deeply personal tribute to his soulmate. "One of the standouts is 'When My Amy Prays,'" he says. The song was inspired by other people's preconceived notions of his beliefs, especially having married Grant, a well-known Christian vocalist. "I didn't have much of a church life, but the premise is when my Amy prays, that's when I see Jesus's face and feel grace. It was a vulnerable song to write, but beautiful to honor her. I think that's the best thing you can do, to honor someone else."
When friends come to visit, Gill encourages them to hit the top spots in Music City: The Ryman ("It's important to hear music in there—they have all different kinds of music, not just country") and the Country Music Hall of Fame ("It's staggering how beautiful it is"). For party-seekers, Gill suggests the bars and honky-tonks of Broadway, where spots like Tootsie's Orchid Lounge, Ole Red, and Legends Corner are renowned. But you won't find him there; he's a teetotaler. "I just enjoy the charm of the South," he says. "That's its own kind of intoxication to me."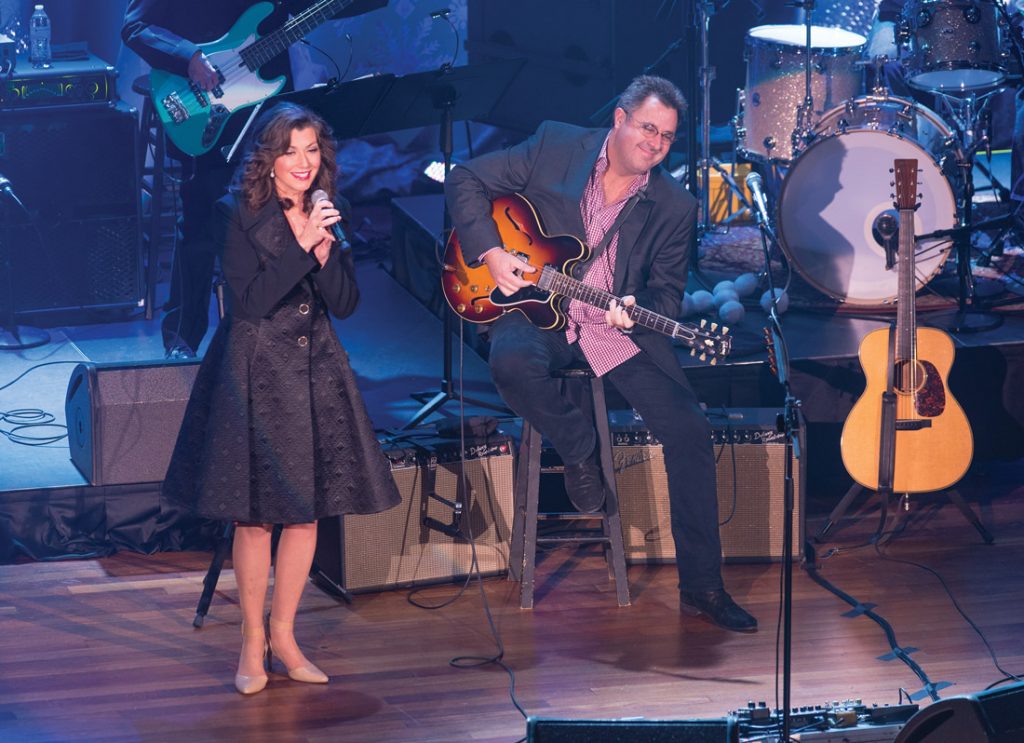 Vince Gill and wife Amy Grant
Photograph courtesy of Steve Lowry/Ryman Archives
Raise a Hallelujah
Heading to Nashville? Don't miss seeing a concert at the Ryman Auditorium, which Vince Gill considers his favorite venue to play in Music City, as well as his place of worship. "It's so historical and spiritual to be in that building—it was built as a tabernacle," he says. "When people ask, 'Where do you go to church?' I say, 'The Ryman. I do a little preaching in there every now and then.'" Besides Vince's Christmas concerts with wife Amy Grant (taking place select dates throughout December), upcoming shows at the Ryman include:
October 29 and 30
Ray Lamontagne
November 4
Elvis Costello & The Imposters
November 18
The Doobie Brothers
December 2
The Brian Setzer Orchestra
January 14, 15, 16, 19, 20, 21
Brandi Carlile