Vocalist Jon Anderson has been at the center of the fabled rock band Yes since its founding in 1968 and has collaborated with other notable artists including Vangelis, Mike Oldfield, Jean-Luc Ponty, and the Contemporary Youth Orchestra. A tireless and prolific musician, composer, and multi-instrumentalist, he has also released more than a dozen solo albums.
Almost exactly 50 years after the July 1969 release of the first Yes album, Anderson visited my house for an afternoon of talk and listening to music. We listened to some old Yes tracks, some favorites from other artists, and several from his most recent album, 1000 Hands: Chapter One, which was 30 years in the making. This transcript has been edited for brevity and clarity. It is presented in a manner that lets Anderson speak for himself. So, from the beginning . . .
"Rebel Rouser" and Elvis

The first song, the first record that I actually bought was "Rebel Rouser" from Duane Eddy—a great record. I don't have it anymore except in my brain. And then around that time my brother bought Elvis's first album, while we were on holiday in the south of England. That's what we listened to all the way through the summer—Elvis Presley. This was '58 or '59, and we would listen on a Dansette record player outside on the steps.
It was only a few years later that my brother Tony started a band called the Warriors, where he sang with this tall guy. I can't remember this fellow's name, but he didn't want to be a singer anymore, he wanted to be a hairdresser! So I joined the band and the first song I sang was Eddie Cochran:
A-look-a-there
Here she comes
Here comes that girl again . . .
She's sure fine lookin' man
She's somethin' else
My brother and I did The Everly Brothers really well—I was the high harmony to his lower voice. We lived near a farm, so we delivered milk and sang all the time. It was kinda cool—he did his Elvis Presley impersonations and I'd do Roy Orbison. This would be '62, '63.
And then that wonderful day arrived, sometime in April of '63, when Tony said, "Let's go see the Beatles." "Love Me Do" had been on the radio quite a lot, and they were playing at Southport, which is about 15 miles north of Liverpool, so we got on his motorbike and went to see the Beatles!
And it was amazing—they had probably 500 people there, mostly guys, with some girls in front, but everybody listened. That's one of the great things, they actually listened to the songs and most of the songs were from the new album, which they were just releasing at that time in the UK. And of course, they did a lot of Chuck Berry, blues, and Chiffons songs like "Mr. Postman" [sings] and things like that. And everybody listened. At the end the girls would scream like crazy, but they'd be quiet during the song.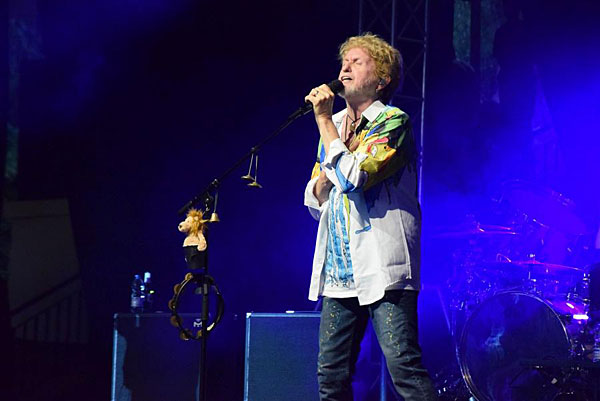 And then, six months later, we went to see the Beatles just five miles from where we lived and could hardly hear them because the screaming had started. And we ended up shouting along with the screaming for some reason: "yeaaaaaaaa." The girls screamed and we shouted. It was very new for England to have that kind of energy, whereas in America you had a lot of that with bobby-soxers and Frank Sinatra.
But the Beatles was like this whole new concept. Up until then it was all popular music—a second generation of a song from America that was already a hit there, and they'd send that record over and get somebody in England to sing it. They were already known hit records and the UK top 10 was based on those American imports.
Have you got Ricky Nelson's "Hello Mary Lou" That's one of the great recordings. It's a very simple song, but wow. [Music plays: "Hello Mary Lou, Goodbye heart . . ."] What a lovely guitar, and great piano as well. Gosh, brings back a lot of memories, that sound.
That's when they would put everybody in a studio together and you pick the best take.
So that's how my love of music started.
The Warriors

When I started with the Warriors, we mostly did these workingmen clubs where you go on for three songs and then move all your gear away for the stripper to come on, or the comedian, and then Bingo. And so we developed an act. About 10 miles away was this place called the Nelson Imperial, which held about 1000 people—actually pretty big—and you could go and open up for the big acts.
One very vivid memory was a night with Bill Haley and His Comets, Little Richard, and Gene Vincent. The interesting thing was, and this is so corny, but they sounded just like the record, simply because they took those same five people, playing the same parts, and put them in the studio to record the album.
In those early days, they sounded very loud with just a stack of speakers and two microphones, which also picked up the band—they never even had a mike on the bass. Seeing that particular gig was just mind-blowing, especially Little Richard, who's this wild guy really hitting the piano hard, beating up the piano as he sang all the great songs. You get very inspired by that and think that's why they're stars, and you're never going to be a star like that, that's for sure.
I remember one night we opened for this pretty well-known show band from London—so well-known I can't remember their name [smiles]. But they were very much like Bruno Mars—they'd come on and do songs and all dance together. They arrived while this thunderstorm was going on around the Nelson Imperial, so hardly anybody came—there must have been about 40 people. And we did our show and then these guys came on who were pretty famous. They'd been on TV, and they put on an amazing show. It taught me a lesson: You don't play for how many people are around, you play for yourself and make it great so whoever comes has a great night.
I remembered that when Jane and I were in Brazil and the promoter was saying, "I'm sorry about tonight, we didn't get the gig we wanted," and somebody put the tickets on sale for this Tex-Mex place—a restaurant—at midnight [laughs]. I said, wait a minute, what happened to the gig in the theater It was just my one-man show, me and a guitar, and it made me remember, it's not how many people you play to, it's your job to get up there and put on a show. So I sang to 25 people. I'm singing "Owner of a Lonely Heart" and someone is yelling for drinks and food, but they loved it, we became really close that night.
But going back to those early days, when you're in a band you think you're going to last another gig or another six months maybe. You get into arguing with each other and someone gets drunk before we go onstage instead of after.
I remember we played a place in Sheffield in 1966, a small tavern club pub, and we would do around 40 minutes, have a break, and so on. During the first break, we were standing around backstage and the pub manager comes over and says, "Excuse me, a friend of mine wants to get up and sing with your band." So we thought, if we want to get paid, we say yes. The manager says, "He knows 'Hit the Road Jack,' do you know that one " We said Yeah, of course we know that one. We go out back to the van to sort it out, and the manager gets into the van with this young kid who had a beer with him, and we start playing the song and he starts singing and sounds just like Ray Charles! Really cool.
We got up on stage and did a couple of songs and announced, "And now a friend of the pub manager is going to get up and sing," and we started playing "Hit the Road Jack." We're rockin' and he starts singing and waving his arms around—he's really great. I said into the mike, "Thank you—hey, what's your name " He said, "Joe Cocker," and I yelled "Joe Cocker everyone! 16 years old!"
In the early '60s, you're seeing American acts performing, like Little Richard, but then a couple years later, around 1966, the Warriors went on tour in a bigger theater opening up for the Hollies, and they all had suits on and everybody had Beatle haircuts. And you think, if an English group can make it, maybe we can. It got us going, so we made a record, which wasn't very good, but you just felt anything could happen.