VTV's concert inspires young people to better themselves – Life & Style – Vietnam News | Politics, Business, Economy, Society, Life, Sports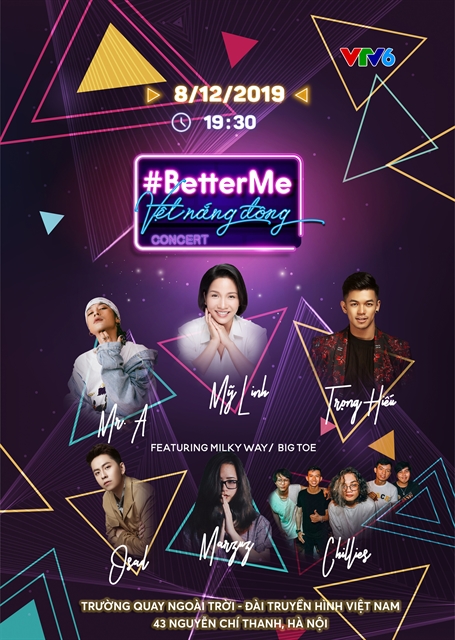 A-list singer Mỹ Linh will perform with young artists at the BetterMe concert on December 8 at Việt Nam National Television's outdoor stage. Photo coutersy of VTV6
HÀ NỘI — A-lister Mỹ Linh and other emerging singers will perform at a concert entitled BetterMe on December 8.
It will be hosted by Việt Nam Television's Channel 6 (VTV6) to inspire young people to live better and improve society.
"It is great to perform with young singers at the concert," said Mỹ Linh.
"It is meaningful to connect people by music. It helps people to live more actively and music directs people to good things."
Mỹ Linh is best known for her vocal power and melismatic skills. She is one of the best loved singers in Việt Nam.
Performing at the concert will be Trọng Hiếu, The Chillies Band; Osad; Mr.A and others.
Trọng Hiếu was Vietnamese expatriate in Germany. He returned to Việt Nam to develop his music career and won Việt Nam Idol 2015.
He will share his story that with hard work and determination, people can achieve their dreams and better themselves.
The concert organisers hope to convey the message to the young audience who sometimes feel lonely and stressful in everyday life.
VTV6, the channel for the youth launched BetterMe programme on Novembber 20 for young people. Many artists and audiences have joined the hashtag #BetterMe.
Each recipient of the #BetterMe challenge shares a good job on their personal page every day for seven days. Each time share the name tag of seven friends and challenge them to #BetterMe.
BetterMe concert will begin at 8pm at VTV's outdoor stage. It will be aired at 11pm on VTV6.  VNS